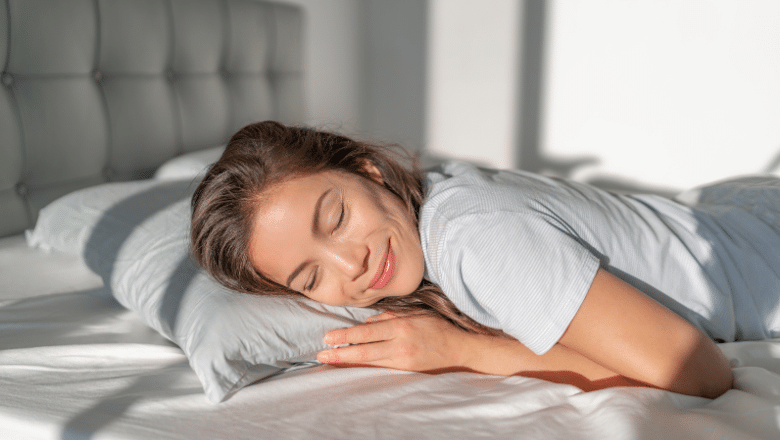 The Best Sleeping Positions After a Brazilian Butt Lift
The Brazilian Butt Lift, often known as BBL, is a type of plastic surgery that aims to make your bum and hips look better and bigger. Alongside this, liposuction is also done to take some fat from other areas of your body to be used in your BBL. This fat often comes from your waist, tummy, and back areas. This whole method is sometimes referred to as liposuction 360 because it helps to reshape the area around your middle and also gives you a better waist-to-hip shape.
RELATED: How to Sleep After Cosmetic Surgery
If you're thinking of having a BBL operation soon, you might be curious about how it could change the way you sleep. This is especially true if you're someone who doesn't sleep very deeply and wakes up easily. You might be wanting to know what to prepare for and how you can get a good night's sleep after your surgery.
Keep reading to find out more details about what BBL surgery involves, tips on how to lie down after you've had the procedure, the best positions for sleeping, and when you can expect to go back to your regular sleeping patterns.
When Will It Be Safe to Sleep on My Back After BBL Surgery?
During your first meeting with your surgeon at Centre for Surgery in London, you'll go over all sorts of details about how to properly sleep after your Brazilian Butt Lift (BBL) surgery. They'll answer common questions you might have, like when can you start sleeping on your side again, or if it's okay to sleep on your back a month after the procedure.
Generally speaking, you'll be able to return to sleeping on your back and side after a period of six weeks post-surgery. Before that time, it's crucial that you sleep on your stomach. This is to ensure that you don't exert any pressure on the areas where fat has been transferred, allowing your body the optimal chance to heal and for the fat cells to integrate well.
We can't stress enough how vital it is to follow these post-operative aftercare guidelines, particularly when it comes to sleep positions. Here at Centre for Surgery, our skilled surgeons have innovated an advanced micro-fat grafting technique that maximises the survival rate of your transplanted fat cells. Because of this advanced technique, the subsequent weeks after your operation become even more important in the overall success of the procedure.
So, doing your part is not just a suggestion, it's essential. How you sleep during the post-operative period can significantly impact the overall success of your fat grafts, which in turn will influence the aesthetic outcome you're aiming for. Following the sleeping guidelines is not just for your comfort but is also crucial in ensuring that you achieve the best possible results from your BBL surgery.
RELATED: When Can I Sit After BBL Surgery?
Understanding How to Sleep After BBL: The Science and Rationale Behind the Procedure
If you're wondering why you're advised to wait four weeks before sleeping on your back after a Brazilian Butt Lift (BBL), it's beneficial to grasp the fundamentals of the procedure itself.
You might be considering a BBL for various reasons. Maybe you want to add some curves to your buttocks, or you've lost weight and wish to restore some of the fullness you once had. Perhaps you're aiming to achieve a more proportionate body shape, or you've got some stubborn fat deposits in specific areas that won't go away no matter how much you diet or exercise.
The BBL process can address all these issues by enhancing your natural curves, thereby crafting a more feminine and well-proportioned figure. During the surgery, fat cells are extracted from chosen donor areas of your body through liposuction. These cells are then meticulously processed and transplanted into your buttocks and hips to achieve your desired look.
RELATED: Benefits of Combining 360 Lipo and BBL
During your initial consultation at Centre for Surgery, the surgeon will discuss which areas of your body would be the best candidates for harvesting the fat cells needed for the BBL, with an aim to achieve the smoothest transition and most natural-looking curves between your waist, stomach, hips, and buttocks.
The fat is predominantly collected via 360-degree liposuction. If more fat is needed, it can be harvested from other areas like your inner thighs and arms. Our unique fat grafting technique involves carefully extracting the fat cells with a cannula and then preparing them for transfer. This meticulous approach is one of the reasons Centre for Surgery has a stellar safety record and consistently excellent outcomes in performing BBL procedures.
The highly viable, prepared fat cells are then injected back into your buttocks through multiple entry points to ensure even distribution and naturally rounded contours. This thorough methodology is why post-operative care is so crucial. To maximize the survival rate of the newly transferred fat cells, you are advised to sleep on your stomach for the initial six weeks following the surgery.
So, when it comes to post-BBL sleep positions, it's not just about comfort; it's an essential part of surgical success and the long-term aesthetic results you're aiming to achieve. Following these guidelines closely ensures that you're giving yourself the best chance at a successful and satisfying outcome.
Post-Operative Recovery and Guidance for Sleeping Comfortably
At Centre for Surgery, the Brazilian Butt Lift (BBL) procedure is conducted under general anaesthesia to ensure that you are completely comfortable and pain-free during the operation. In addition, local anaesthetic is applied to the areas where incisions are made to further minimize any discomfort both during and for several hours after the surgery.
RELATED: Brazilian Butt Lift (BBL) Week-By-Week Recovery Timeline
The length of the surgery can vary quite a bit, typically ranging from a few hours to as long as seven hours. The duration is largely dependent on the intricacies of your specific procedure, including the number of areas requiring liposuction.
After the surgery, you will be moved to a recovery room where you'll be closely monitored for several hours. Once you are assessed and given the green light by the medical team, you'll be allowed to head home. It's crucial to have someone arranged to pick you up and drive you home, as taking public transport is neither safe nor permitted given that you may still be feeling the after-effects of the anaesthesia.
Before your surgery, it's a good idea to prepare your bedroom so that it's ready for your return home. The initial nights following the procedure may be difficult when it comes to falling asleep, so taking some time to create a peaceful and soothing environment can be beneficial. Consider investing in a comfortable mattress that will offer good support while you're restricted to sleeping on your stomach. Soft lighting can also make a big difference in setting a calming mood. Additionally, incorporating elements like aromatherapy and calming music can further help you relax and get the restful sleep you'll need for optimal recovery.
By taking these steps, you'll be setting yourself up for a more comfortable and restorative sleep, which is an important aspect of your overall recovery and the ultimate success of your BBL surgery.
The Importance of a BBL Pillow for Quality Sleep During Recovery
The use of specially designed pillows can be a game-changer during your post-operative period after a Brazilian Butt Lift (BBL). At Centre for Surgery, we provide you with a unique BBL pillow that is crafted to offer the right kind of support while you sleep. This specialized pillow aims to keep the pressure off your newly enhanced buttocks, allowing the transferred fat cells the best chance to integrate and survive.
Beyond the BBL pillow, you might find it beneficial to incorporate additional pillows for various needs. For instance, you can place extra pillows on either side of you to act as "bumpers," helping to prevent accidental rolling onto your sides or back while asleep. If you share your bed with a partner, a pillow can also serve as a helpful barrier to maintain the necessary sleeping position and prevent undue pressure on the surgical site.
As you progress through the recovery stages and are given the clearance to begin sleeping on your side, a pillow can be strategically placed between or underneath your legs for additional support and comfort. This helps in maintaining a proper alignment of your spine and hips, facilitating a more comfortable sleep.
When the time comes to transition back to sleeping on your back, a doughnut-shaped pillow can be particularly helpful. This type of pillow allows you to lay on your back without putting direct pressure on your newly augmented buttocks, ensuring the continued health and integration of the fat grafts.
Remember, sleep isn't just about rest; it's a vital component of your healing process. The right pillow arrangements can significantly contribute to the quality of your sleep and, consequently, to the successful outcome of your BBL surgery.
Why Choose Centre for Surgery for Your Brazilian Butt Lift (BBL)?
When it comes to enhancing your natural beauty and improving your self-confidence, choosing the right clinic is crucial. At Centre for Surgery, we pride ourselves on providing a comprehensive, bespoke service that puts your safety, comfort, and aesthetic goals at the forefront. Here's why Centre for Surgery should be your first choice for a Brazilian Butt Lift.
Exceptional Expertise
Our highly skilled and experienced surgeons employ advanced micro-fat grafting techniques to ensure the highest survival rate for your transferred fat cells. Their expertise guarantees meticulous attention to detail, which is a cornerstone of our excellent safety record and consistently high patient satisfaction rates.
Personalised Care
From your initial consultation to your post-operative aftercare, we offer a personalised treatment plan tailored to meet your unique needs and desired outcomes.
State-of-the-Art Facilities
Conducted under the highest standards of safety in our state-of-the-art surgical suites, your comfort and well-being are our priority at every step of your journey.
Comprehensive Aftercare
We believe that post-operative care is just as crucial as the surgery itself. Our team is committed to guiding you through the recovery process, providing explicit instructions on optimal sleep positions and other essential care measures to maximise the success of your surgery.
Patient Testimonials
Don't just take our word for it; hear what our satisfied patients have to say:
"I couldn't be happier with the results of my BBL at Centre for Surgery. From the consultation to the aftercare, the experience was nothing short of exceptional." – Sarah L.
"The level of care and attention I received at Centre for Surgery was unparalleled. The team made sure I was comfortable and well-informed throughout the entire process." – Mark R.
Learn More
For a wealth of information about BBL and other plastic surgery procedures, be sure to visit our comprehensive plastic surgery blog: Centre for Surgery Blog.
Book Your Consultation Today!
Ready to take the first step towards a more confident you? Schedule your personalised consultation today.
At Centre for Surgery, we're committed to helping you achieve the look you've always wanted. Choose us for your BBL journey, and let us guide you towards a more beautiful, confident future.