At a Glance
Do you want to reverse the signs of ageing, but aren't quite interested in a surgical procedure? Don't worry – you don't have to go under the knife to enhance your looks. You just need anti-wrinkle injections.
About
The use of anti-wrinkle injections to treat facial wrinkles has revolutionised the facial rejuvenation field and now complements the full range of facial surgical procedures.
Treating facial wrinkles with botulinum toxin is the most common application. Botulinum toxin is a muscle relaxant which helps to remove wrinkles. Patients with sad or tired eyes and angry facial expressions can now be treated which creates a more youthful and revitalised look. It is a neuromodulator, which works by blocking the normal flow of nerve impulses to muscles. This prevents the muscles from contracting, which smoothes out facial wrinkles.
If you are looking for surgical solutions, there is a range of surgical options including facelift, brow lift and blepharoplasty surgery
Candidates
Patients who are considering this procedure include those who have:
Mild wrinkling of the face

Wrinkles in the upper third of the face, including the forehead, between and around the eyes

Realistic expectations as to what anti-wrinkle injections can do
In addition, you should be physically healthy with no pre-existing medical conditions. Anti-wrinkle injections can be injected into a variety of facial areas to treat many different types of wrinkles. These include:
Frown lines

Forehead lines

Periocular wrinkles

Lines around the mouth
We do not treat patients below the age of 18 years of age.
Healing is better if patients refrain from or quit smoking.
The procedure is performed purely for cosmetic purposes, to help improve one's image and self-esteem.
Procedure
Preparation
No formal preparation is needed for anti-ageing injections, but you will have to stop any medications that prolong bleeding, including aspirin and non-steroidal anti-inflammatory drugs (NSAIDs). You will also be required to quit smoking at least four weeks prior to the anti-ageing injections in order to get the best possible outcome.
Treatment
During anti-wrinkle injections, patients sit in an elevated position and the area to be treated is cleansed with Hibiscrub. It is then injected into the desired sites. Usually, the surgeon will inject four or five sites on each side of the forehead and two or three sites around each eye. Ultimately, the number of injections will depend on the type of wrinkles and the desired effect.
When bleeding occurs after treatment, your doctor will put pressure or ice on the area to slow or stop the bleeding.
Recovery
While you will have minimal downtime after your facial filler injections, you may experience redness, itching and swelling. To minimise these symptoms, in the first 24 hour period you should avoid:
Strenuous exercise and activity

Excessive sun

Exposure to heat

Alcohol consumption
Most patients will experience no symptoms after the anti-wrinkle injections. If you do experience swelling, placing an ice pack on the affected area can help.
Anti wrinkle injections before and after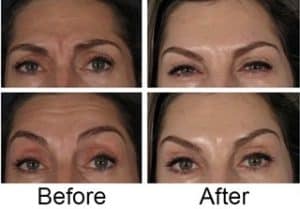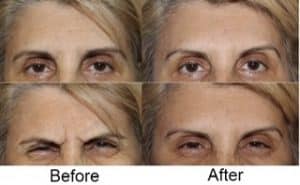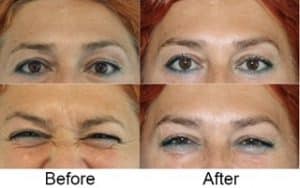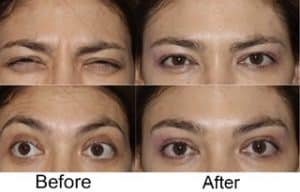 Male wrinkle relaxing injections: