What is foam sclerotherapy?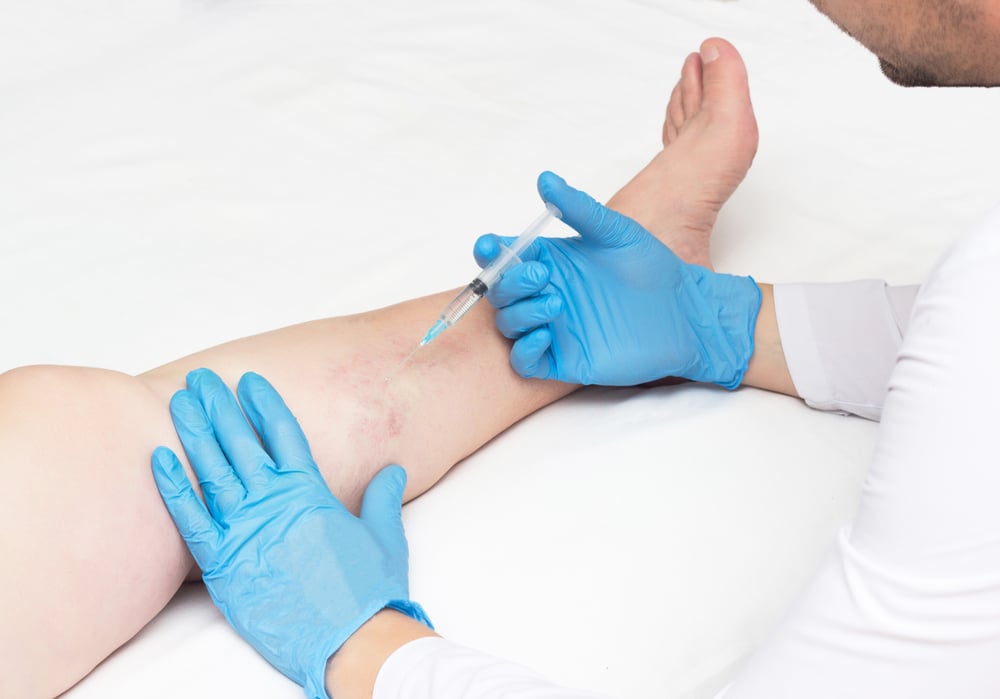 Foam sclerotherapy using ultrasound guidance can be used to both treat the underlying cause of varicose veins as well as relieve the common symptoms such as aching, itchiness and a heavy sensation. These symptoms are commonly reported by patients who have either varicose veins or thread veins. In some cases foam sclerotherapy is the first line treatment for addressing the underlying valve failure giving rise to varicose veins. It is also used for second line treatment for those who have already had EVLA and have either leftover residual veins as well as varicose veins which are smaller in diameter unable to be treated with EVLA.
Similar to EVLA, foam sclerotherapy is easily carried out under local anaesthetic as an outpatient and the treatment takes no more than 30 to 45 minutes to carry out, which is dependent on how many veins are being treated. The procedure is very well tolerated with little to no discomfort during or after the procedure and patients can usually return to their normal activities the same day
What does the procedure involve?
Chemical sclerosant which comes in liquid form is carefully mixed with air to form a specialised foam which must be injected promptly before it degrades directly into the varicose veins. The foam acts to fill out the veins been treated and leads to destruction of the lining of the veins by the sclerosant. The end result are veins which shrink in size and are eventually reabsorbed by the body.
Preparation for foam sclerotherapy
Before having ultrasound guided foam sclerotherapy, you will have first had an ultrasound scan performed by your vein specialist to identify the diseased veins. During your consultation, the full range of treatment options will be explained including the potential risks and complications associated with each option. Before having the foam sclerotherapy treatment you will be given an informed consent document to read, understand and sign before proceeding with treatment.
Most commonly used type of sclerosant is known as sodium tetradecyl sulphate or STS for short. This is a very well-known type of sclerosant, and and has been used for many decades for the treatment of varicose veins. Chemical sclerosants function by destroying the cells of the vein wall which then leads to destruction of the vein and its subsequent shrinkage followed by absorption by the body. Sclerotherapy works very well Or smaller veins such as the short saphenous vein which are most commonly found below the knee and where a firm level of compression can be applied. As in all cases of treatment for varicose veins, if the underlying cause is not treated then the varicose veins will quickly re-occur. Previously sclerosant would be injected in liquid form but in recent years it has been found that the effectiveness of injected sclerotherapy can be enhanced by converting the liquid sclerosant into foam sclerosant.
Foam sclerotherapy procedure
The doctor will start by accurately identifying the veins to be treated. A small micro needle will be inserted within the vein followed by the injection of the prepared foam sclerosant. The blood within the vein will be replaced by the injection of foam which acts to coat the lining of the vein wall leading to the subsequent shrinkage and destruction. The veins that have shrunk are then gradually broken down by the body before being absorbed. The treatment is similar to EVLA in that the blood flow is then diverted down healthier veins which leads to an improvement in the venous flow of the leg.
Foam sclerotherapy can be performed with and without ultrasound guidance and primarily depends on the size of vein to be treated. For smaller veins, it is not necessary to use ultrasound for visualisation of the veins and the doctor can rely on clinical examination alone. For larger varicose veins, it is mandatory to use ultrasound guidance to accurately visualise the veins. It is common practice at other vein clinics for doctors to use foam sclerotherapy as a primary form of treatment for varicose veins. In our view foam sclerotherapy does not give rise to results that are better than EVLA and we use foam sclerotherapy primarily as a follow-up treatment for any residual varicosity that remains after treatment with primary EVLA. If varicose veins were to recur after EVLA, it is common to use foam sclerotherapy for treatment of any veins that remain.
As with the injection of local anaesthetic, there are maximum safe doses of sclerosant that must be adhered to in order to prevent symptoms of overdose or toxicity. This means there is a limit to how many veins can be treated with sclerotherapy in one treatment. For those patients with extensive veins, then we would always recommend that all patients consider which veins are giving the most bother and therefore would like treated first followed by any less important veins that can be treated in follow-up treatments. As with EVLA it is important to wear a compression garment for one week following treatment.
What happens after having foam sclerotherapy?
We would recommend a minimum duration of four weeks between each foam sclerotherapy treatment so you can have time to assess the results of each treatment before considering another follow-up treatment. Patients with very extensive leg veins may require more than one treatment of foam sclerotherapy.