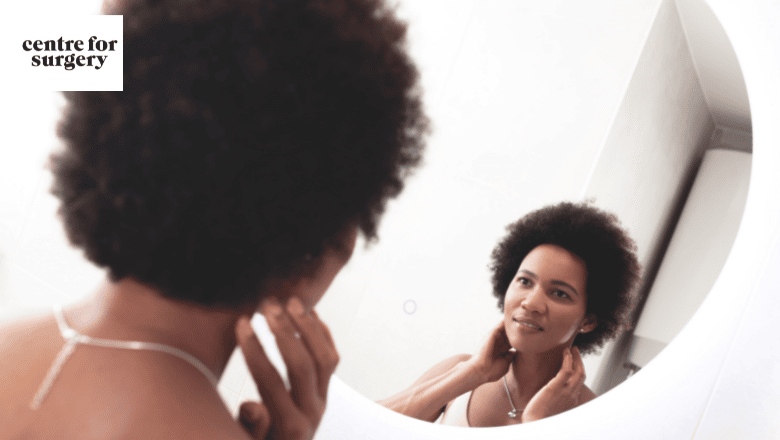 It is relatively rare for patients to request revision cosmetic surgery, although it is sometimes required in certain cases. There are several reasons why revision cosmetic surgery may be needed, although it is important to ask yourself the question if the reason for requesting a revision procedure is enough to justify having a second procedure. When considering revision surgery, both you and your surgeon should ask whether it will achieve what you are hoping for or whether it may be better to leave things as they are.
There are several examples of where revision cosmetic surgery is needed for the correction of a problem from previous surgery. Many patients who choose to travel abroad for cheap cosmetic surgery often end up paying significantly more in the long run when developing botched results. This is why we always recommend having treatment local to where you live in the UK. Some patients may have developed complications with the healing process as a result of postoperative infection in the recovery period. Less commonly, an unexpected complication may have occurred, which requires urgent surgery. An example would be the evacuation of a haematoma following breast augmentation surgery. All surgical procedures involve a degree of risk, and this includes the possibility of the final outcome not being as you had hoped for. Although this is rare, it is still a recognised risk of any cosmetic surgery.
There is a subset of patients who are simply unhappy with their results for whatever reason. If any of these scenarios apply to you, then revision cosmetic surgery may be appropriate, although you will need to have an in-person consultation with a plastic surgeon first to discuss the options available.
Consult with your original surgeon for revision plastic surgery
The exception to this recommendation is when you have had surgery abroad in Turkey, for example, and you were unfortunate enough to have chosen a surgeon who lacked the appropriate level of skills and experience, which has left you with botched surgical results. This is why we always advise against travelling abroad for cosmetic surgery. It is of paramount importance that your surgeon closely monitors your medical care throughout your patient journey. This begins from your initial consultation, to the day of surgery and to at least 12 months afterwards.
If you have had surgery locally with a UK-trained specialist plastic surgeon who has performed the procedure with the appropriate level of skill and attentiveness, and you are still unhappy with your results, we would advise you to go back and see them before you consider researching other surgeons and clinics. This is because the original surgeon who performed your procedure will have in-depth knowledge of what was carried out during your first procedure. They will be in the best position to know what needs to be done to correct sub-optimal results. As with most things, it can be very challenging to correct or improve upon another surgeon's work, especially when it comes to procedures performed for the improvement of cosmetic appearance.
Having your revision plastic surgery procedure with your original surgeon is more likely to help you achieve the results you desire rather than starting from the beginning and seeing an entirely different surgeon.
Wait at least one year before having revision cosmetic surgery
Certain procedures, such as breast augmentation or a Brazilian butt lift (BBL), often prompt patients to return to see their surgeons after only three months because they are unhappy with the results achieved so far and are not in line with their expectations. It is very important to bear in mind that three months is still very early in the healing and recovery process.
RELATED: Can you do a revision BBL?
The result visible three months after surgery is highly unlikely to be the result that will be seen 12 months after surgery, and this applies to the vast majority of plastic surgery procedures. This is why it is important to be patient during the recovery period, as certain body changes can take a considerable period of time to change. You should give your body the time it needs to heal properly and if you are still unhappy with your results 12 months after surgery, tell your surgeon this at the one-year review appointment.
Surgery is a major undertaking, and the body undergoes a significant transformation during the postoperative period. Giving your body the time it needs to adjust to these changes is essential. Swelling and bruising are inevitable after virtually all types of surgery. Scars initially appear red and obvious and will gradually fade over time. Surgical procedures that involve breast implants or fat transfer require at least six months for the body to get used to newly injected fat or silicone implants.
Waiting until a minimum of 12 months after surgery before considering revision surgery is important as certain changes during the early recovery period may disappear on their own without any active intervention. Fat transfer is a good example of this. Some injected fat can slowly harden to form a localised lump that can be felt beneath the skin, and this is known as fat necrosis. In most cases, these small and sometimes painful lumps will settle down on their own over time.
Coming back for a different procedure is not the same as revision surgery
Before surgery, it is important to have realistic expectations of the kind of results that can be achieved with cosmetic surgery. Body plastic surgery, including breast augmentation, abdominoplasty or BBL surgery, will produce a significant transformation in your physical appearance. However, they are not designed to address all the other problems in your life. Plastic surgery is designed to improve how you feel about yourself and your body. Successful surgery leads to a significant boost in self-confidence and emotional well-being, but it cannot change your personality, help you to win a job promotion or rekindle past relationships.
Having realistic expectations about the final result achievable is important. Comparing the results of your breast augmentation to your friends result or a well-known celebrity may result in unhappiness. Cosmetic surgery is designed to enhance existing features of your body for a boost in self-confidence. Some patients may class a particular result which does not meet their expectations as botched surgery.
If you have been considering a revision procedure, always remember that you should be prepared for the possibility that you may still be unhappy, even if it is to improve the results of the previous surgery.
You should also bear in mind that revision plastic surgery is not the same as returning to the same surgeon for a different surgical procedure. An example would be when you have had a breast lift, and although you are pleased with the shape of the breasts, you are unhappy with the size of the breasts. If you choose to come back for a breast augmentation with implants, this would not be classed as a revision breast lift as you are coming back for a different surgical procedure in the form of breast implants.
RELATED: What is breast revision surgery?
Revision cosmetic surgery at Centre for Surgery
If you have any questions about revision cosmetic surgery, schedule an in-person consultation by calling us on 020 7993 4849 or completing the contact form below. Our state-of-the-art plastic surgery clinic is located in the heart of Marylebone in central London. We are home to some of the most experienced specialist plastic surgeons in the UK, and we regularly perform revision cosmetic surgery for patients who have had botched surgery carried out abroad, particularly in Turkey.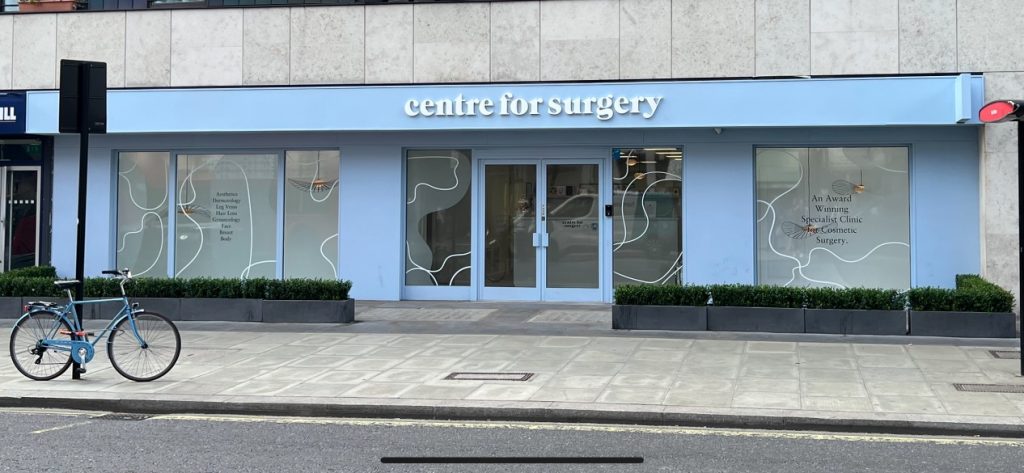 Amazing from start to finish, the communication was the main thing was fully informed and looked after, on the day of my breast augmentation, the staff were fab and made me feel at ease through out the whole process. Thank you so much.
Mohammed Farid
18/11/2021
I've had such a great experience with excellent advice, care and attention and surgical treatment (gynaecomastia) - I can fully endorse the treatment I have received from Centre for Surgery with absolutely no qualms at all. Brilliant in every way - thank you all so much.
Caroline Thorpe
14/11/2021
Very pleased with my whole experience of having a procedure. Was so nervous about getting treatment and i was reassured and felt so comfortable throughout thanks to the amazing nurses. I definitely made the right decision to have breast augmentation at centre for surgery with dr erel.
Melissa Briggs
08/11/2021
So glad I went with centre for surgery, the whole process went very smoothly from the consultations down to the actual day of the procedure. I was so nervous on the day but the whole team put me at ease and I'm happy with my results as I feel a lot more comfortable wearing certain clothes now. My surgeon was Alberto Di Giuseppe who performed a breast Augmentation on me, and I would definitely recommend as he was very clear on what the outcome of the surgery would be and which size would look the best for my frame.
Couldn't be happier with Dr Tillo work,i had my breast surgery one week ago and so happy with the results so far,all the staff are extremely nice and very supportive,i would definitely recommend their services,thank so much
From start to the finish everything was perfect for tummy tuck surgery. All staff is very friendly and the aftercare has been good. The Doctor and the nurse team was fantastic. I'm so happy...result is amazing. Thank you!!!
This was overall a great experience, all the staff at Centre for Surgery were friendly and put me at ease. It is a nerve wracking thing to go through an op but the staff were so nice. Mr Ertan has got a great team around him. On the day of the operation everything went smoothly to plan, there was no delay or holdups, I had another consultation with Mr Ertan who confirmed what was going to be done and that I was still happy to proceed. I was prepped for the procedure, I met with the anaesthetist who again was really nice and put me at ease explaining his role. After the procedure I woke up with the nurse by my side making sure I was OK and checking on me, I was able to stay in the clinic until I was ready to leave and was not rushed at all. I was well looked after from the start to the point when I was discharged. Post operation I was staying at a local hotel it was so close there was no point in even getting a taxi and I was able to walk back where my partner was waiting for me. I was expecting a lot of bruising to both my eyes but there was very little if any by the time the cast came off after 7 days, I am now at the two week post operation point and it is healing well with no outwardly visible bruising or scaring. The next milestone is a checkup at the 6 week point with my surgeon. If you're thinking of having something like this done I would highly recommend getting in touch with Centre for Surgery.
The staff at Centre for Surgery were very kind and accommodating. They answered any questions I had about the procedure and were constantly checking up on me. A special thank you to Christina for all her support throughout.
I would just like to state the quality of care received from the nurses at Centre for Surgery was beyond the highest level. Sophie takes her patient care to another level beyond words. She always puts me at ease. She is there for me even at awkward hours just when I mostly needed reassurance and she is one of the most compassionate nurses I have come across and demonstrates her passion naturally for caring for others. She totally deserves recognition at its finest and thank you for always being there for me. 😍