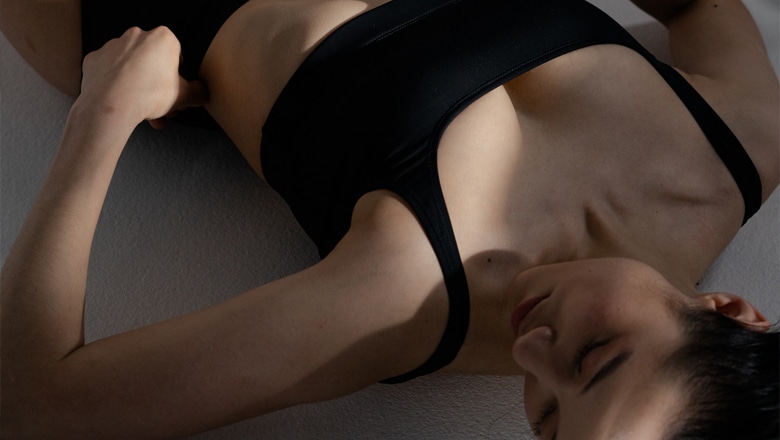 Women who have large and heavy breasts commonly develop symptoms including back pain, neck pain or painful shoulders. Breast reduction surgery is the optimum treatment for reducing the size of large breasts and permanently alleviating symptoms associated with heavy breasts. The levels of patient satisfaction following breast reduction are one of the highest of any cosmetic surgery carried out at Centre for Surgery in London. Women often report a significant boost in self-confidence with an ability to carry out activities they could not before, including playing sports.
How Much Does Breast Reduction Cost?
Can large breasts cause back pain?
Back pain is one of the most common symptoms experienced by women with large breasts. Heavy breasts often result in developing a poor posture due to slouching and having to reposition the shoulders forward to tolerate the weight of heavy breasts. Symptoms may even develop in the hands due to compression of nerve fibres over the collar bones by bra straps being pulled down.
Can breast reduction surgery cure back pain?
If your surgeon has clinically assessed you and believes the cause of your back pain is large and heavy breasts, then breast reduction is the best treatment for permanently relieving disabling symptoms, including back pain. When the breasts are made smaller with breast reduction, there are several important benefits, including:
An improved posture due to less force acting on the spine leads to less risk of abnormal spinal curvature.
Bra straps feel less tight as smaller breasts exert less force within the bra.
Patients can more comfortably carry out many types of aerobic exercise without pain or shortness of breath.
The spine is better preserved due to fewer forces acting on it, with an associated reduction in nerve root entrapment.
Patients often tell us they feel more mobile and energetic with better enjoyment of sporting activities.
Can you still have back pain after having a breast reduction?
Whilst women may develop temporary back discomfort after breast reduction surgery; this is very uncommon. The most common reason for back pain to persist for one to 2 weeks is your positioning on the operating room table for 3 to 4 hours whilst you are asleep. You may also develop back pain due to your posture improving, or in how you lift objects. In both cases, these back pain symptoms settle within the first two weeks after surgery.
Other causes of back pain after surgery include:
Patients who wear ill-fitting bras
A prolapsed intervertebral disc causing nerve root pain
Being overweight or obese
Conditions of the spine such as osteoporosis
Poor posture and limited mobility
What do breast reduction scars look like?
What are the benefits of breast reduction surgery?
Breast reduction has several benefits in addition to the relief of back pain, which include:
Patients have more confidence in wearing different styles of clothing, including more fitted clothing
Patients can carry out a more comprehensive range of exercises or sporting activities without pain or discomfort
The relief of skin irritation or skin rashes in the lower breast folds
Patients often find it more straightforward to find correctly fitting bras without the need to choose a specialist supplier.
Am I suitable for breast reduction?
If you find your large and heavy breasts to be a continual problem which may affect your ability to carry out certain everyday activities, then breast reduction could be the ideal procedure for you. To determine suitability for breast reduction surgery, we would advise having a face-to-face consultation with an expert breast reduction surgeon who carries out this procedure frequently. Patients must be over the age of 18 and be in good general physical and mental health to be eligible for a breast reduction procedure at Centre for Surgery in London.
Breast reduction in London at Centre for Surgery
Can I get breast reduction surgery for back pain on the NHS?
In a limited number of cases, patients may be eligible for breast reduction surgery on the NHS, and you would be advised to consult your GP first as treatment eligibility is determined by the local clinical commissioning groups or CCGs. In some areas of the UK, breast reduction surgery is not funded by the NHS. The selection criteria for breast reduction in the NHS are rigorous, and all depend on several factors, including your age and whether you have been unable to achieve benefit with other treatment options. Your body mass index and whether you are a smoker will also determine treatment eligibility. You will require a referral letter from your GP, which may take a very long time in the current climate. You may have waited many months only to be told by your GP that you are not eligible for NHS treatment. The best way to have treatment without the anxiety of long waiting lists is to have a breast reduction at a specialist cosmetic surgery clinic in London, such as Centre for Surgery.
Why have breast reduction surgery at Centre for Surgery?
We are the leading cosmetic surgery clinic in London and the UK, with expertise across the full range of cosmetic breast surgery.
Our surgeons have over 50 years of combined experience in all types of press reduction.
A face-to-face preoperative medical assessment by one of our nurses to ensure you are in the best medical condition for the procedure.
A state-of-the-art day-case facility in central London.
Hundreds of verified five-star Google on Trustpilot reviews.
Over 97% of patients would recommend us to their friends and family.
Our post-operative after-care has been described as outstanding by the Care Quality Commission.
Breast reduction recovery
Following reduction mammoplasty, you should avoid undertaking any strenuous physical activity, including heavy lifting, for at least six weeks.
You may notice bruising and swelling, which will last around four weeks. You will be able to reduce this by using a cold compress, particularly during the first two days. You will also be provided with a prescription of painkillers to alleviate any discomfort.
How to speed up recovery after cosmetic surgery
Most women are ready to return to work in five to seven days, sometimes less, depending on the type of breast reduction they had.
Breast reduction surgery results in the formation of scars on the breasts. These will be located around the areola, down the breast and across the crease. Over time scars undergo maturation with resultant fading – this differs for each individual, although scarring never disappears completely. The vast majority are extremely pleased with their new breasts that any scars are accepted and can often be concealed by undergarments very well. In cosmetic surgery, breast reduction has one of the highest patient satisfaction rates.
The final breast size can take anywhere to finalise from 6 months all the way to 1 year after your procedure. There are a number of factors that can influence the duration, including your overall state of health, smoking and nutritional factors.
Swelling of the breasts can last for many months. Centre for Surgery recommends complying with all postoperative instructions to ensure the recovery process is smooth with minimal risk of complications and achieve the best results.
Breast reduction surgeons
If you would like to learn more about breast reduction surgery or book a face-to-face consultation, please contact us at 020 7993 4849 and speak to one of our friendly and knowledgeable patient coordinators.
Amazing from start to finish, the communication was the main thing was fully informed and looked after, on the day of my breast augmentation, the staff were fab and made me feel at ease through out the whole process. Thank you so much.
Mohammed Farid
18/11/2021
I've had such a great experience with excellent advice, care and attention and surgical treatment (gynaecomastia) - I can fully endorse the treatment I have received from Centre for Surgery with absolutely no qualms at all. Brilliant in every way - thank you all so much.
Caroline Thorpe
14/11/2021
Very pleased with my whole experience of having a procedure. Was so nervous about getting treatment and i was reassured and felt so comfortable throughout thanks to the amazing nurses. I definitely made the right decision to have breast augmentation at centre for surgery with dr erel.
Melissa Briggs
08/11/2021
So glad I went with centre for surgery, the whole process went very smoothly from the consultations down to the actual day of the procedure. I was so nervous on the day but the whole team put me at ease and I'm happy with my results as I feel a lot more comfortable wearing certain clothes now. My surgeon was Alberto Di Giuseppe who performed a breast Augmentation on me, and I would definitely recommend as he was very clear on what the outcome of the surgery would be and which size would look the best for my frame.
Couldn't be happier with Dr Tillo work,i had my breast surgery one week ago and so happy with the results so far,all the staff are extremely nice and very supportive,i would definitely recommend their services,thank so much
From start to the finish everything was perfect for tummy tuck surgery. All staff is very friendly and the aftercare has been good. The Doctor and the nurse team was fantastic. I'm so happy...result is amazing. Thank you!!!
This was overall a great experience, all the staff at Centre for Surgery were friendly and put me at ease. It is a nerve wracking thing to go through an op but the staff were so nice. Mr Ertan has got a great team around him. On the day of the operation everything went smoothly to plan, there was no delay or holdups, I had another consultation with Mr Ertan who confirmed what was going to be done and that I was still happy to proceed. I was prepped for the procedure, I met with the anaesthetist who again was really nice and put me at ease explaining his role. After the procedure I woke up with the nurse by my side making sure I was OK and checking on me, I was able to stay in the clinic until I was ready to leave and was not rushed at all. I was well looked after from the start to the point when I was discharged. Post operation I was staying at a local hotel it was so close there was no point in even getting a taxi and I was able to walk back where my partner was waiting for me. I was expecting a lot of bruising to both my eyes but there was very little if any by the time the cast came off after 7 days, I am now at the two week post operation point and it is healing well with no outwardly visible bruising or scaring. The next milestone is a checkup at the 6 week point with my surgeon. If you're thinking of having something like this done I would highly recommend getting in touch with Centre for Surgery.
The staff at Centre for Surgery were very kind and accommodating. They answered any questions I had about the procedure and were constantly checking up on me. A special thank you to Christina for all her support throughout.
I would just like to state the quality of care received from the nurses at Centre for Surgery was beyond the highest level. Sophie takes her patient care to another level beyond words. She always puts me at ease. She is there for me even at awkward hours just when I mostly needed reassurance and she is one of the most compassionate nurses I have come across and demonstrates her passion naturally for caring for others. She totally deserves recognition at its finest and thank you for always being there for me. 😍