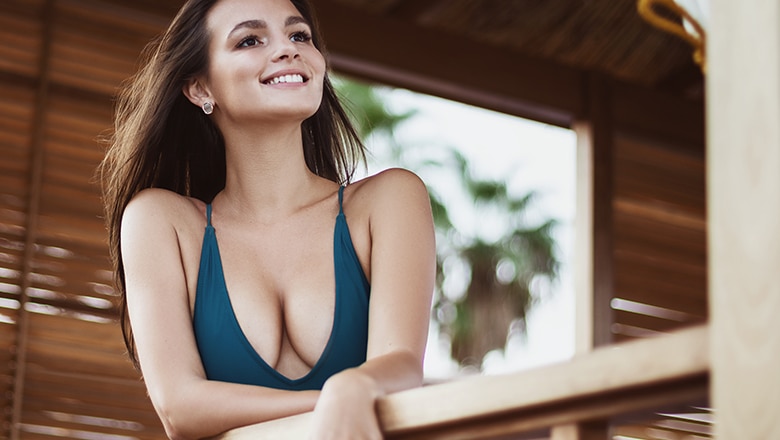 The vast majority of patients choose the right clinic and surgeon to carry out breast lift surgery based on many factors, but safety, effectiveness and standards of medical care provided are often the most important. Many patients will also want to learn about the reputation of the clinic and surgeon before deciding to proceed with breast uplift surgery. Breast lift cost or price is an important consideration for affordability. Breast lift surgery costs on average, £5495 at Centre for Surgery in London. Some patients may have a breast lift procedure on one breast only as part of breast asymmetry surgery for the treatment of uneven breasts, and the cost of this starts from £5995.
RELATED: What is a breast lift?
All breast lift prices on our website should be viewed as a guide price, with a final breast lift cost provided once you've had your face-to-face consultation with your surgeon.
What does a breast lift involve at Centre for Surgery?
Breast lift surgery is also known as a 'mastopexy', 'breast uplift' and 'boob lift'. The procedure is specifically aimed at correcting sagging and droopy breasts that have lost volume in the upper part of the breast. With surgical reshaping of the breasts, the position of the breast is elevated on the chest wall with the restoration of more youthful, firmer and larger-looking breasts. Although the breast lift procedure is not specifically aimed at increasing breast volume, many women find their droopy breasts to have most of the volume in their lower part. With a breast uplift, this volume is redistributed to the upper part, which gives the impression of perkier and larger breasts. Breast uplift with implants is an ideal procedure for women keen to increase their breasts' size and improve their shape.
RELATED: How to get firmer breasts?
Sagging and droopy breasts most commonly occur due to pregnancy and breastfeeding, significant weight loss or the natural ageing process. In addition, many women may be genetically predisposed to having breasts which appear droopy or saggy.
Does breast lift cost and price matter when choosing the best cosmetic surgery clinic?
Prices for breast lift surgery vary depending on several factors. Breast lift cost varies across the UK, with London breast lift prices being slightly higher compared with elsewhere. Factors which can affect the cost of a breast lift include:
The surgeon's experience in carrying out all types of breast lip surgery
The reputation of the clinic, including whether it is classified as a specialist day-case facility. Day surgery providers tend to specialise exclusively in cosmetic surgery and are therefore equipped to offer a better service compared with hospitals
Where the clinic is located
The standard of preoperative and postoperative care. Many clinics only provide telephone-based preoperative assessments. Our preoperative nurses conduct face-to-face assessments for all procedures involving a general anaesthetic.
At Centre for Surgery in London, we are fortunate to work with some of the best cosmetic surgeons in London. Our specialist database facility is staffed by highly skilled theatre nurses experienced in the full range of cosmetic surgery procedures. Our focus is on delivering safe and effective medical care at an affordable price.
RELATED: What is the minimum age to have a Breast Lift?
What is included in the cost of my breast lift procedure at Centre for Surgery?
We pride ourselves on providing many aspects of medical care as standard. The following items are included in your total breast lift cost and price at Centre for Surgery:
In-depth 45-minute consultation with an expert breast surgeon at our state-of-the-art Baker Street surgical facility in central London.
Your procedure will be carried out at a dedicated cosmetic surgery clinic with expertise in breast surgery.
All our procedures are carried out as day cases which allows you to recover in the comfort of your own home later the same day.
Your very own patient coordinator to act as a dedicated point of contact throughout your patient journey with us.
Face-to-face preoperative medical assessments by specialist preoperative nurses to make sure you are medically fit for surgery.
High standards of postoperative care that have been described as 'outstanding' by the Care Quality Commission.
A dedicated postoperative emergency number for any questions or concerns you may have at any time in the breast lift recovery period.
Is breast lift finance offered at Centre for Surgery?
Centre for Surgery offers a wide range of finance options including 0% finance for breast lift surgery in partnership with Chrysalis Finance. If you would like to learn more about breast lift finance, please get in touch with one of our patient coordinators to learn about the options available for you.
Contact us today to get the latest 2022 breast lift costs & prices
If you would like to find out more about breast lift costs, please get in touch with us today and speak to one of our friendly and knowledgeable patient coordinators who will be able to give you guide prices on breast lift surgery at Centre for Surgery in London.
Breast lift patient testimonials
"I must say I've been blown away by the level of care given to me throughout my time at Centre for Surgery for my breast lift procedure. Dr Omar was an absolute genius and I couldn't be happier with my results. My self-confidence has increased dramatically and I have already recommended many of my friends and family to Centre for Surgery"
"From the initial phone call to book a consultation all the way through to the final surgeon check-up, I have nothing but praise for Centre for Surgery. I have been treated with respect and kindness throughout and my surgeon took great care to explain all aspects of the procedure and what could be realistically achieved given my breast shape. I visited a number of other clinics for breast lift surgery, and none were comparable to Centre for Surgery. Thank you very much for transforming my life."
Why choose Centre for Surgery for a breast lift?
Centre for Surgery is the leading cosmetic surgery clinic in London. Our surgeons carry out the full range of breast surgery, including all types of breast lifts. We are known for creating natural-looking results using the most advanced surgical techniques.
Amazing from start to finish, the communication was the main thing was fully informed and looked after, on the day of my breast augmentation, the staff were fab and made me feel at ease through out the whole process. Thank you so much.
Mohammed Farid
18/11/2021
I've had such a great experience with excellent advice, care and attention and surgical treatment (gynaecomastia) - I can fully endorse the treatment I have received from Centre for Surgery with absolutely no qualms at all. Brilliant in every way - thank you all so much.
Caroline Thorpe
14/11/2021
Very pleased with my whole experience of having a procedure. Was so nervous about getting treatment and i was reassured and felt so comfortable throughout thanks to the amazing nurses. I definitely made the right decision to have breast augmentation at centre for surgery with dr erel.
Melissa Briggs
08/11/2021
So glad I went with centre for surgery, the whole process went very smoothly from the consultations down to the actual day of the procedure. I was so nervous on the day but the whole team put me at ease and I'm happy with my results as I feel a lot more comfortable wearing certain clothes now. My surgeon was Alberto Di Giuseppe who performed a breast Augmentation on me, and I would definitely recommend as he was very clear on what the outcome of the surgery would be and which size would look the best for my frame.
Couldn't be happier with Dr Tillo work,i had my breast surgery one week ago and so happy with the results so far,all the staff are extremely nice and very supportive,i would definitely recommend their services,thank so much
From start to the finish everything was perfect for tummy tuck surgery. All staff is very friendly and the aftercare has been good. The Doctor and the nurse team was fantastic. I'm so happy...result is amazing. Thank you!!!
This was overall a great experience, all the staff at Centre for Surgery were friendly and put me at ease. It is a nerve wracking thing to go through an op but the staff were so nice. Mr Ertan has got a great team around him. On the day of the operation everything went smoothly to plan, there was no delay or holdups, I had another consultation with Mr Ertan who confirmed what was going to be done and that I was still happy to proceed. I was prepped for the procedure, I met with the anaesthetist who again was really nice and put me at ease explaining his role. After the procedure I woke up with the nurse by my side making sure I was OK and checking on me, I was able to stay in the clinic until I was ready to leave and was not rushed at all. I was well looked after from the start to the point when I was discharged. Post operation I was staying at a local hotel it was so close there was no point in even getting a taxi and I was able to walk back where my partner was waiting for me. I was expecting a lot of bruising to both my eyes but there was very little if any by the time the cast came off after 7 days, I am now at the two week post operation point and it is healing well with no outwardly visible bruising or scaring. The next milestone is a checkup at the 6 week point with my surgeon. If you're thinking of having something like this done I would highly recommend getting in touch with Centre for Surgery.
The staff at Centre for Surgery were very kind and accommodating. They answered any questions I had about the procedure and were constantly checking up on me. A special thank you to Christina for all her support throughout.
I would just like to state the quality of care received from the nurses at Centre for Surgery was beyond the highest level. Sophie takes her patient care to another level beyond words. She always puts me at ease. She is there for me even at awkward hours just when I mostly needed reassurance and she is one of the most compassionate nurses I have come across and demonstrates her passion naturally for caring for others. She totally deserves recognition at its finest and thank you for always being there for me. 😍