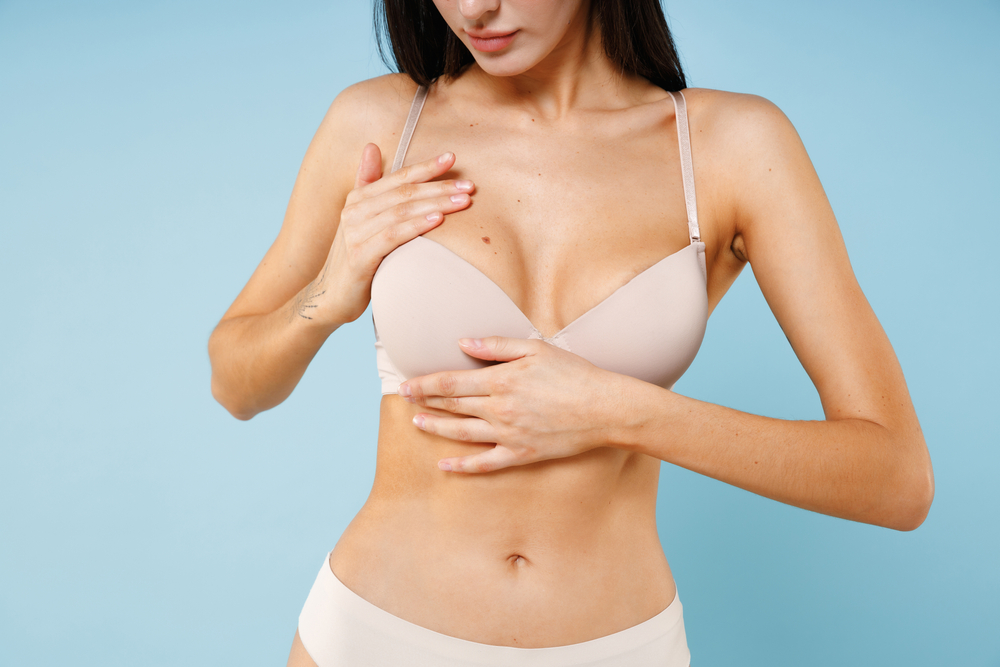 Breast implant surgery is one of the most popular cosmetic surgery procedures in the UK, and we commonly get asked, "how much does breast augmentation cost?" Breast enlargement is also known as a 'boob job' and has one of the highest patient satisfaction rates of any procedure carried out at Centre for Surgery in London. There are many different types of breast implants, and breast enlargement costs will vary on several factors, which will be discussed below.
How much does a breast enlargement cost?
The exact price for any cosmetic surgery procedure will be given to you once you have had your face-to-face consultation with your surgeon. After your surgical consultation, you will meet with your dedicated patient coordinator to run through all the different treatment options and their costs. Other types of breast implant brands vary in price, including the complexity of the breast augmentation procedure to be carried out. All surgeons who carry out breast implant surgery at our clinic are breast specialists, and we carry out hundreds of breast enlargement procedures each year at our state-of-the-art clinic in London. All our surgeons have full GMC registration and often belong to specialist associations such as ISAPS or BAAPS.
At Centre for Surgery, we ensure you get the best possible medical care, which includes:
In-depth consultation with a specialist breast surgeon with many years of experience carrying out all types of breast surge
State of the art day-case facility in central London
Comprehensive breast implant warranty covering both capsular contracture and implant rupture
We have our own dedicated postoperative nursing team trained in all aspects of breast augmentation recovery and healing
Round-the-clock coverage for any questions or concerns you may have
Read about breast enlargement prices
Breast augmentation surgery starts from £4995, with exact prices dependent on the type of breast implants used and the complexity of the planned surgery. For a rough guide to costs, please speak to one of our patient coordinators on 020 7993 4849. We would recommend a face-to-face consultation with an experienced breast implant surgeon where a detailed treatment plan will be prepared. Your patient coordinator will base your final quote on the treatment plan designed by the surgeon.
Consultations for breast enlargement surgery cost £25, which compares very favourably with other surgeons and clinics, which often charge more than £150. Breast augmentation surgery is carried out at our central London Baker Street clinic.
What does breast augmentation cost include?
When you receive your quotation after the consultation, you should be clear on what the quote includes and does not include. Many clinics don't include all potential costs with hidden extras that patients will have to pay for, including your postoperative support bra or medicines.
The total cost of breast surgery at Centre for Surgery includes the facility cost, the anaesthetic fee and the surgical fee. Your patient coordinator will act as your dedicated point of contact for any questions you may have about your quotation. Some surgeons may request preoperative blood tests, and these will also be included as part of your consultation.
If your quotation comes back and appears especially low, then you should enquire with the clinic to see what items have been left out from the quote to keep the headline price low. If the price seems simply too good to be true and it has been emphasised that all items have been included, you should certainly ask yourself why the price is so low. Is the surgeon or clinic cutting corners somewhere? Especially in cities such as London, where the cost of breast augmentation will be generally higher compared with other parts of the UK, this may be an area of concern if a clinic is significantly cheaper compared with others in the same area. Generally, most clinics charge similar prices for this procedure. Anyone offering significantly lower prices may mean that the facility may lack proper accreditations. In the worst-case scenario, having treatment in such clinics could risk adverse severe effects on your health.
We would recommend carrying out as much online research as possible and visiting several different surgeons and clinics to get an average cost for the procedure. Once you have a clear idea of treatment costs, you can then focus on the reputation of the clinic and surgeon and what the total package of medical care contains. This includes what post-operative care will be given to you after the procedure.
In all cases, it is not possible to receive an exact procedure quote before attending your breast augmentation consultation. Low prices may be an indicator of the experience of your surgeon. Highly skilled and experienced surgeons may cost more in the short term, but they should be considered a significant investment in getting the best results most safely and effectively. Whilst the cost of the procedure is a consideration for many, it should not be the most important one for deciding whether to go ahead or not.
What are my breast implant options?
Once you have decided to proceed with breast augmentation surgery, there are several factors you will need to take into account when deciding on treatment:
Breast implant brand – Mentor, Sebbin or Motiva
The breast implant size
Round or teardrop breast implants
Breast implant profile – moderate, high or extra high profile
Breast implant incisions – inframammary, periareolar or through the armpit
Breast implant placement – Dual plane (under the muscle) or subglandular (on top of the muscle)
Whether it's high profile or low profile, under or over the muscle or 300 or 400 cc, there are several options to take into account when planning your procedure. Our breast surgeons have many years of experience in performing breast implant surgery. They will be able to advise you on the correct implant parameters after assessing you at your consultation. Often your Surgeon will make detailed measurements of your breasts and may perform implant sizing to help you choose the right implant size for your body frame.
For further information about breast implants, we have provided links to further articles to help you become better informed about the procedure:
Breast Augmentation For Older Women
How To Find The Best Place For Breast Augmentation Near Me
What are the different types of breast implants?
What kind of breast implant is right for you?
How to choose the best breast implant size
Breast implant incisions and positioning
What is the perfect breast implant for me?
Why choose Centre for Surgery for your breast augmentation?
Surgeons at Centre for Surgery have many years of experience carrying out all types of breast surgery, including breast augmentation, breast uplift, breast reduction and nipple correction. Our patient selection criteria are rigorous to ensure that patients are fully informed about all aspects of the procedure. We believe it is essential that patients know the risks, complications and expected recovery from breast implant surgery from the outset. Every patient is unique, and our surgeons take great care to customise treatment for every patient.
Centre for Surgery is a specialist cosmetic surgery clinic in London with expertise across the full range of aesthetic breast surgery.
Our surgeons subspecialise in breast surgery for optimal outcomes
Comprehensive ten-year warranty for coverage of capsular contracture and implant rupture
Our treatments and procedures are designed to produce natural-looking results
Our post-operative nursing team is continuously available to assess you either in person or over the phone for any questions or concerns you may have
Hundreds of verified Trustpilot five star reviews
Read the most commonly asked questions about breast implants
Complimentary implant health checks one year after your procedure with High-resolution ultrasound scanning.
Breast surgeons at Centre for Surgery
Dr Omar Tillo
Dr Alok Misra
Dr Hazem Alfie
Please contact us today to book a consultation for breast enlargement surgery with an expert plastic surgeon by calling 020 7993 4849 or filling out the contact form below.
Amazing from start to finish, the communication was the main thing was fully informed and looked after, on the day of my breast augmentation, the staff were fab and made me feel at ease through out the whole process. Thank you so much.
Mohammed Farid
18/11/2021
I've had such a great experience with excellent advice, care and attention and surgical treatment (gynaecomastia) - I can fully endorse the treatment I have received from Centre for Surgery with absolutely no qualms at all. Brilliant in every way - thank you all so much.
Caroline Thorpe
14/11/2021
Very pleased with my whole experience of having a procedure. Was so nervous about getting treatment and i was reassured and felt so comfortable throughout thanks to the amazing nurses. I definitely made the right decision to have breast augmentation at centre for surgery with dr erel.
Melissa Briggs
08/11/2021
So glad I went with centre for surgery, the whole process went very smoothly from the consultations down to the actual day of the procedure. I was so nervous on the day but the whole team put me at ease and I'm happy with my results as I feel a lot more comfortable wearing certain clothes now. My surgeon was Alberto Di Giuseppe who performed a breast Augmentation on me, and I would definitely recommend as he was very clear on what the outcome of the surgery would be and which size would look the best for my frame.
Couldn't be happier with Dr Tillo work,i had my breast surgery one week ago and so happy with the results so far,all the staff are extremely nice and very supportive,i would definitely recommend their services,thank so much
From start to the finish everything was perfect for tummy tuck surgery. All staff is very friendly and the aftercare has been good. The Doctor and the nurse team was fantastic. I'm so happy...result is amazing. Thank you!!!
This was overall a great experience, all the staff at Centre for Surgery were friendly and put me at ease. It is a nerve wracking thing to go through an op but the staff were so nice. Mr Ertan has got a great team around him. On the day of the operation everything went smoothly to plan, there was no delay or holdups, I had another consultation with Mr Ertan who confirmed what was going to be done and that I was still happy to proceed. I was prepped for the procedure, I met with the anaesthetist who again was really nice and put me at ease explaining his role. After the procedure I woke up with the nurse by my side making sure I was OK and checking on me, I was able to stay in the clinic until I was ready to leave and was not rushed at all. I was well looked after from the start to the point when I was discharged. Post operation I was staying at a local hotel it was so close there was no point in even getting a taxi and I was able to walk back where my partner was waiting for me. I was expecting a lot of bruising to both my eyes but there was very little if any by the time the cast came off after 7 days, I am now at the two week post operation point and it is healing well with no outwardly visible bruising or scaring. The next milestone is a checkup at the 6 week point with my surgeon. If you're thinking of having something like this done I would highly recommend getting in touch with Centre for Surgery.
The staff at Centre for Surgery were very kind and accommodating. They answered any questions I had about the procedure and were constantly checking up on me. A special thank you to Christina for all her support throughout.
I would just like to state the quality of care received from the nurses at Centre for Surgery was beyond the highest level. Sophie takes her patient care to another level beyond words. She always puts me at ease. She is there for me even at awkward hours just when I mostly needed reassurance and she is one of the most compassionate nurses I have come across and demonstrates her passion naturally for caring for others. She totally deserves recognition at its finest and thank you for always being there for me. 😍