There are several reasons for wanting to have breast implants removed, and breast implant removal surgery in London has become an increasingly popular procedure in the UK. Some common reasons for women deciding to have their breast implants removed include the following:
Preference for the latest generation of Mentor breast implants
Women no longer like the look of enhanced breasts
A breast implant-related complication has occurred, such as capsular contracture or breast implant rupture
Concerns about breast implant-associated ALCL or BIA-ALCL
Development of several symptoms which could be linked with having breast implants, also known as Breast Implant IIlness or BII
Changes in the shape of the breasts after significant weight loss or after pregnancy
Keen to follow the lead of several high-profile celebrities who have had breast implant removal
Women may find their desire to have breast implants changes as they enter different phases of their life. Here we discussed the pros and cons of removing your breast implants. Our specialist plastic surgeons here at Centre for Surgery in London can help you to decide whether to remove or replace your implants. They will also be able to determine whether you require a capsulectomy or en-bloc removal as part of the implant removal procedure.
RELATED: Breast Implant Replacement
Pros of breast implant removal
Relief of symptoms: Some people who have breast implants may experience symptoms such as pain, discomfort, or infection. Removing the implants can alleviate these symptoms and improve overall well-being. Capital of contracture may develop around the implants, which can cause significant breast pain. Very large implants may cause neck, back or shoulder pain due to the heavy weight placed on the chest. Breast implant illness may also occur. Once breast implant removal has taken place, the vast majority of women notice a significant improvement in their symptoms.
Improved self-image: Some people may decide to remove their implants because they are dissatisfied with the appearance of their breasts. Removing the implants can help them feel more comfortable and confident in their own bodies. Breast implants made gradually cause an asymmetrical appearance over time. Removing the implants can lead to a significant boost in self-confidence.
Reduced risk of complications: Breast implants come with a risk of complications, such as rupture or capsular contracture. Removing the implants can reduce the risk of these complications and the need for additional surgery. Breast implants do not last forever, and the outer shell gradually weakens over time. There is always a risk of breast implant rupture, and once breast implants have been removed, there is no need to be concerned about the future risk of implant rupture.
Better mammogram results: Breast implants can make it more difficult to get accurate mammogram results. Removing the implants can improve the accuracy of mammograms, making it easier to detect breast cancer early. This is especially important if you have a family history of breast cancer.
Improved physical activity: Some people may find that their breast implants limit their ability to participate in certain physical activities, such as running or certain types of exercise. Removing the implants can improve physical activity and overall mobility. The recovery time after breast implant removal surgery is generally very quick and no more than two weeks. After recovery from breast implant removal has been completed, patients notice a significant improvement in their ability to undertake physical activity.
Cost savings: Some people may choose to remove their breast implants to save money on the ongoing maintenance and replacement costs of the implants. Removing the implant can result in long-term cost savings. Breast implants age over time, and most implant manufacturers recommend implant replacement every 10 to 15 years. Choosing to remove your breast implants removed you from the potential expenditure of breast implant replacement in the future.
It's important to note that removing breast implants is a surgical procedure that carries risks, so you should carefully weigh the potential benefits and risks before making a decision. Consult with a plastic surgeon to understand the potential outcomes and risks associated with the surgery.
RELATED: Breast Implant Removal & Breast Lift
Cons of breast implant removal
Surgery and recovery time: Breast implant removal is a surgical procedure that requires anaesthesia and a recovery period. This can cause pain and discomfort and may require time off from work or other activities. This can cause potential disruption if you have a busy job or significant childcare commitments.
Scarring: Breast implant removal leaves scars, which can be noticeable, especially if large incisions were made during the original surgery. Scarring can also be more significant if a breast lift or other additional procedure is done during the removal.
Changes in breast shape and size: Removing breast implants can result in changes to the shape and size of the breasts. This can be particularly noticeable if the implants are large and the breasts are significantly enlarged. This can lead to the appearance of deflated breasts. If silicone implants have to be removed due to breast implant rupture, a capsulectomy or en bloc removal may have to be performed. Inevitably, a small amount of breast tissue is removed along with a ruptured implant. The loss of significant amounts of breast tissue can cause your breasts to look deflated. This may require a breast lift or fat grafting in the same procedure or a second procedure.
Loss of cleavage: For some people, breast implants can create a more defined cleavage. Removing the implants can reduce or eliminate the cleavage effect.
Loss of breast volume: Removing breast implants can result in a loss of breast volume, especially if the implants were large or the individual had a significant amount of breast tissue removed during the original surgery.
Emotional distress: Some people may experience emotional distress related to changes in their breast shape and size after implant removal. This can include feelings of dissatisfaction, self-consciousness, and loss of confidence. Sometimes the results may not be what you had hoped for once you have fully recovered from the effects of the surgery.
Loss of nipple sensation: breast implant removal surgery may contribute to a partial or complete loss of nipple sensitivity. This risk is increased if a periareolar incision is made. The periareolar approach is associated with damage to the small nerves that supply the nipple.
It's important to remember that this decision is personal and individual, and different people may have different experiences and outcomes. Consult with a plastic surgeon to understand the potential outcomes and risks associated with the surgery and to help you weigh the potential benefits and risks before making a decision.
What other factors should be considered when deciding whether to remove my breast implants?
Patients should also consider the factors below when deciding whether to remove their breast implants, including:
Whether to keep the implants or have them removed
Whether to remove the old implants and have them replaced with brand-new ones
The potential need to combine breast implant removal with a breast lift to improve the appearance of deflated breasts
The option of removing breast implants and carrying out a fat transfer to the breasts to enhance breast volume and shape
Whether to have breast implant removal as a staged procedure with a breast lift or fat transfer carried out in a second procedure.
Breast Implant Removal at Centre for Surgery
Centre for Surgery is the leading plastic surgery clinic in London, and we regularly see patients who have decided they no longer wish to have breast implants. In many cases, breast implant removal alone may not get the results which patients desire. Breast implant removal is often combined with a Breast lift or fat graft into the breasts to restore fuller and firmer-looking breasts. Call us today to learn about the options for breast implant removal. Our friendly and knowledgeable patient coordinators will act as your personal point of contact throughout your patient journey with us at Centre for Surgery.
RELATED: How much is breast implant removal?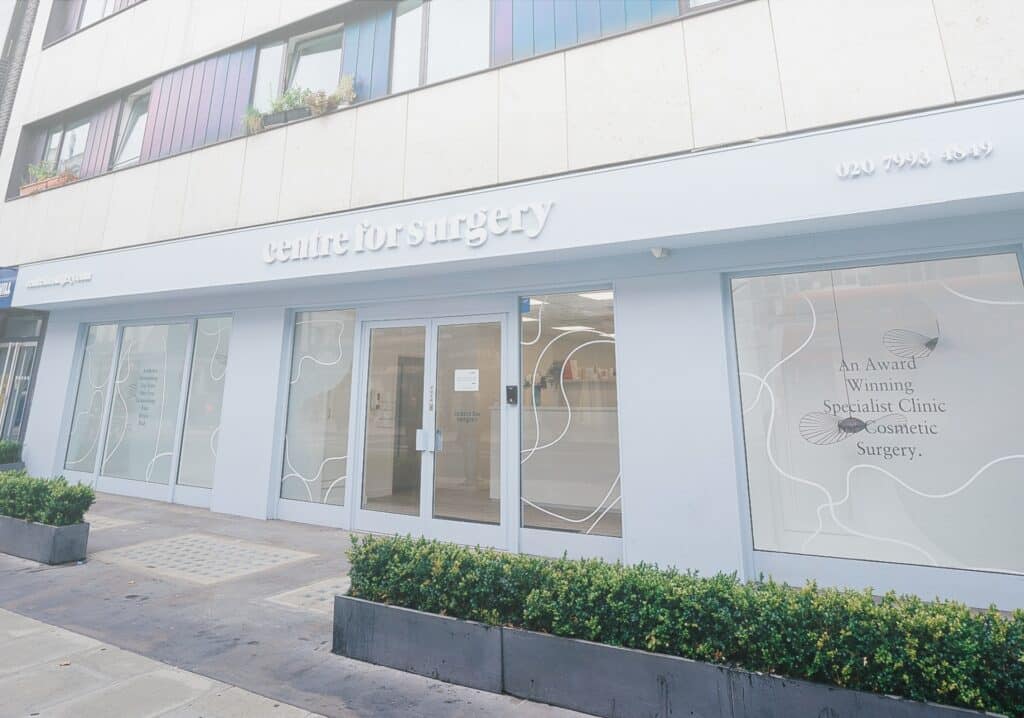 Amazing from start to finish, the communication was the main thing was fully informed and looked after, on the day of my breast augmentation, the staff were fab and made me feel at ease through out the whole process. Thank you so much.
Mohammed Farid
18/11/2021
I've had such a great experience with excellent advice, care and attention and surgical treatment (gynaecomastia) - I can fully endorse the treatment I have received from Centre for Surgery with absolutely no qualms at all. Brilliant in every way - thank you all so much.
Caroline Thorpe
14/11/2021
Very pleased with my whole experience of having a procedure. Was so nervous about getting treatment and i was reassured and felt so comfortable throughout thanks to the amazing nurses. I definitely made the right decision to have breast augmentation at centre for surgery with dr erel.
Melissa Briggs
08/11/2021
So glad I went with centre for surgery, the whole process went very smoothly from the consultations down to the actual day of the procedure. I was so nervous on the day but the whole team put me at ease and I'm happy with my results as I feel a lot more comfortable wearing certain clothes now. My surgeon was Alberto Di Giuseppe who performed a breast Augmentation on me, and I would definitely recommend as he was very clear on what the outcome of the surgery would be and which size would look the best for my frame.
Couldn't be happier with Dr Tillo work,i had my breast surgery one week ago and so happy with the results so far,all the staff are extremely nice and very supportive,i would definitely recommend their services,thank so much
From start to the finish everything was perfect for tummy tuck surgery. All staff is very friendly and the aftercare has been good. The Doctor and the nurse team was fantastic. I'm so happy...result is amazing. Thank you!!!
This was overall a great experience, all the staff at Centre for Surgery were friendly and put me at ease. It is a nerve wracking thing to go through an op but the staff were so nice. Mr Ertan has got a great team around him. On the day of the operation everything went smoothly to plan, there was no delay or holdups, I had another consultation with Mr Ertan who confirmed what was going to be done and that I was still happy to proceed. I was prepped for the procedure, I met with the anaesthetist who again was really nice and put me at ease explaining his role. After the procedure I woke up with the nurse by my side making sure I was OK and checking on me, I was able to stay in the clinic until I was ready to leave and was not rushed at all. I was well looked after from the start to the point when I was discharged. Post operation I was staying at a local hotel it was so close there was no point in even getting a taxi and I was able to walk back where my partner was waiting for me. I was expecting a lot of bruising to both my eyes but there was very little if any by the time the cast came off after 7 days, I am now at the two week post operation point and it is healing well with no outwardly visible bruising or scaring. The next milestone is a checkup at the 6 week point with my surgeon. If you're thinking of having something like this done I would highly recommend getting in touch with Centre for Surgery.
The staff at Centre for Surgery were very kind and accommodating. They answered any questions I had about the procedure and were constantly checking up on me. A special thank you to Christina for all her support throughout.
I would just like to state the quality of care received from the nurses at Centre for Surgery was beyond the highest level. Sophie takes her patient care to another level beyond words. She always puts me at ease. She is there for me even at awkward hours just when I mostly needed reassurance and she is one of the most compassionate nurses I have come across and demonstrates her passion naturally for caring for others. She totally deserves recognition at its finest and thank you for always being there for me. 😍