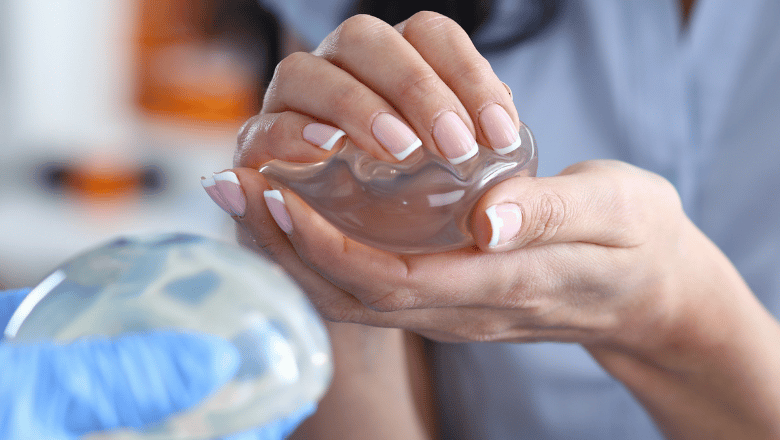 Women who choose to have breast implant surgery find they have a wide range of different breast implant options available. Getting the best breast augmentation results is closely linked to the selection of the most appropriate implant shape. Breast implants can be either round or teardrop shaped, and each type has its pros and cons depending on the results you would like to achieve. Centre for Surgery is the leading cosmetic surgery clinic for breast implants in London and the UK.
RELATED: How to choose the best breast implants
What are breast implants?
Breast implants are a type of surgical prosthesis that is placed beneath the breast tissue to achieve enhancement in the size, shape and fullness of the breast. Breast implants can lead to a significant improvement in self-confidence and emotional well-being as women feel much more confident and feminine. Breast implants can also be used as part of breast reconstruction surgery for women who have had a mastectomy for breast cancer or for correcting certain congenital conditions or chest wall defects such as pectus excavatum or Poland's syndrome.
RELATED: What is the perfect breast implant for me?
Breast implants come into main varieties depending on the internal filler material. Saline implants contain a sterile saline (salt water solution), while silicone implants contain a medical-grade cohesive gel. Saline implants are no longer used in the UK as they are more likely to develop implant-related complications such as sudden deflation, folding of the implant shell or rupture. However, when saline implants rupture, any internal saline solution is safely absorbed into the body. The ruptured saline implants must still be surgically removed with a breast implant removal procedure.
Silicone implants more closely mimic the natural feel of breast tissue with less risk of wrinkling or visible implant edges. Some older types of silicone implants contain a more runny type of silicone gel which increase the risk of leakage into the surrounding tissue and cause localised soft tissue lumps.
RELATED: Mentor breast implants
Round vs Anatomical implants – which is best?
When it comes to choosing the ideal shape of silicone breast implants, there are two different options:
Round implants – these have a circular shape
Anatomical implants – these resemble the shape of a teardrop
Round implants
Round implants are the most commonly used type of breast implant here at Centre for Surgery and are used in approximately 75% of procedures. Round implants come in a range of different sizes and projections. Many women prefer round implants as they can enhance fullness in both the upper and lower portion of the breast. High-profile round implants may also help to enhance cleavage and provide a minor degree of breast lift when placed behind the breast tissue in a subglandular position.  When in the standing position, round implants can appear natural-looking due to the effects of gravity, leading to a teardrop shape, which resembles the normal human breast.  When women lie flat, the implants will have a more rounded appearance.
Anatomical (teardrop) implants
In approximately 25% of breast implant procedures, anatomical implants are chosen to achieve natural-looking results. Anatomical implants have a teardrop shape which closely resembles the shape of the normal human breast. Compared with round implants, anatomical implants have a firmer silicone gel to mimic the feel of normal breast tissue and have a coarse-textured surface to prevent implant rotation. If an anatomical implant were to rotate, breast implant revision surgery would be required to correct implant rotation.
The best way to choose the ideal shape of a breast implant is to have an in-person consultation. This will allow your surgeon to assess the size and shape of your chest to aid selection of the most appropriate implant to match your body anatomy.
Breast implants with fat transfer or breast lift (mastopexy)
Breast implants are excellent for enhancing breast size, shape or fullness. However, for women who have significant degrees of breast sagging or drooping, breast augmentation with implants on their own is not sufficient to improve the shape of the breast. Optimum correction of sagging breasts can be achieved by combining a Breast lift with implants.
Breast lift surgery is also known as a mastopexy and involves surgical removal of excess breast skin combined with the reduction in the size of the areolas, also known as areola reduction surgery. A mastopexy can help to improve both the shape and firmness of the breasts. Droopy breasts can be lifted to a more higher position on the chest for a more youthful look. Many women combine breast implants with a breast lift to enhance breast volume and shape in the same procedure. The development of saggy and droopy breasts can occur due to pregnancy, breastfeeding, significant weight loss or the natural ageing process. Some women may choose to have breast implants separately from a breast lift. In this case, breast augmentation with implants would be carried out first, followed by a mastopexy approximately 3 to 6 months later.
Pros and cons of round implants and anatomical implants
Women should be clear about what they would like to achieve from breast implant surgery when they have an in-person consultation with a specialist plastic surgeon. There are pros and cons to both round implants and anatomical implants, depending on a woman's treatment goals. Although many people are keen to choose the right implant size, implant shape can also be a key factor in determining breast implant surgery results. The consultation serves as the ideal opportunity to discuss the benefits and risks of both round implants and teardrop implants. The surgeon needs to understand what concerns you about how your breasts look. Although your preferences will be considered when selecting the ideal shape, your surgeon can advise you on the most appropriate implant choice, having carried out a physical examination to determine the anatomy of your chest.
Round implants are easier to manufacture, and therefore, the cost savings can be passed on to the patient. Round implants do not suffer from some of the associated risks of anatomical implants, such as implant rotation. There is also thought to be a lower risk of BIA-ALCL with smooth round implants. Round implants have a softer feel compared with teardrop implants and are less suited to correcting mild sagging or grouping of the breast.
Anatomical implants generally cost more than round implants as they are more difficult to manufacture. Teardrop implants have a textured surface to minimise the risk of implant rotation. Anatomical implants have a firmer consistency to closely mimic the feel of natural breast tissue. However, teardrop implants are associated with a higher risk of BIA-ALCL due to the textured surface.
Benefits of breast implants for breast augmentation
Breast augmentation surgery is designed to enhance the size, shape or fullness of the breasts. Silicone implants are the most commonly used type of breast implant in the UK and can be placed either behind the breast tissue or beneath the pectoralis muscle. Patient satisfaction rates after breast augmentation are very high due to the significant boost in self-confidence from having more feminine-looking breasts. Breast implants can also be used as part of breast reconstruction surgery for women who have had a mastectomy for breast cancer or have congenital breast defects such as breast asymmetry. Breast implants can also be used with a mastopexy to improve breast shape following pregnancy, breastfeeding and significant weight loss. It is important to understand what having breast implants involves, how the procedure is carried out, the recovery period involved and the potential risks and complications.
RELATED: Are breast implants worth it?
Breast implant shape FAQS
How to choose between round or teardrop implants?
Round and teardrop implants each have their benefits and drawbacks. Round implants cost less and can enhance fullness in both the lower and upper portions of the breast. Implant rotation is not a problem with round implants, eliminating the need for breast implant revision surgery to correct implant rotation. Anatomical implants are popular with patients who would like to achieve a natural-looking breast, although there is a slightly higher risk of BIA-ALCL compared with round implants. If anatomical implants were to rotate, this could often cause visible breast asymmetry and will require corrective breast surgery.
Are teardrop implants smaller than round implants?
Although anatomical implants often appear slightly smaller compared with round implants of the same size, this is often because of the wider dimensions of round implants. Round implants can enhance fullness in both the upper and lower parts of the breast tissue, which may give the impression of them looking bigger. Anatomical implants can give a more natural-looking sloped appearance due to having a firmer gel which deforms less easily.
Do round implants look natural?
Round implants can produce natural-looking results when the surgery is carried out by an experienced plastic surgeon and often have a teardrop shape when patients stand up. Enhanced cleavage can be achieved with a natural breast slope due to the effects of gravity when standing. Anatomical implants may provide a more natural look and feel both when standing or lying down, as round implants appear distinctly rounded when lying flat.
Why do teardrop implants cost more than round implants?
Round implants cost less than teardrop implants as they are slightly easier to manufacture, allowing them to pass on the cost savings to clinics and, ultimately, the patient.
Are anatomical implants safe?
Although teardrop implants are associated with a slightly higher risk of BIA-ALCL, which is a rare type of blood cancer, they are generally considered to be safe. There are risks with both types of implant shapes, and the most appropriate choice will be advised by your surgeon.
What is the most natural type of breast implants?
The latest generation round and teardrop implants have a very natural feel and consistency. Saline implants are no longer used as they do not feel as natural as implants containing medical-grade silicone. Silicone cohesive gel has good stability and consistency in feel, making it the most natural type of breast implant.
RELATED: What are the most natural looking breast implants?
How to have a natural breast augmentation
There are now alternatives to breast augmentation with implants. Fat transfer breast augmentation involves the removal of excess fat from other areas of the body, such as the abdomen, hips or thighs. The fat is then processed to remove impurities before being injected into targeted areas of the breast to achieve a natural breast enhancement with your own body fat. The drawback of fat transfer to the breasts involves the limited increases in size that can be achieved with the technique, with most women only able to increase their breast size by half a cup size or a full cup size at most.
RELATED: Fat transfer breast augmentation pros and cons
Schedule a breast implants consultation at Centre for Surgery
Centre for surgery is the leading plastic surgery clinic in London and is home to some of the top cosmetic surgeons in the UK. We carry out hundreds of breast implant surgery procedures each year using Mentor breast implants. Booking a consultation could not be easier. Simply call us on 020 7993 4849 or complete the contact form below to schedule an in-person consultation with a specialist Plastic Surgeon at our state-of-the-art Baker Street clinic in Marylebone.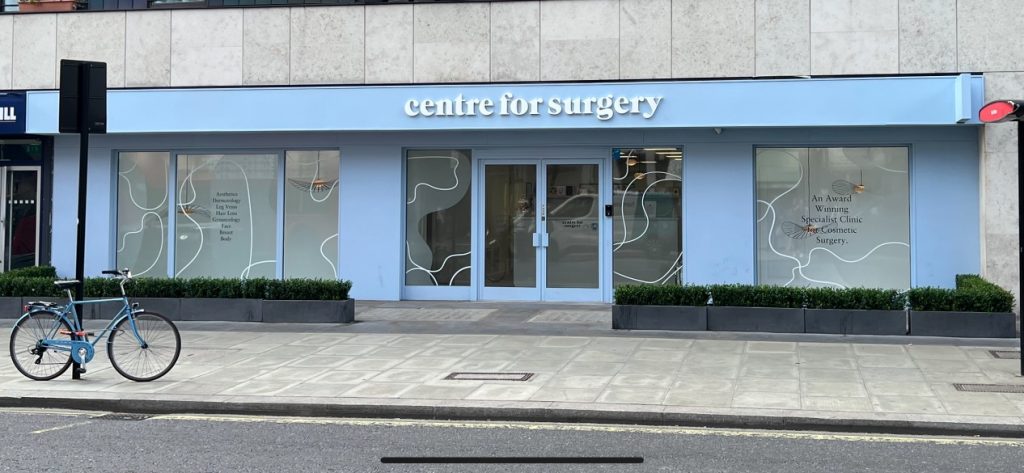 Amazing from start to finish, the communication was the main thing was fully informed and looked after, on the day of my breast augmentation, the staff were fab and made me feel at ease through out the whole process. Thank you so much.
Mohammed Farid
18/11/2021
I've had such a great experience with excellent advice, care and attention and surgical treatment (gynaecomastia) - I can fully endorse the treatment I have received from Centre for Surgery with absolutely no qualms at all. Brilliant in every way - thank you all so much.
Caroline Thorpe
14/11/2021
Very pleased with my whole experience of having a procedure. Was so nervous about getting treatment and i was reassured and felt so comfortable throughout thanks to the amazing nurses. I definitely made the right decision to have breast augmentation at centre for surgery with dr erel.
Melissa Briggs
08/11/2021
So glad I went with centre for surgery, the whole process went very smoothly from the consultations down to the actual day of the procedure. I was so nervous on the day but the whole team put me at ease and I'm happy with my results as I feel a lot more comfortable wearing certain clothes now. My surgeon was Alberto Di Giuseppe who performed a breast Augmentation on me, and I would definitely recommend as he was very clear on what the outcome of the surgery would be and which size would look the best for my frame.
Couldn't be happier with Dr Tillo work,i had my breast surgery one week ago and so happy with the results so far,all the staff are extremely nice and very supportive,i would definitely recommend their services,thank so much
From start to the finish everything was perfect for tummy tuck surgery. All staff is very friendly and the aftercare has been good. The Doctor and the nurse team was fantastic. I'm so happy...result is amazing. Thank you!!!
This was overall a great experience, all the staff at Centre for Surgery were friendly and put me at ease. It is a nerve wracking thing to go through an op but the staff were so nice. Mr Ertan has got a great team around him. On the day of the operation everything went smoothly to plan, there was no delay or holdups, I had another consultation with Mr Ertan who confirmed what was going to be done and that I was still happy to proceed. I was prepped for the procedure, I met with the anaesthetist who again was really nice and put me at ease explaining his role. After the procedure I woke up with the nurse by my side making sure I was OK and checking on me, I was able to stay in the clinic until I was ready to leave and was not rushed at all. I was well looked after from the start to the point when I was discharged. Post operation I was staying at a local hotel it was so close there was no point in even getting a taxi and I was able to walk back where my partner was waiting for me. I was expecting a lot of bruising to both my eyes but there was very little if any by the time the cast came off after 7 days, I am now at the two week post operation point and it is healing well with no outwardly visible bruising or scaring. The next milestone is a checkup at the 6 week point with my surgeon. If you're thinking of having something like this done I would highly recommend getting in touch with Centre for Surgery.
The staff at Centre for Surgery were very kind and accommodating. They answered any questions I had about the procedure and were constantly checking up on me. A special thank you to Christina for all her support throughout.
I would just like to state the quality of care received from the nurses at Centre for Surgery was beyond the highest level. Sophie takes her patient care to another level beyond words. She always puts me at ease. She is there for me even at awkward hours just when I mostly needed reassurance and she is one of the most compassionate nurses I have come across and demonstrates her passion naturally for caring for others. She totally deserves recognition at its finest and thank you for always being there for me. 😍