Laser Acne Treatment in London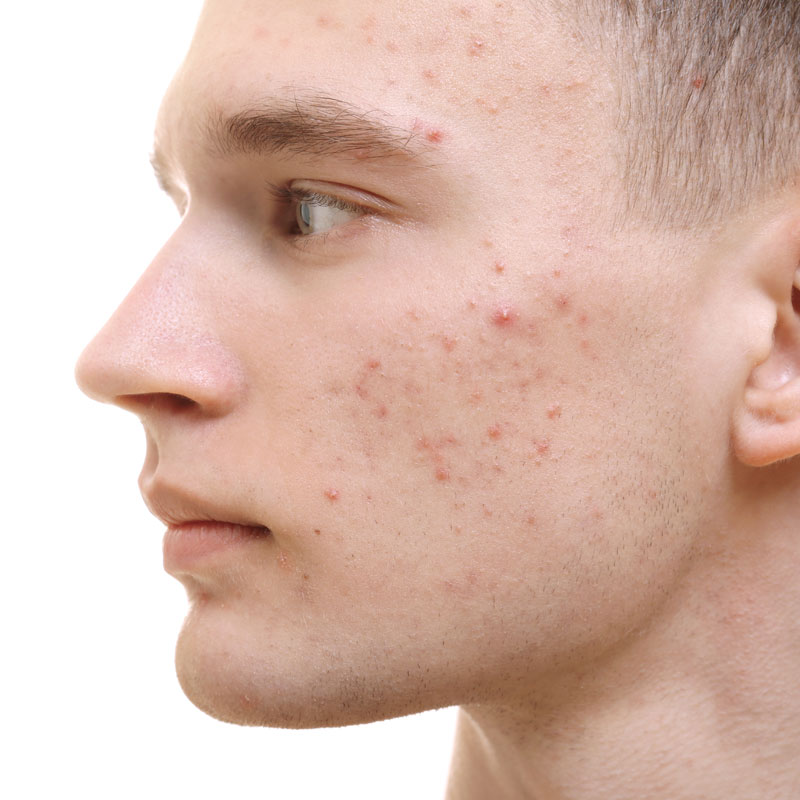 Acne, also known as acne vulgaris, is a very common condition of the skin that most commonly affects young adults. The characteristic skin lesion of acne most commonly occurs in certain regions such as the face, chest, shoulders and upper back. When acne affects highly visible areas such as the face, the condition can be a source of significant mental and emotional upset. In many cases, improperly treated acne can result in the formation of acne scarring, which can be very difficult to treat. Any adults who develop sudden onset of acne should be investigated further to identify any medical condition which can be treated, leading to resolution of the acne.
RELATED: Can acne affect adults?
RealSelf Top Doctors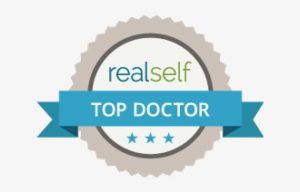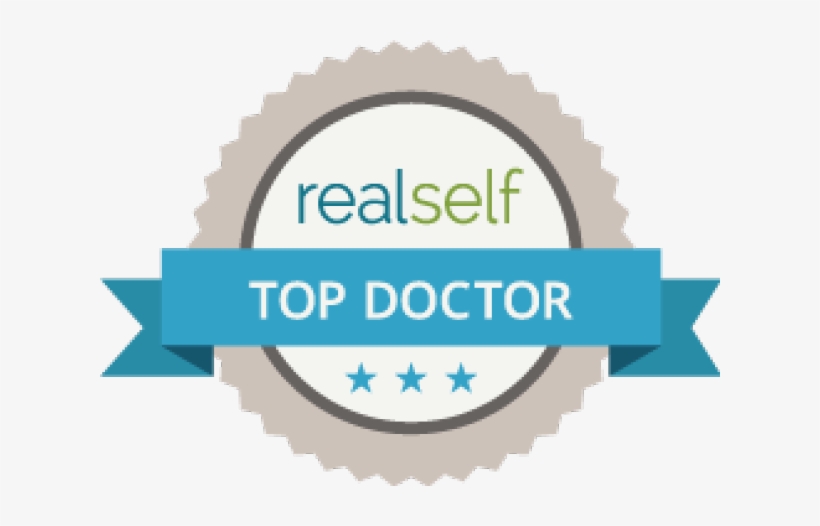 RealSelf's top doctor status is awarded to less than 10% of the RealSelf doctor community. This status is earned by achieving consistently high patient satisfaction (from RealSelf reviews), getting excellent feedback on expert answers to patient questions, and investing significant time in Q&A and other doctor activities. RealSelf's top doctors are rated among the very best specialists in the UK.
Why choose Centre for Surgery for acne treatment?
Acne specialists at Centre for Surgery are renowned in the treatment of all types of acne using state-of-the-art acne treatments.
We have some of the most experienced specialists in acne treatment in the UK.
Our acne specialists treat over 150 acne patients each year
Our specialist dermatology clinic is located in Marylebone
[wpseo_map id="7788″ width="750″ height="300″ zoom="15″ map_style="roadmap" scrollable="1″ draggable="1″ show_route="0″ show_state="0″ show_url="1″ show_email="1″ default_show_infowindow="1″ show_phone="1″ show_phone_2="0″ show_fax="0″]
What are the causes of acne?
Everyone has pores on their skin and these pores are made up of a sebaceous gland which is responsible for producing the oily secretion called sebum and a hair follicle. The function of sebum is to minimise the loss of water from the body and to maintain hair follicles in a healthy condition. With puberty and conditions of hormonal imbalance, these pores can increase in size and rise in sebum production. All of us have bacteria that live on the skin surface and the presence of sebum helps to create a suitable environment for the bacteria to survive. In situations where the skin pore becomes blocked due to a surplus of sebum and dead skin cells then bacterial infection may supervene. The resulting inflammatory changes and bacterial infection beneath the skin result in active acne.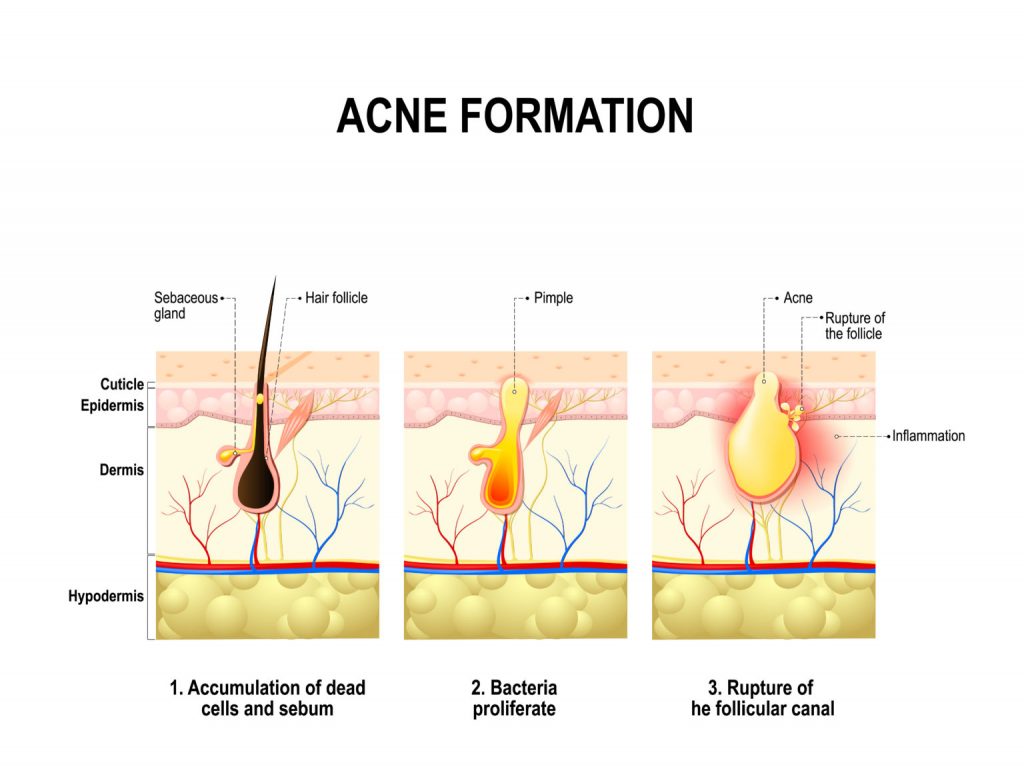 What are the potential triggers of acne breakouts
Sadly, there is no such thing as a 'cure' for acne, but understanding the potential triggers that can both cause and exacerbate acne may help you to alleviate symptoms and improve your skin condition. Here are some of the most common ones:
Certain foods – most dermatologists agree that a high glycaemic Index and dairy products may exacerbate acne-prone skin
Stressful lifestyle
Smoking – research shows that smoking exacerbates acne by causing oxidative stress to the skin and altering sebum composition
A family history of acne
A build-up of dead skin due to lack of exfoliation
Excessively oily skin which more often leads to pore blockage
Hormonal imbalances
Certain medications whether over-the-counter or prescription
Inflammatory changes affecting the skin
Propionibacterium acne bacteria present in the skin
Identifying comedones and the difference between a white head and a black head
A white head (closed comedones) refers to a hair follicle that is plugged and congested and trapped beneath the skin whereas a black head (open comedones) is a hair follicle that is plugged and congested but has exposure to air leading to darker brown colour visible.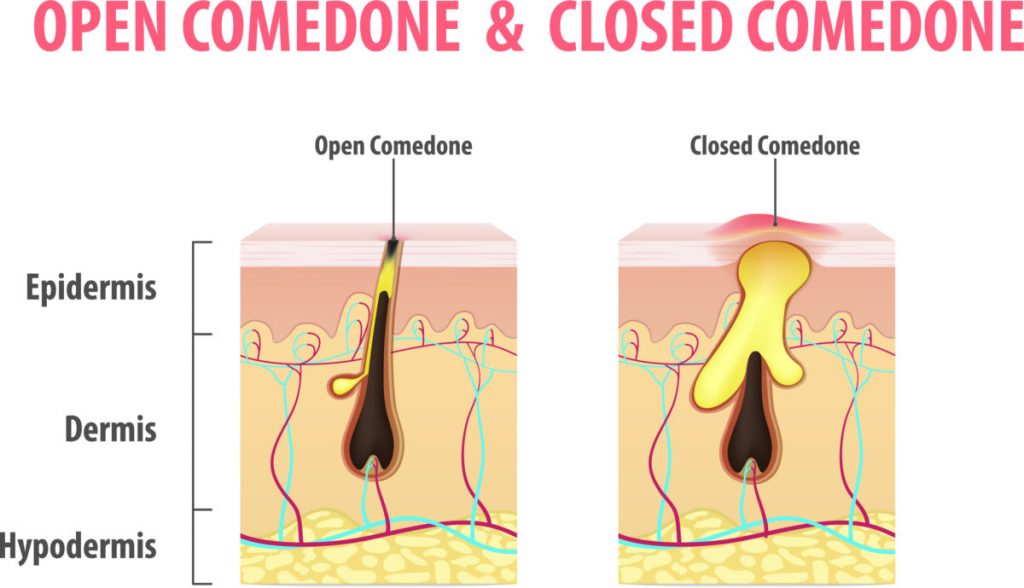 Diagnosis of Acne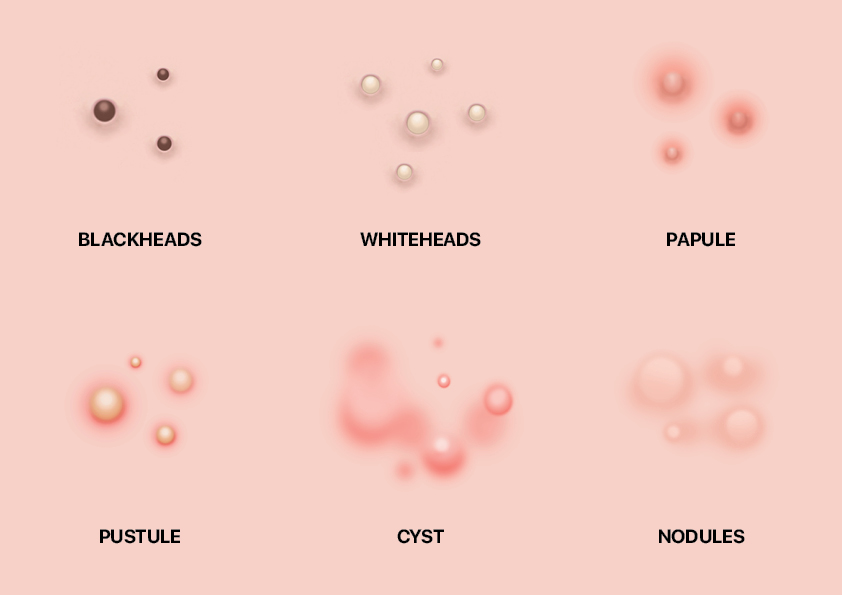 Blackheads
Blackheads are small, dark, flat blemishes resulting from a blocked sebaceous gland. The dark colour is a result of the process when sebum reacts with oxygen and is not related to dirt. There are several causes of blackheads, including an increase in sebum production, excessive sweating, certain medications and younger individuals going through puberty. The optimum treatment for blackheads involves a twice-daily clean with acne-specific face wash and using an exfoliant to remove dead skin cells. Topical acne treatment products such as benzoyl peroxide, salicylic acid and glycolic acid are recommended. Patients should maintain a healthy diet.
Whiteheads
Whiteheads (or closed comedones) are raised rounded skin lesions with a milky-white surface. Whiteheads differ from blackheads in that they are the result of a blocked sebaceous gland. Treatment principles for blackheads also apply to whiteheads.
Papules
Papules are small raised bumps that are usually red in colour. They can be tender to the touch. Papules extend deeper into the skin. Papules do not contain pus but may become inflamed. The mainstays of effective treatment include a twice-daily facial wash with specialist acne treatment products. Regular exfoliation both with mechanical methods and skin exfoliative agents, is recommended to eliminate the build-up of dead skin cells. Patients should ideally use mineral-based makeup. Prescription-strength topical cream should also be used alongside benzoyl peroxide and salicylic acid.
Pustules
Pustules share many similarities to papules, although they differ in that they contain pus which is a yellowish fluid. The formation of pus is related to the immune system trying to mount a response to the bacteria that have entered the follicle. Pustules tend to form on areas of the body that have more sebum production, such as the face and neck and like papules, they become inflamed and, therefore, tender to touch. Pustules should not be picked at and the face should be washed twice daily with acne face wash. A chemical exfoliant such as glycolic acid should be used regularly to facilitate the removal of dead skin cells. Topical retinoids are used alongside benzoyl peroxide, and oral medications may be required, including both antibiotics and Roaccutane in severe cases.
Nodules
Nodules are small and firm skin lesions that are often painful and deeply situated within the skin. Nodules are typically found on larger areas of skin, such as the back and shoulders. Infected nodules occur when bacteria settle in the pore underneath the skin, which causes pain, redness, tenderness and swelling – the four main clinical features of infection. Nodules must not be picked at to avoid aggravating any infective process and to avoid future acne scarring. All patients should use a twice-daily acne face wash and use regular topical exfoliation products such as glycolic acid. Topical retinoids may be prescribed along with benzoyl peroxide and salicylic acid. More severe cases require oral antibiotics and Roaccutane for effective treatment. Patients should maintain a healthy diet and avoid foods which may make their acne worse.
Cysts
Cysts represent the most severe type of acne and are soft pus-filled raised lumps deeply situated in the skin. Total blockage of the skin pores leads to cyst formation, which results in both inflammation and infection. Acne cysts can form anywhere on the body where hair follicles are found and are often related to hormonal imbalances. The appearance of cysts can greatly diminish an individual's self-confidence due to their unsightly nature. The treatment for acne cysts must be proactive for effective acne control. All patients must wash with twice daily face wash and use mineral-based makeup instead of conventional types of makeup. Dead skin cells should be removed by using chemical exfoliants such as salicylic acid and glycolic acid. Topical prescription-strength benzoyl peroxide should be used in combination with high-strength agents. In many cases, oral antibiotics and Roaccutane for more severe diseases will need to be used. The use of the oral contraceptive pill is also an option to correct hormonal imbalances. All patients should eat a healthy diet with plenty of antioxidants.
Prevention of Acne
Everyone's skin is different and this uniqueness determines what types of acne prevention may work for one person and yet be of no help for another person. Our dermatologists have put together some practical tips for preventing acne:
Diet
Smoking – smoking should preferably be stopped or at least reduced
Medication – if you think medication is causing your acne, consult with one of our dermatologists
Skincare – use a twice-daily face wash routine in the morning and evening and make sure to remove all make-up before going to bed
Stress
Picking at skin lesions
Vigorous scrubbing or exfoliation
Rubbing
Sunshine – sunshine should be enjoyed in moderation but you must avoid peak hours of strong sunlight along with the application of an SPF 30 or higher sunscreen.
It is only by continually trying new prevention measures over a number of weeks that you will be able to identify which of the factors are applicable to your acne and help to improve the condition. If symptoms persist despite trying a number of acne prevention methods, you are not alone. Our expert dermatologists will be able to advise you and have access to the full range of acne treatment options.
Acne Treatment Options
Acne medication
At Centre for Surgery in London, our dermatologists have access to a wide range of acne medication options, from topical treatments for mild symptoms through to drugs of varying strengths to treat more severe cases. The right medicine, when used according to prescription, will help to reduce acne skin lesions and reduce the risk of acne scarring the skin. Our dermatologists agree that, in moderate to severe cases of acne, the timely use of drugs can help to prevent symptoms from worsening and reduce the risk of scarring. Dermatologists at Centre for Surgery use the Obagi CLENZIderm M.D.™ System as they are the only prescription-strength acne treatments that contain a patented, solubilised form of 5% benzoyl peroxide (BPO) to penetrate deep into the follicle and treat acne where it starts.
Benefits of Obagi CLENZIderm M.D.™ System:
Reduce sebum production
Effective skin exfoliation to unblock pores
Reduce the size of pores
Reduce acne breakouts caused by bacterial
Reduce the appearance of redness
Restores healthy-looking skin free of dullness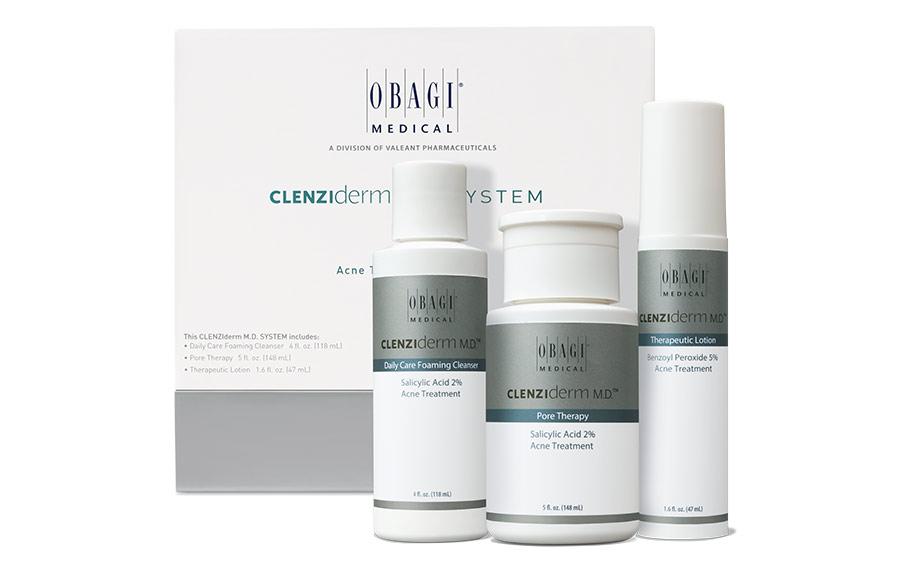 Benzoyl peroxide (BPO) – BPO is suitable for mild to moderate cases of acne and comes as a topical cream which is applied to the affected area of skin.
Topical retinoids – An alternative to Benzoyl peroxide. topical retinoids are vitamin A derivatives that are prescription formulations which come as cream and are applied to the affected area of the skin
Azelaic acid – Azelaic acid is recommended when benzoyl peroxide and topical retinoids have proven to be ineffective or if adverse side effects develop from their use. Azelaic acid is also ideal for patients who have sensitive skin in response to sunlight.
Topical and oral antibiotics – antibiotics whether topical or oral are only used in combination with other acne treatments to reduce the proliferation of P.acnes bacterial and prevent skin infections from developing. Topical antibiotics are applied directly to the area whereas oral antibiotics are taken by mouth.
Combined oral contraceptive pill – Acne is particularly sensitive to changes in our hormonal state and for women who develop acne breakouts due to hormonal imbalance then a number of oral contraceptives have been shown to be suitable for acne treatment.
Roaccutane is for severe acne that is unresponsive to other treatments. Roaccutane works by blocking the formation of acne lesions by reducing the size of the sebaceous glands which make sebum. This helps to prevent the development of clogged pores. Treatment usually requires 4-6 months with regular blood tests as Roaccutane can affect liver function. Patients will not be able to have in-clinic treatments such as chemical peels and laser while on Roaccutane treatment. Patients on Roaccutane are under the supervision of a dermatologist for the full duration of treatment.
In-clinic acne treatment
Chemical peels for acne
At Centre for Surgery, our dermatologists perform specialist chemical peels with a carefully prepared mixture of benzoyl peroxide, TCA, salicylic acid, retinoic acid, Vitamin C and Kojic acid. This is a light chemical peel and specifically targets acne lesions, large pores and hyperpigmentation. This special peel has very little downtime and has been clinically proven to improve the appearance of the skin and improve acne scarring. TCA can also be used for both spot treatment and full face treatment for both active acne and acne scarring.
Comedone extractions
Extraction of comedones using mechanical methods helps to improve the appearance of the skin. Mechanical extraction of comedones is performed by dermatologists to reduce the risk of scarring and further damage to the skin. A specialised comedone extractor is used for the removal of acne lesions.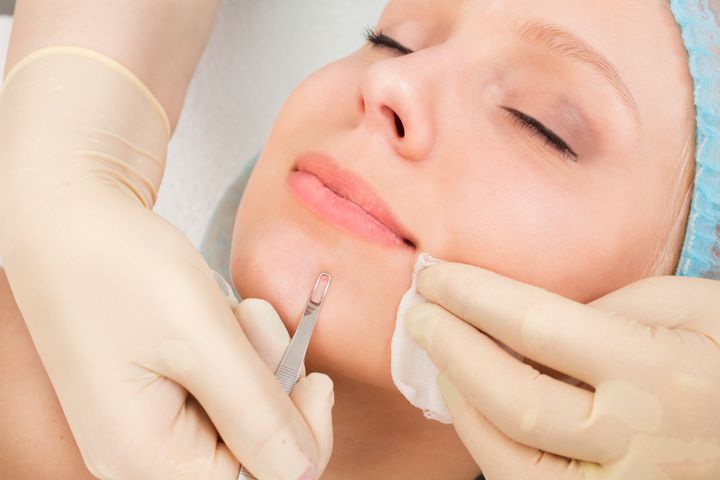 Laser acne treatment
Laser treatment for acne widens the range of treatment options available. In addition to offering treatment to those unable to take (or who have failed) standard therapy as above, the use of laser improves compliance, reduces the need for long-term antibiotics and retinoid therapy, and does not add to the increasing problem of antibiotic resistance. Our Fotona SP Dynamis laser is one of the most powerful lasers for the treatment of acne. The Nd:YAG laser targets P. acne bacteria leading to their death and also causes photothermal damage to the sebaceous gland, resulting in reduced gland size and sebum production.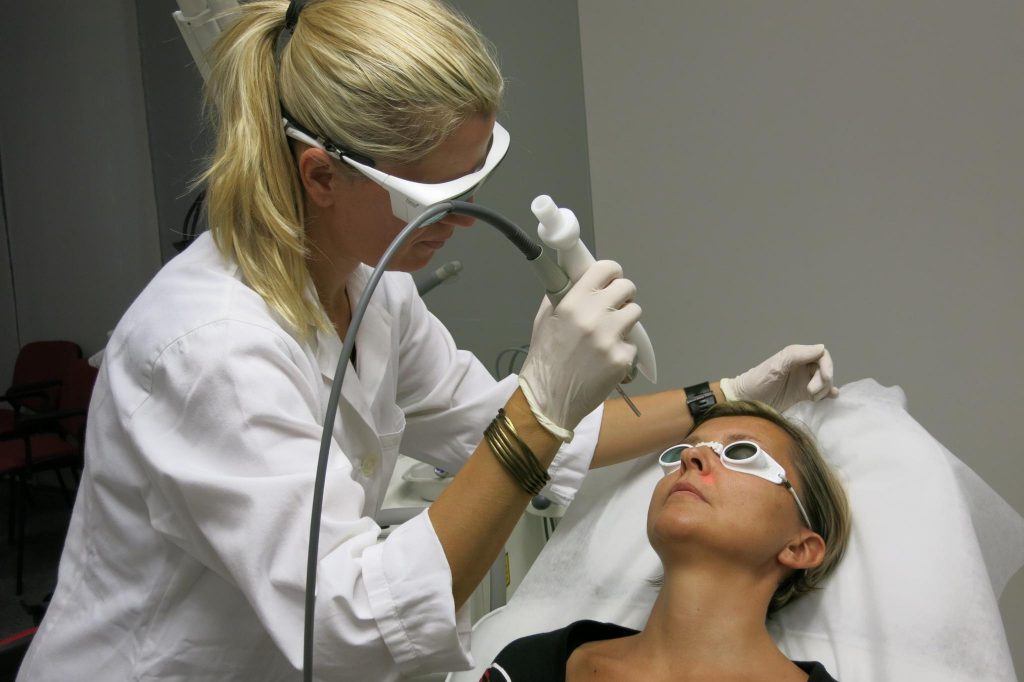 The use of Fotona Nd:YAG laser is a safe and effective treatment for even severe acne inflammation including papules, comedones, painful nodules and cysts. Every laser session includes six passes with the laser, with mild cold air cooling for comfort. The treatment protocol is two sessions per week in the first month, followed by laser treatments once per week in the second and third months of treatment. The treatment is performed with very little overall discomfort and no downtime. The Nd:YAG laser acne treatment also reduces scar depth and produces a softening of scar contours. Laser acne treatment represents the most promising and effective treatment for active acne at Centre for Surgery.
Laser acne treatment for back: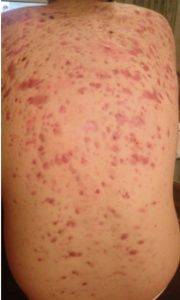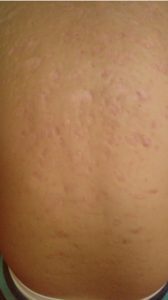 Laser acne treatment of the chest before and after: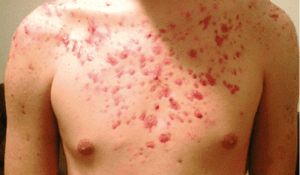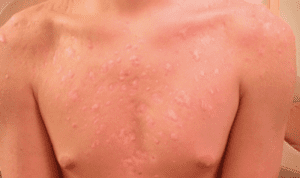 Acne treatment before and after
Case 1:
Complete clearance with only one treatment of Nd:YAG laser.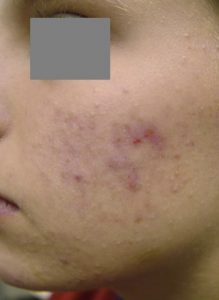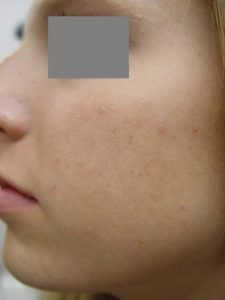 Case 2:
19-year-old transgender woman with a 3-year history of acne on the face. The patient had tried multiple oral and topical treatments, retinoids and benzoyl peroxide with minimal improvement. The patient had 4 sessions of Nd:YAG laser every 2 weeks. The after photo was taken after the final treatment and there was no recurrence at the 1-year follow-up appointment.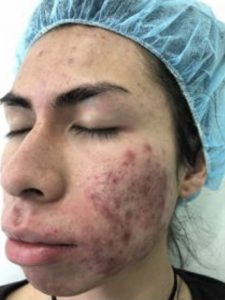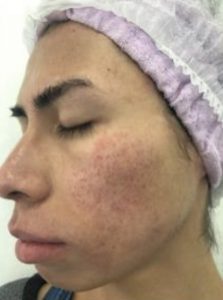 Case 3: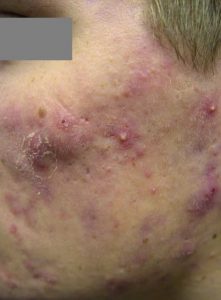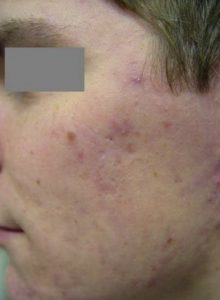 Case 4:
This was a 22-year-old Chinese male who had active acne for over 6 months. He had tried many different treatments including topical acne treatments. He was not keen on taking acne drugs and wanted a faster solution. Three sessions of Nd:YAG laser were performed. Each treatment was spaced 28 days apart.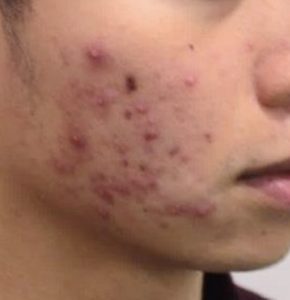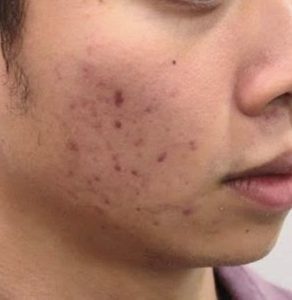 Case 5:
Cystic acne is very unpleasant and presents as inflamed pustules filled with pus. Before and after of the treatment of acutely painful cystic acne lesion of the nose with combined Nd:YAG and Erbium laser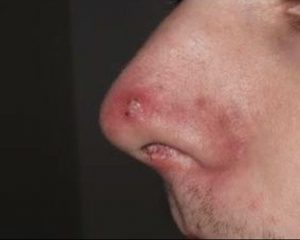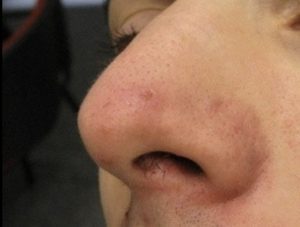 Top Acne Specialists in London
Our experienced specialists are very skilled in the assessment, management and prevention of all types of acne. Each patient is assessed as an individual and a customised treatment plan will be formulated according to your lifestyle, preferences and treatment goals. Everyone's skin is different, as is acne across individuals. Some types of acne can be effectively treated with topical skin care and milder treatments, while others need to take Roaccutane for optimum acne control. Centre for Surgery offers a full range of acne treatments from mild to aggressive to make sure everyone gets optimum results for long-term healthy skin free of acne.
Schedule an acne treatment consultation at Centre for Surgery
Centre for Surgery is known as a leader in cosmetic dermatology and skincare. Centre for Surgery have state of the art centres across London and our dermatologists are world-renowned in specialist acne treatment. Patients come to Centre for Surgery when they want an expert to deliver gold-standard acne treatment care. Call us today to book a consultation on 0207 993 4849 or complete the contact form below to learn how we can help you in your journey to get rid of acne.
What happens at my acne consultation at Centre for Surgery?
You will be booked in to see one of our expert dermatologists at Centre for Surgery on Crawford Street in Marylebone for your acne consultation.
The dermatologist will perform a thorough clinical examination of your skin and will discuss a number of aspects with you:
– Treatment options based on the type of acne you have and what kind of results can be expected with the proposed treatment
– What the treatment involves including how often to apply the medication to the skin if you are prescribed a topical treatment
– Review your medical history including any medicines you may be taking
– Answer your questions about any aspect of the treatment
Patient journey summary:
– Arrange a consultation at our dermatology clinic at 106 Crawford Street, Marylebone for a face-to-face consultation with an expert dermatologist
– Commence a course of treatment based on your needs and preferences
– Arrange a follow-up appointment if required to be seen by your dermatologist to review the effectiveness of the treatment
How to find us
Centre for Surgery is located at 106 Crawford Street in Marylebone. Crawford Street is just off Baker Street. We are easily accessible by all major bus routes that pass through Baker Street as well as Baker Street underground station.
From the tube station, we are just a 5-minute walk southwards down Baker Street followed by a right turn onto Crawford Street. The clinic is about 200 yards on the left.
There is ample local pay & display parking in the surrounding area and an NCP car park is located further west along Crawford Street. Our local residential parking zone is the City of Westminster.
Address: 106 Crawford Street, Marylebone, London, W1H 2HY
[wpseo_map id="7788″ width="750″ height="300″ zoom="15″ map_style="roadmap" scrollable="1″ draggable="1″ show_route="0″ show_state="0″ show_url="1″ show_email="1″ default_show_infowindow="1″ show_phone="1″ show_phone_2="0″ show_fax="0″]