Erbium Laser in London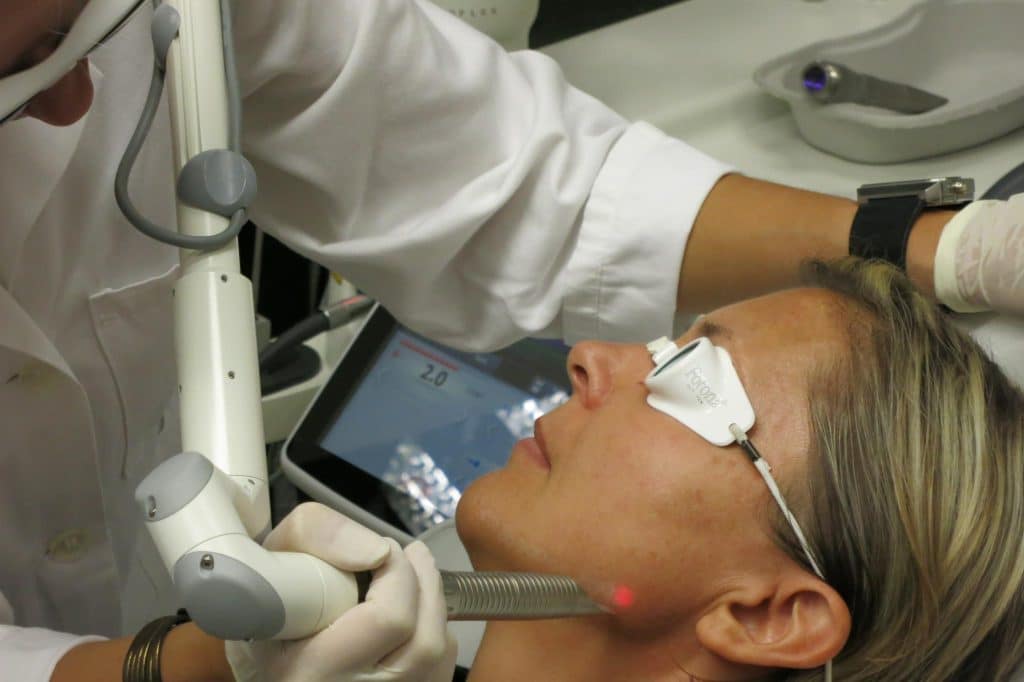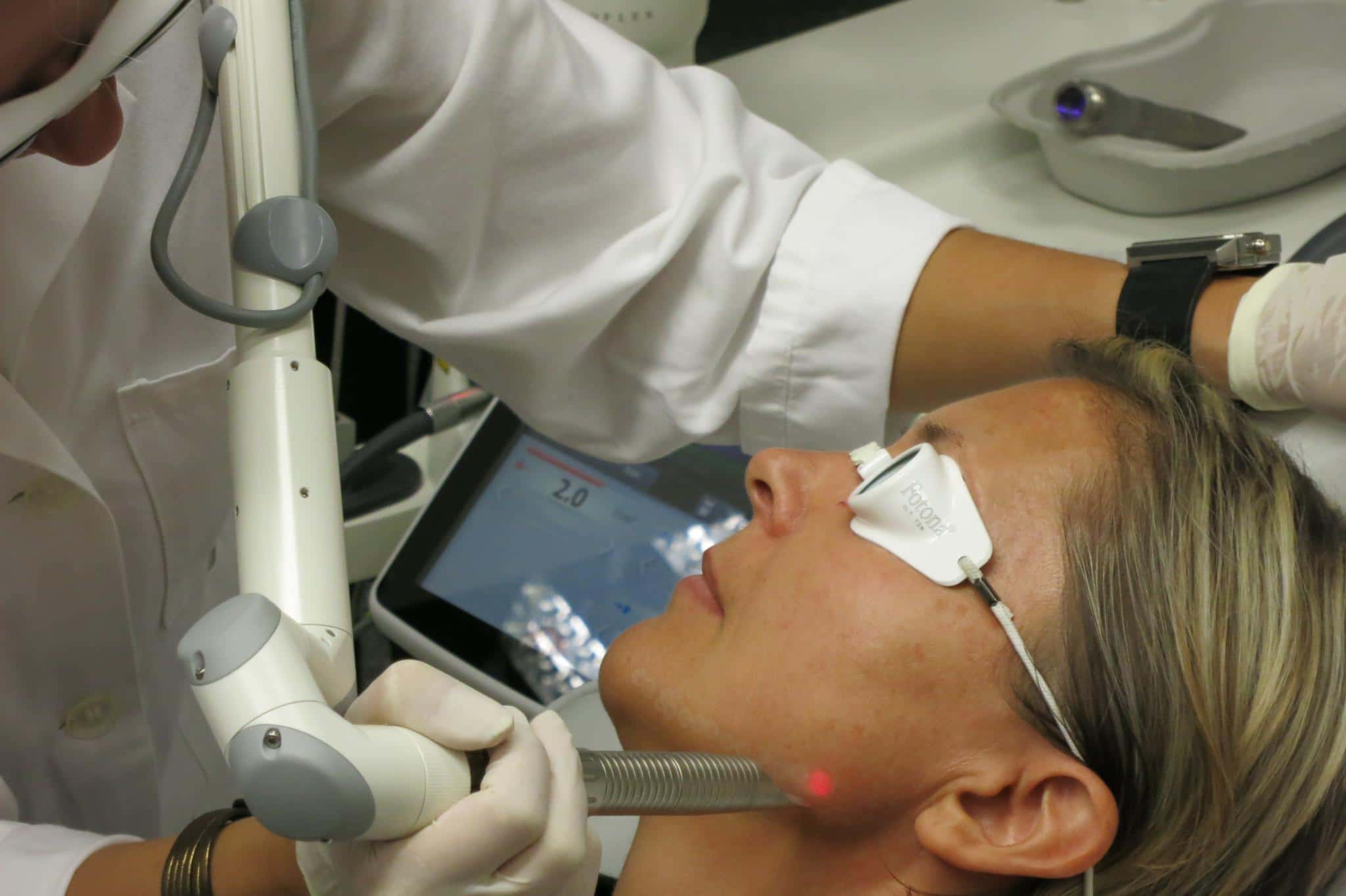 Erbium laser is similar to the CO2 lasers in that they are classed as ablative lasers which act to precisely remove the outer layers of the skin using controlled pulses of laser energy. Laser resurfacing is also referred to as a laser peel and has many advantages over more traditional methods of resurfacing such as chemical peels and CO2 lasers. Erbium YAG lasers have more precision compared with CO2 laser and cause less bleeding and are more suitable for the removal of superficial skin lesions. Compared with older methods of laser resurfacing, Erbium YAG laser carries a shorter downtime and many patients often recover in less than half the time it takes with CO2 laser treatment. Erbium YAG laser causes less thermal injury to the skin and therefore very little burning if surround tissues. This means less risk of hyperpigmentation and scarring. Common side effects of the laser include swelling, redness and superficial crusting which lasts for a week at most. Erbium laser resurfacing perfectly complements the results of procedures like blepharoplasty and facelift and the results can last for up to five years or more.
All our doctors are on the GMC specialist register. Our London dermatology clinic at 106 Crawford Street was recently inspected and rated as good across all 5 domains.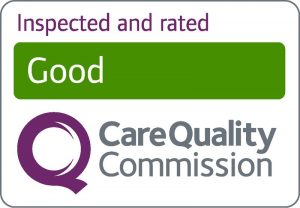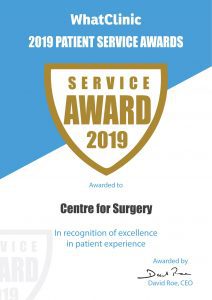 Would highly recommend Centre for Surgery. Very professional staff who supported me through my entire journey from initial consultation to the procedure. Always on hand to answer any questions I had and thoroughly explained the procedure and associated risks to ensure I was well-informed.
Amazing, exceptional, professional and quality service! From the initial request for more information until the day of procedure and after the procedure. The constant calls and emails from the team made me feel as if I was relevant and showed me that my business was important to them. Dr. Mitakos, Carolyn, Samira and Natalie (recovery nurse) OUTSTANDING, OUTSTANDING, OUTSTANDING!!! Dr. Mitakos was thorough and made sure to be honest about the procedure and my results. It's been a week post-op and I'm in love! Even with swelling in some areas!! I couldn't have asked for a better Dr. He was very professional, kind and genuine. Carolyn, Samira and Natalie are angel sent! They were so kind, caring and ensured that I was well taken care of days leading up to the surgery, on the day of surgery and during recovery. I would recommend Centre for Surgery to anyone who wants to get surgery to feel better about themselves.
Amazing service from start to finish, extremely professional staff and surgeons. Special thanks to my Consultant Plastic Surgeon Dr Ertan Erel was brilliant and made me feel so calm and confident from the moment we met through my consultation . He is definitally second to none.. I would recommend Centre for Surgery in a heart beat.
Recommend highly!! Always wanted a breast augmentation and never had the nerve to go through with it. Until i got Recommended center for surgery and spoke to carolyn and the ball got rolling 🙂 meeting dr tillo for a couple consultation made me certain i wanted it and i would be in great hands. The day of the surgery i was nervous but having such a great support team from the nurses and care team was a massive relaxation. And the aftercare is amazing. They check in with you every over day and i could contact them if needed for anything. I could name so many great people that helped me throughout my journey but dr tillo is amazing with what he does. And carolyn was and still is the best person to organise and help me with everything throughtout.
Absolutely amazing service from start to finish. I have been looked after the whole way through the process, from initial conversations, consultation, to having my surgery and being looked after by the brilliant aftercare team. I could not recommend Dr Omar Tillo enough, lovely surgeon who was honest with me throughout and made me feel so comfortable.
Domenico Betti
24/03/2021
Really wonderful experience, Jasmin the receptionist was very helpful and sweet she assisted me throughout my appointments, bookings and payment. The day of my surgery I was extremely nervous and very anxious, I was booked in for upper eyelid surgery ( Blepharoplasty ) First I was met with the lovely Gregory who I could not have asked for such a lovely kind person to be the Surgeons right hand man, he made me feel at ease straight away and as comfortable as possible. I then met my Surgeon Dr Ertan Erel who was also wonderful ( I had previously met him 2 weeks before for my consultation) I had a instant liking to him and felt comfortable with him performing the procedure on me. I had the treatment with Local anesthetic so I was fully awake and aware of what was going on, again I was extremely nervous and felt like I was having a small mini panic attack when we started but both Dr Ertan Erel and his assistant Gregory both made me feel at ease and as relaxed as they possibly could, we even had some 80s music on that helped to calm me down, Gregory was holding my hand the majority of the time and was having a chat with me that made me feel so relaxed, I could not have asked for 2 lovely men to have worked on me. Both the Surgeon and his assistant are as important as each other when you have a very nervous patient like myself. I have not had any complications since leaving the clinic and so far I am really so happy I can already see the amazing results. Dr Ertan returned my call back two days later to make sure everything was ok and how I was getting on ( that was very reassuring ) Very exited to get my stitches out in a few days. I could not give less than 5 stars so thank you very much. I will definitely be recommending. Verity.
Well where do I begin. So I am 6week post surgery and I couldn't be happier with my results. I done endless research on the procedure I wanted doing and where is best in England and Centre for surgery was the strongest contender and I felt super confident in the reviews and before and after photos they have online. So my journey started when I emailed centre for surgery for more information about liposuction and fat transfer with Dr Antonios Mitsakos. I then was contacted by Yasmin, she called me for a chat about what I'm after and to discuss options etc. She was incredible with getting my consultation and day of surgery booked as soon as she could and was on the end of the phone with any questions you had any time of day. As a first point of call Yasmin set a very high standard for the company and I was confident in my choice. I went for my consultation with Dr Antonios Mitsakos to discuss the procedure in much more depth, he went though all the risks, told me all the information I needed, we looked at my body to see if it's something he would be happy to do for me and went through all the aftercare I would need to do as well. We went through my medicals and talked about previous surgery I already had. He was so professional so informative that I literally wanted the surgery there and then. I left super happy and excited for my surgery date that was booked in. Before my surgery date I got phone call to go through all the paperwork and guidelines I had to follow and all the prep I needed to do before hand, I was told what garments were best to purchase and all the necessary bits I needed to by prior to the day. That support team were amazing and also answered any questions I had. So the day of my Surgery came and I was so calm but excited because I felt my care already had been great so I knew I was in safe hands. I had my nurse meet me to go through all medicals again, she helped me get prepared and dressed for the op and get everything ready. I then met my anaesthetist to also went through my medicals and asked all the relevant questions, gave me my pre meds and told me what he will be doing. I was super confident and he was very reassuring. Then Dr Antonios Mitsakos had my final chat before surgery checking everything through with me, confirming what he was going to do and where he was removing the unwanted fat and where he was going to transfer it too. He made me feel super comfortable and confident that I was in the right hands. I went into that theatre room a woman so unhappy with her body and when I woke up I was a new woman physically and mentally. Every single day for 2 weeks after my op I had a phone call to check in that I was doing ok and if I have any issues or concerns. The support team were absolutely amazing. I've just had my 6 week post op appointment with Dr Antonios, he again showed me my before photos and took new after photos and honestly the results are unreal. He has given me the body confidence I have never ever had and I can't thank him enough for his amazing skills and the transformation he has achieved. Thankyou so much to all of you that looked after me though out this whole procedure and a special Thankyou to Dr Antonios for changing my confidence, my body and my life. I'll be back again for more.
The service has been so far excellent and is highly recommended to anyone.
I recently had surgery here and would definitely recommend, from initial contact from Carolyn to the aftercare I received was exceptional, Carolyn was very helpful and informative and answered all my questions - even the silly ones late at night! Dr Tillo was very knowledgable, professional and welcoming at the same time and put me at ease about the procedure, it's still early but so far I'm pleased with the results
Erbium laser for skin lesion removal
Erbium YAG laser is ideal for superficial skin lesion removal due to its excellent absorption in water. This gives the Erbium laser great accuracy in being to remove skin lesions completely and with low risk of hyperpigmentation and scarring.
What does Erbium laser involve?
Treatment with erbium laser is a very quick and simple procedure and is carried out as an outpatient treatment. The procedure involves laser energy being applied to the target to vaporise the lesion layer by layer and until the skin lesion is fully removed. Treatment often takes less than 5 minutes per skin lesion depending on the size and thickness of the skin lesion. After treatment, a protective scab often forms and this takes about 2 weeks to come off naturally. You should avoid picking at the scab. Some skin lesions may need more than one treatment for adequate clearance.
Erbium laser can be used to treat a wide variety of superficial skin lesions that are benign in nature but can also be used to treat pre-malignant skin lesions such as actinic keratosis.
Viral warts
A wart is a very common skin lesion and is caused by the skin becoming infected by human papilloma virus or HPV. Viral warts are prevalent in young children, people with chronic skin conditions like eczema and patients with immunosuppression such as diabetes and HIV. Warts can affect people of all ages and is most commonly spread by direct contact with the skin.
There are a number of different types of warts including warts found on fingers, planter warts also known as verruca, flattened warts and cauliflower-like warts.
Erbium Laser Resurfacing
All lasers are not created equal. The Erbium YAG laser at Centre for Surgery is one of the most powerful lasers in its class. Erbium YAG laser is ideal for the elimination of mild, moderate and severe wrinkles caused by extensive exposure to the sun. Wrinkles that are caused by facial expressions are better treated with anti wrinkle injections and dermal fillers. Acne scarring, surgical scars and age spots are all amenable to treatment with Erbium laser. Skin lesions whether epidermal (superficial) or dermal (deep) also respond well to treatment with Erbium laser. Unlike CO2 laser, our laser works great for darker skin types with less risk of causing pigmentary changes or skin lightening which would be more obvious in darker skin. Laser resurfacing works best for the face region in particular because facial skin contains many accessory glands. These glands include both sweat glands and sebaceous glands and it is these cells that help to regenerate skin after laser resurfacing. Laser resurfacing of the neck must be performed with caution as this area lacks the accessory glands and so there is a higher risk of scarring if Erbium YAG laser is not used correctly. Erbium laser treatment is performed as an outpatient meaning you get to recovery in the comfort of your own home soon after having your laser treatment. Our clinic in central London is well placed to serve patients from all over London and the south-east and further afield. Many of our patients travel down from Scotland to receive state of the art laser resurfacing in London. Erbium YAG laser resurfacing is performed very comfortably with a local anaesthetic and oral sedation for maximum comfort.
Erbium laser resurfacing is excellent for the removal of superficial fine lines and wrinkles and the effects of chronic sun damage which lead to an uneven skin texture, solar lentigo, seborrhoeic keratosis and actinic keratosis. Laser resurfacing is a more effective resurfacing treatment when compared with chemical peels. Chemical peels can be unpredictable in the depths which they penetrate to and this can increase the risk of hyperpigmentation and scarring. Erbium laser resurfacing can be fractional or fully ablative. Fractional laser resurfacing is excellent for anti-aging and the treatment of facial acne scarring. The microcolumns generated by fractional laser are able to penetrate deeply into the tissue which facilitates deep collagen remodelling. The collagen remodelling leads to thickening of the dermal layer of skin leading to a more youthful rejuvenated look. The same mechanism is also very useful for acne scarring where scar remodelling is induced by the laser leading to reduction of the deep pitted scars which characterise acne scarring.
Erbium laser causes its effects as the laser makes contact with the skin surface. Skin contains a high percentage of water and the Erbium laser is strongly absorbed in water. The extra heat generated by the erbium laser results in contraction of collagen and also stimulates the production of new collagen leading to a skin tightening effect. With laser resurfacing, the aim is to cause a controlled thermal injury just enough to promote healing. The thermal injury is enough to cause a superficial burn and the skin will undergo oozing and weeping as part of the healing response. Erbium laser is used at higher settings for deeper wrinkles and often require more treatment sessions. Superficial lines and wrinkles may only need one treatment for optimal results
Good candidates for Erbium laser
Those with lighter skin types, Fitzpatrick types 1-3
Reduction of fine lines around the periocular or perioral region
Tightening of loose skin of the upper and lower eyelids as an alternative to a blepharoplasty
Reduction of hyperpigmentation, age spots or freckles
Acne scar treatment
Can tolerate 1-2 weeks of downtime
Non-smokers
Danielle Palmer
24/07/2021
Amazing!! I had a labiaplasty done recently and could not fault the practice on anything. The results themselves snd the experience I had with the team has been incredible
Thiago Ferreira
06/07/2021
I got in touch with the staff and they promptly got back to solve my concerns even if for some reason we had a gap in comms they were able to get back to me and answer my questions Thanks for the good customer service.
Everything was great from start to finish. Was easy and straight forward. Would highly recommenced using Centre for surgery to have a procedure.
I had an osteoma removed from my forehead with Dr Omar Tillo and I couldn't have asked for a better result! I had been researching for a long time before deciding to go ahead with the procedure as I knew I didn't want to swap a bump on my forehead with a scar. Dr Omar Tillo was able to successfully and skilfully remove the osteoma endoscopically and I was left with a very small inconspicuous scar, less than 1cm, hidden nicely behind my hairline. I couldn't be happier with the end result. All the staff at Centre for Surgery were brilliant. Carolyn, my patient co-ordinator was very helpful, patient and always had time to answer my questions. On the day of the procedure, Dr Omar Tillo and Gregory were amazing! They were very professional and made me feel at complete ease. I experienced very little discomfort during and after the procedure. The whole thing was a breeze and my only regret is that I didn't do it sooner. The after care was also amazing and I healed very quickly. I would like to take this opportunity to thank Dr Omar Tillo, Carolyn, Gregory and all the staff at Centre for Surgery. I would highly recommend Dr Omar Tillo and Centre for Surgery!
I had a smooth procedure all throughout. Staff were very compassionate and caring.
Why have Erbium YAG laser vs CO2 laser?
1. An Erbium:YAG laser wavelength is optimal for skin ablation.
Erbium:YAG lasers are optimal for skin ablation primarily because of the wavelength this technology generates. Erbium:YAG is emitted at 2,940 nm, while CO2 has a much longer wavelength at 10,600 nm. Chromophore absorption curves show a significant bump in the water absorption coefficient between 2,500-3,500 nm and a drop down at 7,500-20,000 nm.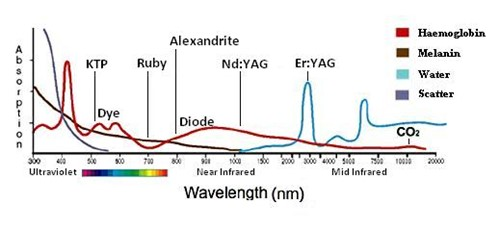 Erbium:YAG lasers have a very efficient beam to target water and relatively limited haemoglobin absorption. Because water is such a critical component in the epidermal and dermal tissue, the 2,940 nm wavelength produced by Erbium:YAG lasers is capable of rapidly vaporising water residing in the skin. This unique wavelength delivers an almost instant skin ablation while limiting heat damage in the surrounding area.
This thermal damage is the biggest difference between Erbium and Carbon Dioxide lasers. Carbon Dioxide lasers have been used to treat and ablate the skin since the 1970s. However, because the absorption in skin tissue is relatively low compared to Erbium lasers (in both water and haemoglobin), their result is substantial excess heat in the surrounding tissue. The consequences of that are localised necrosis (tissue death that leads to slower recovery time), more post-treatment discomfort, and greater instances of post-inflammatory hyperpigmentation (PIH), all while not necessarily allowing for better results when compared to Erbium lasers.
2. Erbium:YAG lasers can vary their treatment depths (full skin resurfacing vs. light Celebrity Peel). 
Again, the varied treatment depths of Er:YAG lasers are mostly credited to the significantly greater absorption in water found in the epidermal and dermal tissue. This significant water absorption allows practitioners to reduce the pulse duration to make the treatment "colder" (i.e., pulse duration at 100 microseconds), or extend the pulse duration for a warmer therapy (up to 1000 microseconds).
A "cold laser" treatment performs laser therapy that doesn't cause significant thermal damage to the tissue. CO2 technology can't provide the same treatment because the thermal damage inherent in the wavelength of 10,600 nm makes it incredibly difficult (or impossible) to treat a patient without heating the tissue. Practitioners using Er:YAG lasers are afforded the option to cater treatments to each patient better and can elect to build thermal damage by increasing the pulse duration, or keeping those thermal effects limited.
3. Erbium:YAG laser treatments create less thermal damage and are less painful.  
Er:YAG users can very intentionally create treatment protocols specialised for each patient because they have greater control over the thermal damage delivered. By controlling thermal damage, practitioners can administer popular, more superficial treatments with little-to-no downtime such as the "Hollywood Peel" or "Celebrity Peel." A Hollywood Peel is a light dermabrasion that aims to correct epidermal pigmentation and dull skin. Practitioners typically set pulse duration at only 100 microseconds for "super-cold" ablation. Depending on the treatment style and speed, Er:YAG practitioners can create more or less heat in the skin for added short term collagen tightening.
Thanks to the greatly limited thermal effects of Erbium lasers, Er:YAG treatments are notably less painful than CO2 lasers, and patients do not require any anaesthesia when receiving treatment for small lesions. These safety features make Er:YAG lasers the superior choice for treating delicate areas such as the peri-orbital region, neck, chest, and hands.
4. Erbium:YAG laser treatments have a lower risk of side effects, including hyperpigmentation or skin bleaching, compared to CO2 treatments. 
Hyper-pigmentation and hypo-pigmentation are mainly due to thermal damage and collagen stimulation. Melanin can only absorb wavelengths between about 300-1,000 nm, so CO2 and Er:YAG do not directly cause the pigment issues. One study found that hypo-pigmentation is more likely with CO2 while also finding that treatment depth is related to an increased chance of hyperpigmentation.
While it's well established that CO2 lasers penetrate deeper in the dermis than Erbium lasers, given constant fluence or energy settings, that doesn't always correlate with improved patient outcomes. Erbium:YAG lasers deliver impressive results with very few, if any, side effects.
5. Erbium:YAG treatments require a shorter recovery time compared to CO2 lasers. 
Er:YAG lasers require a shorter recovery time compared to CO2 lasers because of the shallow depths of wounds they create. Furthermore, Er:YAG lasers deliver reduced thermal damage to the surrounding skin tissue, allowing for much faster healing compared to the deeper injuries and extensive thermal damage that CO2 lasers produce.
Although Er:YAG lasers do not penetrate as deeply as CO2 lasers, they're able to mimic the effects of CO2 lasers by increasing pulse duration while limiting the risk of unwanted side effects. However, a CO2 system can not replicate the same success as an Er:YAG system without increasing the risk of harm to the patient. The flexibility of an Er:YAG laser's pulse formats and energy capabilities make it a desirable and safer alternative to the time-tested CO2 laser for ablative and fractional treatments.
Erbium Laser Skin Tightening
Using Fotona's unique Smooth mode, Erbium YAG laser can work in a fully non ablative mode with transfer of thermal energy to intact skin for minimal downtime. The Smooth mode works great to improve skin quality through the production of new collagen and the remodelling of existing collagen. TightSculpting is one of our leading treatments for laser skin tightening and is applicable to most parts of the body including the face, neck, abdomen, thighs and buttocks. The treatment is fully non-invasive with no requirement for anaesthesia.
Fotona 4D uses Erbium laser to tighten the nasolabial folds and perioral lines from within the mouth – completely unique for a laser system. Fotona 4D is an excellent treatment for non-invasive skin tightening and can be used instead of or can complement facial injections such as dermal fillers. For those looking to improve laxity of the eyelids, SmoothEye is a highly effective non-invasive treatment which tightens eyelid skin over the course of 5-6 treatments. The results can match the results of surgical blepharoplasty in many cases.
An Erbium laser peel can treat specific areas of the face such as the peri-ocular (eye region) or peri-oral (mouth region) area and this takes approximately 30-45 minutes to perform. Full face erbium resurfacing takes between one to two hours to perform. It is important to keep the skin moist after laser treatment and the application of a topical emollient is normal practice. The downtime from Erbium laser peels is about one week. However the skin begins to return to normality by day four or five with some residual redness of the skin which often looks similar to a fresh sunburn.
Erbium Laser for Skin Lesion Removal
Erbium YAG laser is ideal for superficial skin lesion removal due to its excellent absorption in water. This gives the Erbium laser great accuracy in being to remove skin lesions completely and with low risk of hyperpigmentation and scarring.
Erbium YAG Laser for Laser Snoring Treatment
Erbium laser when used in Fotona's unique non-ablative Smooth mode is able to effectively address mild, moderate and severe degrees of snoring with no anaesthesia or surgery required. Laser snoring treatment is a very straightforward procedure performed as an outpatient with minimal downtime. The impact on quality of life can be enormous with many patients reporting the laser snoring treatment to have transformed relationships, improved energy levels through improved quality of sleep.
How to find us
Centre for Surgery is located at 106 Crawford Street in Marylebone. Crawford Street is just off Baker Street.
We are easily accessible by all major bus routes that pass through Baker Street as well as Baker Street underground station.
From the tube station, we are just a 5 minute walk southwards down Baker Street followed by a right turn onto Crawford Street. The clinic is about 200 yards on the left.
There is ample local pay & display parking in the surrounding area and an NCP car park is located further west along Crawford Street. Our local residential parking zone is the City of Westminster.
Address: 106 Crawford Street, Marylebone, London, W1H 2HY