Erbium Laser in London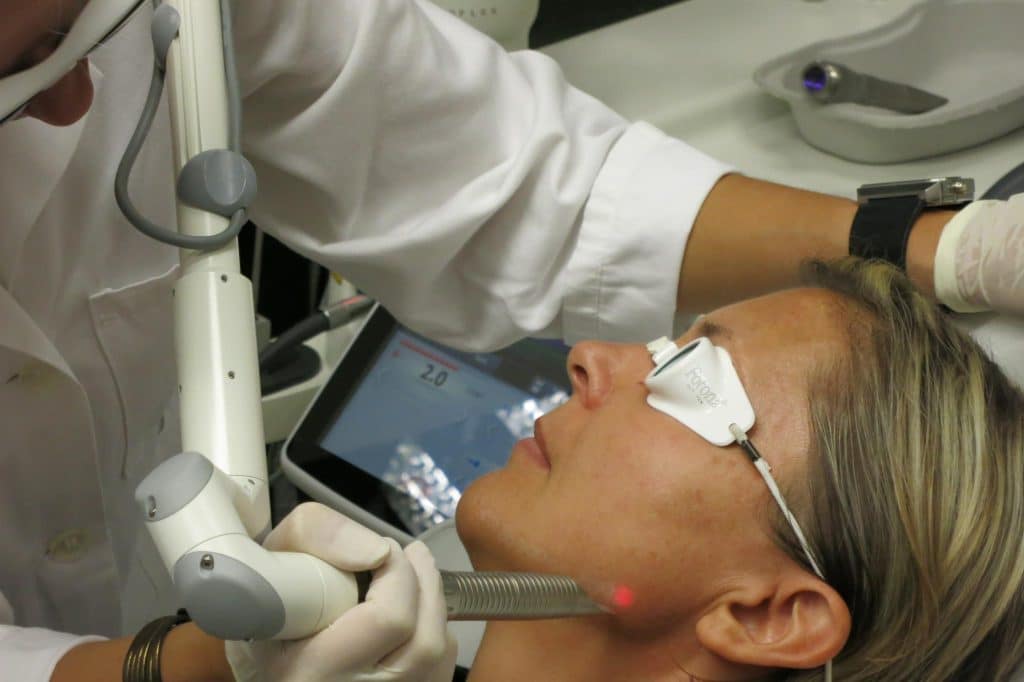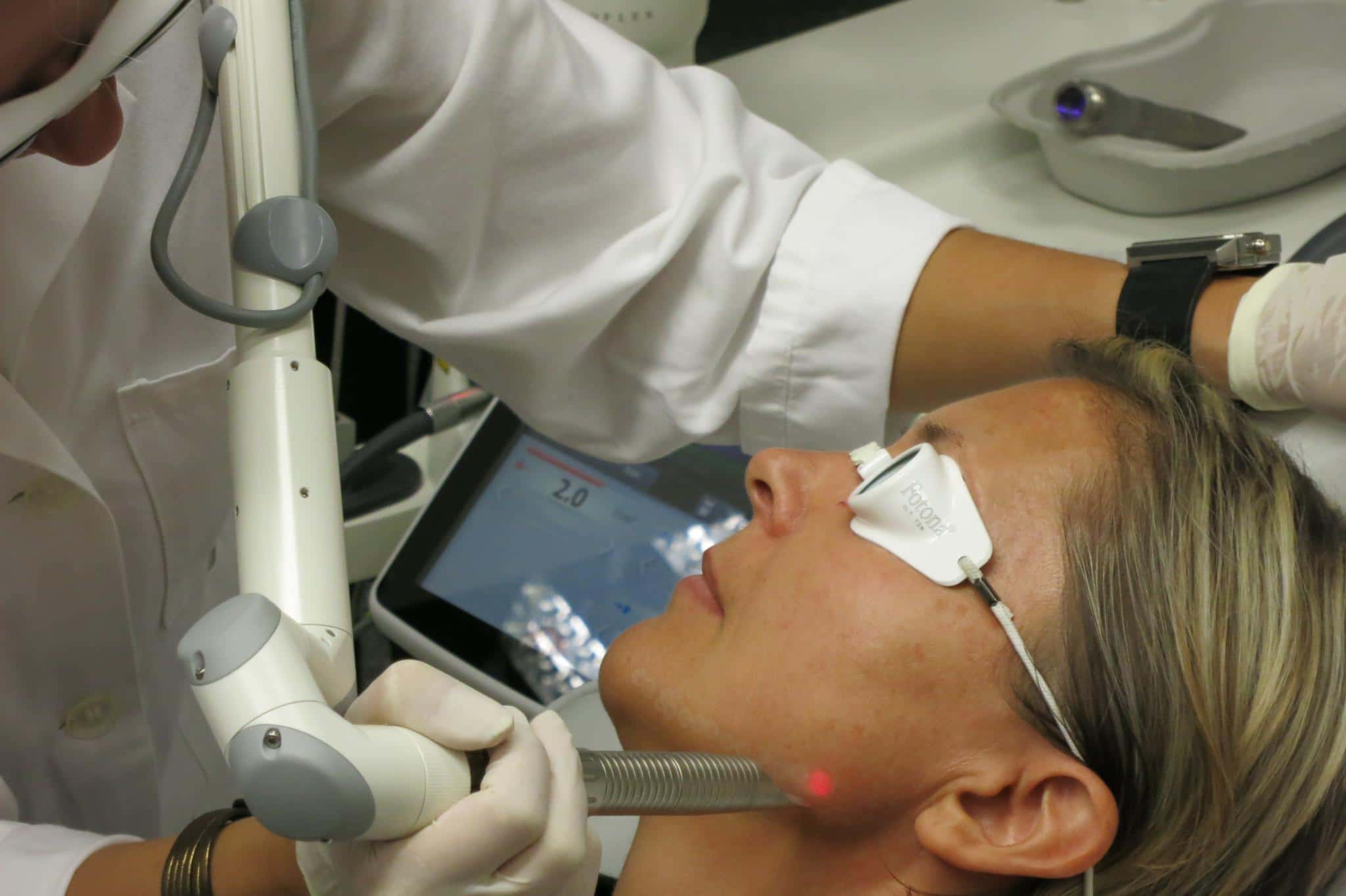 Erbium laser is similar to the CO2 lasers in that they are classed as ablative lasers which act to precisely remove the outer layers of the skin using controlled pulses of laser energy. Laser resurfacing is also referred to as a laser peel and has many advantages over more traditional methods of resurfacing such as chemical peels and CO2 lasers. Erbium YAG lasers have more precision compared with CO2 laser and cause less bleeding and are more suitable for the removal of superficial skin lesions. Compared with older methods of laser resurfacing, Erbium YAG laser carries a shorter downtime and many patients often recover in less than half the time it takes with CO2 laser treatment. Erbium YAG laser causes less thermal injury to the skin and therefore virtually no risk of skin burns of surrounding tissues. This means less risk of hyperpigmentation and permanent scarring. Common side effects of erbium laser include swelling, redness and superficial crusting which lasts for a week at most. Erbium laser resurfacing perfectly complements the results of facial rejuvenation procedures like Morpheus8, blepharoplasty and facelift and the results can last for up to five years or more.
All our doctors are on the GMC specialist register. Our London dermatology clinic at 106 Crawford Street was recently inspected and rated as good across all 5 domains.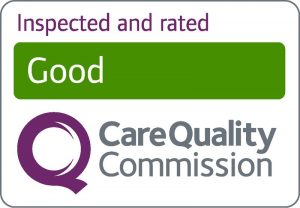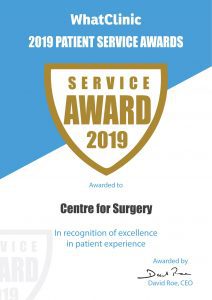 Erbium laser for skin lesion removal
Erbium YAG laser is ideal for superficial skin lesion removal due to its excellent absorption in water. This gives the erbium laser great accuracy in being to remove superficial facial skin lesions completely and with low risk of hyperpigmentation and scarring.
What does Erbium laser involve?
Treatment with erbium laser is a very quick and simple procedure and is carried out as an outpatient treatment under local anaesthetic. The procedure involves laser energy being applied to the target to vaporise the lesion layer by layer and until the skin lesion is fully removed. Treatment often takes less than 5 minutes per skin lesion depending on the size and thickness of the skin lesion. After treatment, a protective scab often forms and this takes about 2 weeks to come off naturally. You should avoid picking at the scab. Some skin lesions may need more than one treatment for adequate clearance.
Erbium laser can be used to treat a wide variety of superficial skin lesions that are benign in nature but can also be used to treat pre-malignant skin lesions such as actinic keratosis.
Viral warts
A wart is a very common skin lesion and is caused by the skin becoming infected by human papilloma virus or HPV. Viral warts are prevalent in young children, people with chronic skin conditions like eczema and patients with immunosuppression such as diabetes and HIV. Warts can affect people of all ages and is most commonly spread by direct contact with the skin. Wart removal is effectively carried out with erbium laser.
There are a number of different types of warts including warts found on fingers, planter warts also known as verruca, flattened warts and cauliflower-like warts.
Seborrhoeic keratosis
Seborrhoeic keratosis also known as senile warts are a very prevalent type of harmless skin growth found in older people who have spent large amounts of time in the sun and have subsequently developed extensive photo damage to the skin. These skin lesions often have a brown or black coloration and are raised above the surrounding skin. They most commonly have a crusty and wart-like surface texture and normally have a rounded shape.  Seborrhoeic keratosis is not a pre-malignant skin lesion and therefore has no potential to develop into skin cancer. Most of these skin lesions course have no symptoms whatsoever. They are most commonly removed when patients view them as a cosmetic nuisance or when they catch on items of clothing and become uncomfortable.
Actinic keratosis
Actinic keratosis are skin lesions most commonly found on areas of photo-damaged skin. They often resemble a rough scaly patch of skin with overlying crust. Actinic keratosis are caused by abnormal cellular processes often as a result of repeated exposure to ultraviolet radiation from the sun. The most commonly occur on son exposed areas of skin such as the forehead, ears, lower lips and balding areas of the head in men. Actinic keratosis is a pre-malignant condition and in certain cases can go on to develop into a type of skin cancer called squamous cell carcinoma or SCC. It is important to have treatment for actinic keratosis to prevent progression to potential skin cancer. Localised lesions can be effectively treated with erbium laser. If you have diffuse actinic keratosis, full face erbium laser skin resurfacing is a very effective treatment.
Erbium Laser Resurfacing
All lasers are not created equal. The Erbium YAG laser at Centre for Surgery is one of the most powerful lasers in its class. Erbium YAG laser is ideal for the elimination of mild, moderate and severe wrinkles caused by extensive exposure to the sun. Wrinkles that are caused by repeated facial emovements are better treated with anti wrinkle injections and dermal fillers. Acne scarring, surgical scars and age spots are all amenable to treatment with Erbium laser as well as Morpheus8. Skin lesions whether epidermal (superficial) or dermal (deep) also respond well to treatment with Erbium laser. Unlike CO2 laser, our Fotona laser works great for darker skin types with less risk of causing pigmentary changes or skin lightening which would be more obvious in darker skin. Laser resurfacing works best for the face region in particular because facial skin contains many accessory glands. These glands include both sweat glands and sebaceous glands and it is these cells that help to regenerate skin after laser resurfacing. Laser resurfacing of the neck must be performed with caution as this area lacks the accessory glands and so there is a higher risk of scarring if Erbium YAG laser is not used correctly. Erbium laser treatment is performed as an outpatient meaning you get to recover in the comfort of your own home soon after having your laser treatment. Our clinic in 106 Crawford Street in central London is well placed to serve patients from all over London and the south-east and further afield. Many of our patients travel down from Scotland to receive state of the art erbium laser skin resurfacing in London. Erbium YAG laser resurfacing is performed very comfortably with a local anaesthetic with or without oral sedation for maximum comfort.
Erbium laser resurfacing is excellent for the removal of superficial fine lines and wrinkles and the effects of chronic sun damage which lead to an uneven skin texture, solar lentigo, seborrhoeic keratosis and actinic keratosis. Laser resurfacing is a more effective resurfacing treatment when compared with chemical peels. Chemical peels can be unpredictable in the depths which they penetrate to and this can increase the risk of hyperpigmentation and scarring. Erbium laser resurfacing can be fractional or fully ablative. Fractional laser resurfacing is excellent for anti-aging and the treatment of facial acne scarring. The microcolumns generated by fractional laser are able to penetrate deeply into the tissue which facilitates deep collagen remodelling. The collagen remodelling leads to thickening of the dermal layer of skin leading to a more youthful rejuvenated look. The same mechanism is also very useful for acne scarring where scar remodelling is induced by the laser leading to reduction of the deep pitted scars which characterise acne scarring.
Erbium laser causes its effects as the laser makes contact with the skin surface. Skin contains a high percentage of water and the Erbium laser is strongly absorbed in water. The extra heat generated by the erbium laser results in contraction of collagen and also stimulates the production of new collagen leading to a skin tightening effect. With laser resurfacing, the aim is to cause a controlled thermal injury just enough to promote healing. The thermal injury is enough to cause a superficial burn and the skin will undergo oozing and weeping as part of the healing response. Erbium laser is used at higher settings for deeper wrinkles and often require more treatment sessions. Superficial lines and wrinkles may only need one treatment for optimal results
Good candidates for Erbium laser
Those with lighter skin types, Fitzpatrick types 1-3
Reduction of fine lines around the periocular or perioral region
Tightening of loose skin of the upper and lower eyelids as an alternative to a blepharoplasty
Reduction of hyperpigmentation, age spots or freckles
Acne scar treatment
Can tolerate 1-2 weeks of downtime
Non-smokers
Amazing from start to finish, the communication was the main thing was fully informed and looked after, on the day of my breast augmentation, the staff were fab and made me feel at ease through out the whole process. Thank you so much.
Mohammed Farid
18/11/2021
I've had such a great experience with excellent advice, care and attention and surgical treatment (gynaecomastia) - I can fully endorse the treatment I have received from Centre for Surgery with absolutely no qualms at all. Brilliant in every way - thank you all so much.
Caroline Thorpe
14/11/2021
Very pleased with my whole experience of having a procedure. Was so nervous about getting treatment and i was reassured and felt so comfortable throughout thanks to the amazing nurses. I definitely made the right decision to have breast augmentation at centre for surgery with dr erel.
Melissa Briggs
08/11/2021
So glad I went with centre for surgery, the whole process went very smoothly from the consultations down to the actual day of the procedure. I was so nervous on the day but the whole team put me at ease and I'm happy with my results as I feel a lot more comfortable wearing certain clothes now. My surgeon was Alberto Di Giuseppe who performed a breast Augmentation on me, and I would definitely recommend as he was very clear on what the outcome of the surgery would be and which size would look the best for my frame.
Couldn't be happier with Dr Tillo work,i had my breast surgery one week ago and so happy with the results so far,all the staff are extremely nice and very supportive,i would definitely recommend their services,thank so much
From start to the finish everything was perfect for tummy tuck surgery. All staff is very friendly and the aftercare has been good. The Doctor and the nurse team was fantastic. I'm so happy...result is amazing. Thank you!!!
This was overall a great experience, all the staff at Centre for Surgery were friendly and put me at ease. It is a nerve wracking thing to go through an op but the staff were so nice. Mr Ertan has got a great team around him. On the day of the operation everything went smoothly to plan, there was no delay or holdups, I had another consultation with Mr Ertan who confirmed what was going to be done and that I was still happy to proceed. I was prepped for the procedure, I met with the anaesthetist who again was really nice and put me at ease explaining his role. After the procedure I woke up with the nurse by my side making sure I was OK and checking on me, I was able to stay in the clinic until I was ready to leave and was not rushed at all. I was well looked after from the start to the point when I was discharged. Post operation I was staying at a local hotel it was so close there was no point in even getting a taxi and I was able to walk back where my partner was waiting for me. I was expecting a lot of bruising to both my eyes but there was very little if any by the time the cast came off after 7 days, I am now at the two week post operation point and it is healing well with no outwardly visible bruising or scaring. The next milestone is a checkup at the 6 week point with my surgeon. If you're thinking of having something like this done I would highly recommend getting in touch with Centre for Surgery.
The staff at Centre for Surgery were very kind and accommodating. They answered any questions I had about the procedure and were constantly checking up on me. A special thank you to Christina for all her support throughout.
I would just like to state the quality of care received from the nurses at Centre for Surgery was beyond the highest level. Sophie takes her patient care to another level beyond words. She always puts me at ease. She is there for me even at awkward hours just when I mostly needed reassurance and she is one of the most compassionate nurses I have come across and demonstrates her passion naturally for caring for others. She totally deserves recognition at its finest and thank you for always being there for me. 😍
Erbium Laser Skin Tightening
Using Fotona's unique Smooth mode, Erbium YAG laser can work in a fully non ablative mode with transfer of thermal energy to intact skin for minimal downtime. The unique 'Smooth' mode works great to improve skin quality through the production of new collagen and the remodelling of existing collagen. Laser skin tightening is one of our leading treatments for treating skin laxity and is applicable to most parts of the body including the face, neck, abdomen, thighs and buttocks. The treatment is fully non-invasive with no requirement for anaesthesia.
Fotona 4D uses Erbium laser to tighten the nasolabial folds and perioral lines from within the mouth – completely unique for a laser system. Fotona 4D is an excellent treatment for non-invasive skin tightening and can be used instead of or can complement facial injections such as dermal fillers. For those looking to improve laxity of the eyelids, SmoothEye is a highly effective non-invasive treatment which tightens eyelid skin over the course of 5-6 treatments. The results can match the results of surgical blepharoplasty in many cases.
An Erbium laser peel can treat specific areas of the face such as the peri-ocular (eye region) or peri-oral (mouth region) area and this takes approximately 30-45 minutes to perform. Full face erbium resurfacing takes between one to two hours to perform. It is important to keep the skin moist after laser treatment and the application of a topical emollient is normal practice. The downtime from Erbium laser peels is about one week. However the skin begins to return to normality by day four or five with some residual redness of the skin which often looks similar to a fresh sunburn.
Erbium Laser for Skin Lesion Removal
Erbium YAG laser is ideal for superficial skin lesion removal due to its excellent absorption in water. This gives the Erbium laser great accuracy in being to remove skin lesions completely and with low risk of hyperpigmentation and scarring.
Erbium laser is also highly effective for the treatment of both premalignant and malignant forms of skin cancer. Examples include:
Bowens disease
Bowens disease is a localised form of skin cancer which is located within only the superficial layer of skin. Its appearance resembles a reddish coloured plaque with an overlying skin crust on son excused areas of skin. Bowen's disease is most commonly found in people over the age of 60 with extensive photodamaged skin. This condition is a type of skin cancer commonly referred to as squamous cell carcinoma or SCC and can be effectively treated with erbium laser.
Basal cell carcinoma also known as BCC
Erbium YAG Laser for Laser Snoring Treatment
Erbium laser when used in Fotona's unique non-ablative Smooth mode is able to effectively address mild, moderate and severe degrees of snoring with no anaesthesia or surgery required. Laser snoring treatment is a very straightforward procedure performed as an outpatient with minimal downtime. The impact on quality of life can be enormous with many patients reporting the laser snoring treatment to have transformed relationships, improved energy levels through improved quality of sleep.
Fotona SMOOTH® erbium laser treatment
Centre for Surgery are one of the few providers in London and the UK to specialise in non-surgical laser gynaecology treatments. Fotona SMOOTH® erbium laser treatments offer gentle solutions to vaginal problems such as involuntary leakage during coughing and sports activities, loss of vaginal firmness and vaginal dryness and irritation. They are based on a specially engineered, patented laser mode using the award winning SP Dynamis laser that works by delivering gentle heat pulses to the vagina, strengthening and improving the tissue quality through the production of new collagen and elastin.
IntimaLase – vaginal laxity treatment
IncontiLase – stress urinary incontinence treatment
ProlapLase – pelvic organ prolapse treatment
RenovaLase – vaginal atrophy treatment
Fotona SMOOTH® treatments are non-invasive, gentle, painless and quick ambulatory procedures that can also help patients that suffer from more than one type of problem.
How to find us
Centre for Surgery is located at 106 Crawford Street in Marylebone. Crawford Street is just off Baker Street.
We are easily accessible by all major bus routes that pass through Baker Street as well as Baker Street underground station.
From the tube station, we are just a 5 minute walk southwards down Baker Street followed by a right turn onto Crawford Street. The clinic is about 200 yards on the left.
There is ample local pay & display parking in the surrounding area and an NCP car park is located further west along Crawford Street. Our local residential parking zone is the City of Westminster.
Address: 106 Crawford Street, Marylebone, London, W1H 2HY