What is hair transplant surgery?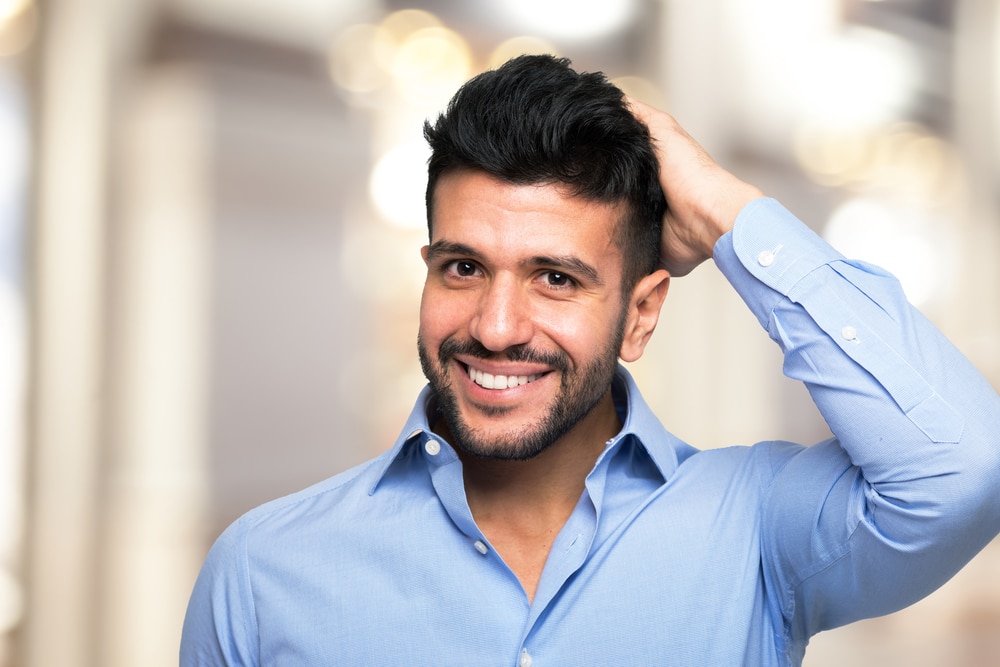 Hair transplant surgery is an increasingly commonly performed hair restoration procedure which involves the transfer of hair follicles from one area of the scalp to an area that is thinning or is fully bald. An increasing number of men are now addressing their male pattern baldness with hair transplants which lead to healthier, thicker and fuller hair. Although baldness is traditionally linked with the ageing process, hair loss is a phenomenon that can occur even in younger patients without any obvious cause.
Hair loss is very prevalent in the male general population with over 50% of men over the age of 50 being affected. Hair transplant surgery is the only permanent hair restoration option for results that are proven to last. The latest minimally invasive treatments include FUE (Follicular unit extraction) which is the most advanced technique for hair restoration surgery and involves no long scars and no need for suturing when compared with the more traditional FUT (Follicular unit transplantation). 
Our hair transplant surgeons are renowned in their field and will carefully assess each and every individual to design a comprehensive treatment plan and with a strong focus on achieving densely packed and natural looking hair.
How much does hair transplant cost?
The price of hair transplant surgery at Centre for Surgery will be determined by the number of hair follicles which need to be transferred during a single treatment session. Typically prices start from £5000 for a standard FUE procedure at our Watford clinic. The cost of your hair transplantation procedure is all-inclusive (surgeon fee, cost of transplant technicians, facility cost and after-care appointments).
Why choose Centre for Surgery for your hair transplant procedure?
Centre for Surgery are recognised leaders in all types of hair loss treatment from our two clinics in London Crawford Street and in Watford. Our hair transplant surgeons have many years of experience in performing all types of hair loss surgical procedure at our centre of excellence

We are a fully CQC-registered day surgery facility recently rated good by the CQC and have on-site dedicated operating theatres purpose-designed for hair transplant surgery

Our discreetly located hair transplant clinic in Watford is very conveniently located to all the major motorway networks and comes with free parking

All patients have full access to our expert clinical support team who are able to answer any question or concern you may have about your care and treatment. Our after-care was recently described as 'outstanding' in a recent CQC inspection in 2020.

As an ethical and responsible provider of hair transplant surgery we always encourage all patients to carry out extensive and thorough research on both the surgeon and choice of clinic.
Always ask the surgeon about their qualifications and experience, how many procedures they have performed in the last year and if they have encountered any complications.
What does hair transplant surgery involve?
Our hair transplant surgeons are some of the most highly trained practitioners in the sector and we only work with the most experienced hair loss surgeons at Centre for Surgery. During the hair transplant procedure, the hair transplant surgeon will transfer donor hair from healthier parts of the scalp and transfer the hair follicles to the thinning or balding areas.
Hair transplant surgery is a minimally invasive procedure. Follicular unit extraction or FUE, results in no linear scars compared with the follicular unit transplantation technique. The treatment results in both densely packed and natural looking hair with results that can last many years. Hair transplant surgery is routinely carried out under local anaesthetic and often combined with mild tablet oral sedation for comfort. This means you will be fully awake during the hair transplant procedure although you should not feel any pain or discomfort.
Hair that has been transplanted has similar characteristics to non-transplanted hair. The transplanted hair has growth characteristics similar to the donor area from where it was removed from. It is generally the case that hair from donor areas have different genetic characteristics to areas of thinning or balding hair. Patients can therefore benefit from having hair that is not as weak or fragile as hair which remains in the recipient area alongside the transferred hair. Expertly performed hair transplantation has an extremely high satisfaction rate when performed by expert hair transplant surgeons at Centre for Surgery.
With the passage of time it is not uncommon to experience thinning of hair in the donor regions and this is most commonly located at the back and sides of the head. Where this does occur, you can expect the transplanted hair to behave in a similar manner. Whichever technique of hair restoration surgery you choose, you should be aware that the newly transplanted hair will come off the scalp within 2 to 3 weeks of the surgery but following this you should begin to see new healthy growth within the space of three months.
Why have a hair transplant?
Hair transplants are generally accepted to be the most effective technique of permanent hair restoration available in the UK today for the treatment of early-onset male pattern baldness.
Male pattern baldness is a very common condition and can affect up to 30% of Caucasian men under the age of 30. This proportion increases to well over 75% of men who are above the age of 65. Research indicates that male pattern baldness is much less common in men of Afro-Caribbean descent and occurs at a much slower rate in patients of far eastern origin. 
Centre for Surgery offer the full range of treatment options for male pattern hair loss including prescription medical treatments (minoxidil and finasteride), non-ablative Erbium laser treatment and scalp micro pigmentation. Medical and laser treatments for hair loss function to improve blood flow to hair follicles that are undergoing gradual involution with time. These non-surgical alternatives are much cheaper when compared with hair transplant surgery although they lack the effectiveness of a hair transplantation procedure.
Hair restoration procedures are also very commonly carried out in mainland Europe especially Turkey and this huge increase in popularity is often due to the increase in minimally invasive techniques for hair restoration.
What are the differences between FUE and FUT hair transplants?
The two main types of surgical procedure for hair transplantation aim to address the issue of ongoing hair loss and include both Folliular Unit Extraction (FUE) and Follicular Unit Transplantation (FUT). 
Although it is a newer procedure, FUE is increasingly the most popular hair transplant technique performed today as it does not result in the formation of a linear scar across the back of the head as in FUT surgery. The FUE technique involves the individual removal of hair follicles most commonly from the back of the neck and transferred to the recipient transplant site using highly advanced microsurgical instrumentation.
The FUT technique is a more invasive procedure as it involves the surgical harvest of a strip of hair bearing skin from the back of the head and may be more appropriate for a small proportion of patients. Your hair transplant surgeon will be able to describe the pros and cons of each technique at your consultation where a full medical history will be taken including any medicines you may be taking and a thorough examination will be performed. This information will be used to assess your suitability for the hair transplant procedure.
Who is the ideal candidate for hair transplantation?
Hair transplantation is a commonly performed procedure at Centre for Surgery and the best outcomes following treatment happen when the ideal patient is selected for surgery. Patients with alopecia areata are not ideal candidates for hair transplant procedures.
Good hair transplant candidates include:
Patients who are over the age of 30 and have a stable hairline

Patients who are concerned about areas of thinning and balding hair

Patients who still have good areas of healthy strong hair which could serve as donor sites for hair transplants to be harvested from

Patients who suffer from early onset male pattern baldness 

Patients who have realistic expectations of what treatment can achieve