Mole check at Centre for Surgery in London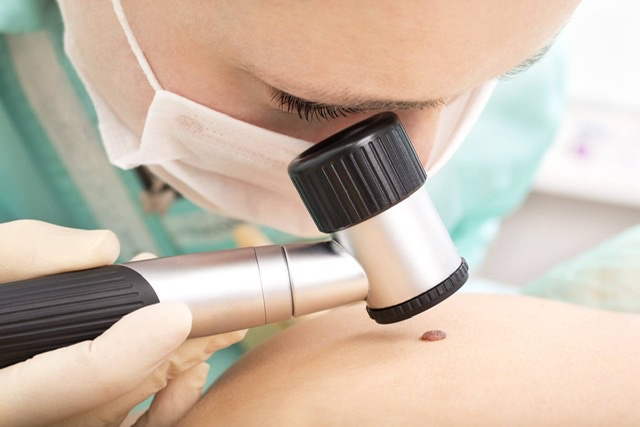 Mole check also known as mole mapping are one of the most common reasons to visit one of our expert dermatologists. Having regular mole checks enable the early detection of suspicious looking moles which leads to a higher chance of successful mole removal treatment if the mole is diagnosed as cancerous. Our dermatologists make use of cutting edge digital imaging technology to skilfully identify and assess moles anywhere on the body. Our imaging capabilities means your dermatologist is able to monitor your moles and very accurately determine changes in moles over time. The identification of suspicious moles is enhanced with digital imaging which is only available at a handful of dermatology clinics in London. Suspicious looking moles can then be removed and we have the capabilities to offer a same day mole check and mole removal service in London. Even if you have just one mole with features of clinical concern, it is possible to have this checked thoroughly by our expert dermatologists. The two main types of skin cancer are melanoma and non-melanoma skin cancer.
Mole check or mole mapping at Centre for Surgery utilises the most technologically advanced screening technology coupled with the expert eye of a dermatologist trained in all aspects of moles and skin cancer. The vast majority of moles pose no problems and are often just a cosmetic nuisance. However a small minority of moles especially in individuals with risk factors for skin cancer may be a cause for concern. The National Institute for Clinical Excellence or NICE recommends having a mole check every six months. For accurate assessment of moles over time, mole mapping using digital imaging is the gold standard method of tracking changes in moles.
Why Have Mole Mapping?
The answer is simple – Picking up potential skin cancer early can save lives
When potentially cancerous lesions are detected early on and removed early then it is highly likely that moles that have become cancerous are curable. The data is black and white, early diagnosis and treatment matters. Approximately 2,350 people die each year from malignant melanoma and up to 80% of these melanomas were at one point curable if they were detected early enough.
Digital mole mapping is able to capture data at a point in time that includes the whereabouts and appearance of your entire mole population. This enables even very subtle changes to be identified by our dermatologists. The assurance that skin cancers can potentially be picked up much earlier before becoming more aggressive and spreading elsewhere in the body cannot be underestimated.
Why have a Centre for Surgery mole check?
Our mole check and mole mapping service is different to most other nurse-led clinics in a number of important ways:
You will be seen and assessed by a consultant dermatologist who will perform a full top to toe skin examination with authoritative advice given on the next steps that can be taken. At most other clinics, you will be seen by a nurse working to a pre-set protocol.
If suspicious features of a mole are detected, you have the option of immediate removal in one visit or a confirmed booking for a day of your choice. Other clinics often ask you to return on a separate visit for the mole removal especially if first seen by a nurse.
Histology results from removal of moles are back in 48-72 hours.
There is no need to send images of your mole elsewhere. Everything is managed in-house unlike many clinics where images have to be sent to a dermatologist working remotely for further analysis which delays diagnosis thus causing unnecessary anxiety.
No need to return to your GP for referral letters, unlike commercial clinics
We have well established systems in place for immediate removal of suspected or confirmed skin cancer if the procedure is required. There is no delay and no requirement to return on a separate occasion for skin lesion removal or mole removal
The ABCD of moles
What to look for
Although any change in skin lesions or the development of new skin lesions is a concern, it is important to look out for certain features that are suspicious. These include an increase in size, a change in shape with irregular margins, bleeding, discomfort, crusting over the lesion, redness around the edges or new onset itching. At home, you should check your skin once a month for moles or new skin blemishes that are either new or you have noticed a change in an existing skin lesion.

Potential melanomas could demonstrate any of the changes below:
A – Asymmetry – the two halves of the lesion may differ in their shape.
B – Border – the edges of the lesion may appear irregular or blurred, and sometimes show notches.
C – Colour – this could be uneven. Different shades of black, brown and pink may be seen.
D – Diameter – most melanomas are at least 5 mm in diameter.
Melanoma does not always fit the ABCD rule. If there is anything you notice which looks different or a mole you are worried about or a mole that itches or bleeds then get in contact with us to arrange a consultation with a dermatologist.
Don't forget the ugly duckling sign – something that does not look right.
Expert Mole Mapping At Centre for Surgery
At Centre for Surgery, we have some of the most experienced dermatologists specially trained in the management of skin cancer to review your moles and who work closely with our plastic surgeons where mole removal is required with the minimum of scarring. If you prefer, you can have full mole mapping, a dermatologist assessment and surgical mole removal for suspicious moles all in one session for maximum peace of mind.
How to find us
Centre for Surgery is located at 106 Crawford Street in Marylebone. Crawford Street is just off Baker Street. We are easily accessible by all major bus routes that pass through Baker Street as well as Baker Street underground station.
From the tube station, we are just a 5 minute walk southwards down Baker Street followed by a right turn onto Crawford Street. The clinic is about 200 yards on the left.
There is ample local pay & display parking in the surrounding area and an NCP car park is located further west along Crawford Street. Our local residential parking zone is the City of Westminster.
Address: 106 Crawford Street, Marylebone, London, W1H 2HY
[wpseo_map id="237″ width="800″ height="350″ zoom="15″ map_style="roadmap" scrollable="1″ draggable="1″ show_route="0″ show_state="1″ show_country="1″ show_url="1″ show_email="1″ default_show_infowindow="0″]