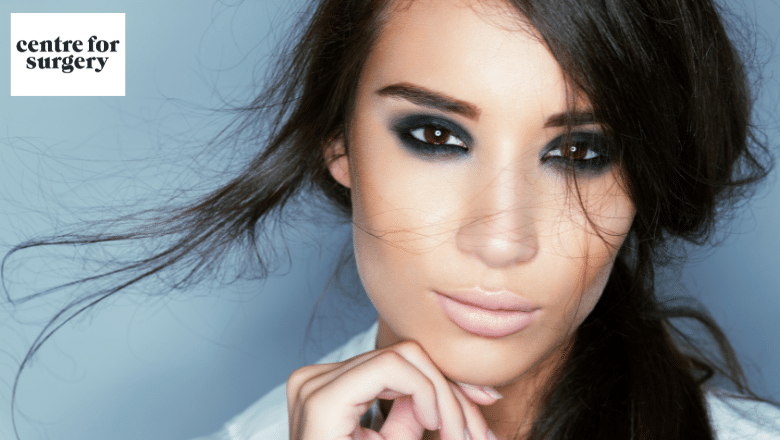 Revitalise Your Eyes with Eyelid Rejuvenation at Centre for Surgery in London
Your eyes are often the first feature people notice when they meet you. Do you always appear tired? Regrettably, our eye area frequently reveals our age due to volume loss and reduced elasticity. Ageing-related changes result in under-eye bags, dark circles, drooping eyelids, lower eyelid wrinkles, and a dull, lacklustre complexion. When patients visit Centre for Surgery seeking eyelid rejuvenation options for the periorbital region, our expert team thoroughly evaluates their individual needs and presents a range of non-surgical and surgical solutions to address the brow, upper eyelid, and lower eyelid.
RELATED: Upper Face & Eyelid Rejuvenation
At Centre for Surgery, our primary goal is to help you achieve a refreshed and youthful appearance, with eyes that reflect your true vitality. Our team of experienced, GMC-registered surgeons offers a comprehensive array of treatments, considering each patient's unique needs and goals. By combining cutting-edge techniques with personalised care, we ensure that you receive the best possible outcome for your eyelid rejuvenation journey.
Our non-surgical options include dermal fillers, Botox injections, and laser treatments, which can address volume loss, fine lines, and skin texture issues without the need for invasive surgery. These minimally invasive procedures involve minimal downtime and can provide natural-looking, lasting results.
For patients who require more extensive rejuvenation, we offer surgical options such as blepharoplasty, which can target the upper and lower eyelids. These procedures can effectively remove excess skin, tighten lax muscles, and eliminate fat pockets that contribute to a tired, aged appearance.
RELATED: Eyelid Surgery FAQs – Q&A about Blepharoplasty
In addition to our range of non-surgical and surgical treatments, Centre for Surgery also emphasizes the importance of a holistic approach to rejuvenation. We provide guidance on lifestyle changes, skincare regimens, and other essential factors that can contribute to maintaining a vibrant, youthful appearance for your eyes.
Our personalised and attentive approach has earned us the trust of countless patients from London and across the UK, who have successfully revitalized their eyes with our eyelid rejuvenation options. If you are ready to explore the possibilities for fresher, younger-looking eyes, contact Centre for Surgery today to schedule a consultation with our team of dedicated professionals. Together, we will develop a customised treatment plan that addresses your concerns and helps you achieve the rejuvenated appearance you desire.
RELATED: Eyelid Surgery, Brow Lift or Injections?
Non-surgical options for fresher and younger looking eyes
At Centre for Surgery, we understand the importance of addressing fine lines and wrinkles around the eyes to achieve a refreshed and youthful appearance. We offer a variety of medical-grade skincare programs, including chemical peels and laser resurfacing, to tackle these concerns. Additionally, cosmetic injectables provide a highly effective, minimally invasive solution for various aesthetic issues around the eyes. Here, we discuss the two most popular injectable options that have proven successful for our patients at Centre for Surgery.
Anti-Wrinkle Injections
Anti-wrinkle injections, often featuring botulinum toxin, are used to target the muscles responsible for wrinkles caused by repetitive facial expressions. Crow's feet, the fine lines at the outer corners of the eyes that often develop with squinting and smiling, can be effectively treated with these injections.
When applied to the crow's feet area, anti-wrinkle injections can also result in a subtle lifting of the outer part of the brow. This effect, known as a chemical brow lift, can serve as an early solution for addressing brow heaviness. Additionally, frown lines above the inner part of the eyebrow, which can give an angry or frustrated appearance, can be smoothed out using anti-wrinkle injections.
Dermal Fillers
Dermal fillers, typically composed of hyaluronic acid, are another versatile injectable treatment option. These fillers can be used to restore lost volume and subtly elevate the brow. Furthermore, dermal fillers can help to camouflage the crease in the lower eyelid, known as the "tear trough." This area can appear hollow and dark for some individuals, contributing to a tired appearance. By increasing the volume in the tear trough, patients can achieve a rejuvenated and refreshed look.
While cosmetic injectables and medical-grade skincare programs provide excellent results for many patients, some individuals may desire a more permanent solution.
Brow Lift London – Comprehensive Eyelid Surgical Rejuvenation Solutions for the Brow
Ageing is a natural process that often leads to a loss of volume behind the brow and a descent of the brow, causing the appealing arched appearance to diminish. The primary goal of surgical rejuvenation of the brow is not simply to elevate the brow and create a startled appearance, but rather to restore a pleasing arch with the outer brow higher than the inner brow. This restoration enhances fullness and volume, suggestive of a more youthful appearance.
RELATED: Benefits of Brow Lift Surgery
At Centre for Surgery in London, we offer a range of tailored brow lift procedures to address each patient's unique needs and preferences. Combining volume restoration techniques with surgical brow lift methods, we provide comprehensive solutions for rejuvenating the brow area.
One such method for restoring volume to the brow is through fat injections. This technique involves harvesting fat from the patient's body, purifying it, and then injecting it into the brow area to create a plumper, more youthful look.
In addition to volume restoration, various surgical procedures can be employed to address different aspects of the brow, such as the inner brow, middle brow, or outer brow. These surgical procedures include:
Temporal Brow Lift: This minimally invasive technique focuses on lifting the outer third of the brow, resulting in a subtle, natural-looking rejuvenation.
Endoscopic Brow Lift: Using an endoscope and specialized instruments, the surgeon makes small incisions within the hairline to lift the brow without visible scarring. This procedure can address the entire brow area, creating a balanced, refreshed appearance.
Full Open Brow Lift: This more traditional approach involves a longer incision along the hairline or within the forehead creases. This technique allows for more extensive lifting and repositioning of the brow, which is ideal for patients with significant sagging or asymmetry.
The key to the successful surgical rejuvenation of the brow lies in a personalised, individualised approach that addresses each patient's specific needs and goals. Our experienced, GMC-registered surgeons at Centre for Surgery in London carefully assess your facial anatomy and aesthetic concerns to develop a customised treatment plan that delivers the most natural and harmonious results.
RELATED: How much does a brow lift cost?
If you're considering a brow lift in London and would like to explore your options for comprehensive eyelid surgical rejuvenation, we invite you to schedule a consultation with our skilled team at Centre for Surgery. Together, we will help you achieve the youthful, revitalised appearance you desire.
RELATED: Brow Lift vs Blepharoplasty – Which One Is Right For Me?
Upper Blepharoplasty – Comprehensive Upper Eyelid Rejuvenation Surgery in London
As we age, our skin naturally loses elasticity and firmness, which can lead to the development of excess skin in the upper eyelid area. This excess skin may hang over the upper eyelid crease, covering the tarsal platform – the area between the upper eyelid crease and the eyelashes where women often apply eye shadow. When this excess skin interferes with the ability to wear eye shadow or affects one's appearance, an upper blepharoplasty may be the solution.
At Centre for Surgery in London, we offer upper blepharoplasty procedures to address the concerns of excess skin and restore a more youthful, refreshed appearance to the eyes. Our expert surgeons carefully assess each patient's unique needs to ensure that the treatment plan is tailored to achieve the best possible results.
During an upper blepharoplasty procedure, the surgeon removes the excess skin from the upper eyelid, effectively revealing the tarsal platform and enhancing the overall appearance of the eye area. This procedure not only improves the aesthetics of the eye but may also improve vision by removing excess skin that may be obstructing one's field of view.
In cases where the excess skin extends beyond the upper eyelid crease and onto the eye socket on the outer part of the eye, the incision can be extended to address what is known as lateral hooding. This involves removing the additional fold of skin that sits over the crow's feet, further improving the overall appearance of the eye area.
Upper blepharoplasty at Centre for Surgery in London is a minimally invasive, outpatient procedure performed by our experienced plastic surgeons. With our state-of-the-art facilities in Marylebone and a commitment to patient satisfaction, you can trust that our team will provide you with the highest level of care throughout your entire treatment journey.
Lower Blepharoplasty – Advanced Lower Eyelid Surgery in London
The lower eyelid is composed of three layers: the outer layer of skin, the middle layer of muscle, and the inner layer of fat. To address various concerns related to the lower eyelid, surgical rejuvenation options may need to focus on one or more of these components. At Centre for Surgery in London, we offer lower blepharoplasty procedures tailored to each patient's unique needs to achieve optimal results.
In some cases, the primary issue may be related to excess fat in the lower eyelid. This can be addressed through a transconjunctival lower blepharoplasty, where the surgeon makes an incision inside the eyelid. The excess fat can then be removed or repositioned to fill the tear trough area, creating a smooth transition between the eyelid and the cheek.
If the primary concern is excess skin on the lower eyelid, the surgeon will need to remove this skin through an external incision located just below the eyelashes, often extending out into one of the crow's feet at the side of the eye. This approach ensures minimal visible scarring while effectively addressing the excess skin.
The terms subciliary and transconjunctival blepharoplasty are used to describe the two approaches to lower eyelid surgery. Subciliary blepharoplasty refers to the technique where the surgeon accesses the lower eyelid through an external incision in the skin, while transconjunctival blepharoplasty involves an internal incision to address excess fat.
At Centre for Surgery in London, our experienced, board-certified surgeons are committed to providing the highest level of care and personalized treatment plans for each patient. If you are considering lower eyelid surgery in London, we invite you to schedule a consultation with our skilled team. Together, we will help you achieve a rejuvenated, youthful appearance that addresses your specific concerns related to the lower eyelid area.
What to Expect During Recovery After Blepharoplasty – Eyelid Surgery
Recovery time after eyelid surgery, or blepharoplasty, typically takes about a week to 10 days for the swelling to subside. Due to the potential impact of swelling on your vision, it is recommended to take at least one to two weeks off work to allow for proper healing and recovery.
There are several steps you can take to facilitate quicker recovery and ensure the best possible outcome from your eyelid surgery:
Prioritise rest: Make sure you get plenty of bed rest during the initial stages of your recovery. This helps reduce swelling and allows your body to focus on healing.
Limit physical activity: Avoid strenuous activities, heavy lifting, and intense exercise for the first few weeks after your surgery, as these can exacerbate swelling and increase the risk of complications.
Eat well: A balanced diet rich in nutrients, vitamins, and minerals will support your body's healing process. Focus on consuming whole foods, lean protein, fruits, vegetables, and healthy fats.
Stay hydrated: Drinking plenty of water and other fluids helps flush out toxins, supports healing, and maintains overall health during your recovery.
Get sufficient sleep: Prioritise sleep during your recovery, as it is essential for your body's healing process. Aim for at least 7-8 hours of quality sleep each night.
Follow your surgeon's instructions: Adhere to your surgeon's recommendations for post-operative care, including wound care, taking prescribed medications, and attending follow-up appointments. This will help prevent complications and ensure a smooth recovery.
By clearing your work schedule and social commitments for the recommended recovery period and following your surgeon's advice, you can expect a more efficient healing process with fewer complications. Remember that each person's recovery time may vary, and it's essential to listen to your body and give yourself the time needed to heal completely.
Reasons to Choose Centre for Surgery for Eyelid Rejuvenation
Centre for Surgery is a premier choice for eyelid rejuvenation, offering an array of both non-surgical and surgical options to help you achieve a refreshed and more youthful appearance. Here are some reasons why you should consider Centre for Surgery for your eyelid rejuvenation:
Experienced Surgeons: Our team of highly skilled and experienced surgeons is dedicated to providing the best possible care and outcomes for our patients. They stay up-to-date on the latest techniques and innovations in the field, ensuring that you receive the most advanced treatment options available.
Comprehensive Treatment Options: At Centre for Surgery, we offer a wide range of treatments for eyelid rejuvenation, including non-surgical options like chemical peels, laser resurfacing, anti-wrinkle injections, and dermal fillers, as well as surgical procedures like brow lifts, upper and lower blepharoplasty. This ensures that we can create a tailored treatment plan that addresses your specific needs and goals.
Personalised Care: We understand that each patient is unique, which is why we take the time to listen to your concerns and preferences during your consultation. Our team will work closely with you to develop a customized treatment plan that aligns with your aesthetic goals and lifestyle.
State-of-the-Art Facilities: Centre for Surgery boasts modern, well-equipped facilities in Marylebone designed to provide a comfortable and safe environment for our patients. Our state-of-the-art surgical suites are outfitted with the latest technology, ensuring the highest standards of care and safety during your procedure.
Patient Support and Education: We believe that informed patients make the best decisions about their treatment. That's why we provide comprehensive information about the procedures we offer and what to expect during the recovery process. Our dedicated staff is always available to answer any questions and address any concerns you may have.
Focus on Safety and Quality: At Centre for Surgery, we prioritise patient safety and satisfaction above all else. We follow strict protocols and guidelines to ensure that every procedure is performed safely and effectively, resulting in the best possible outcomes for our patients.
By choosing Centre for Surgery for your eyelid rejuvenation, you can trust that you are in the hands of experienced professionals who are committed to helping you achieve the freshest, most youthful appearance possible.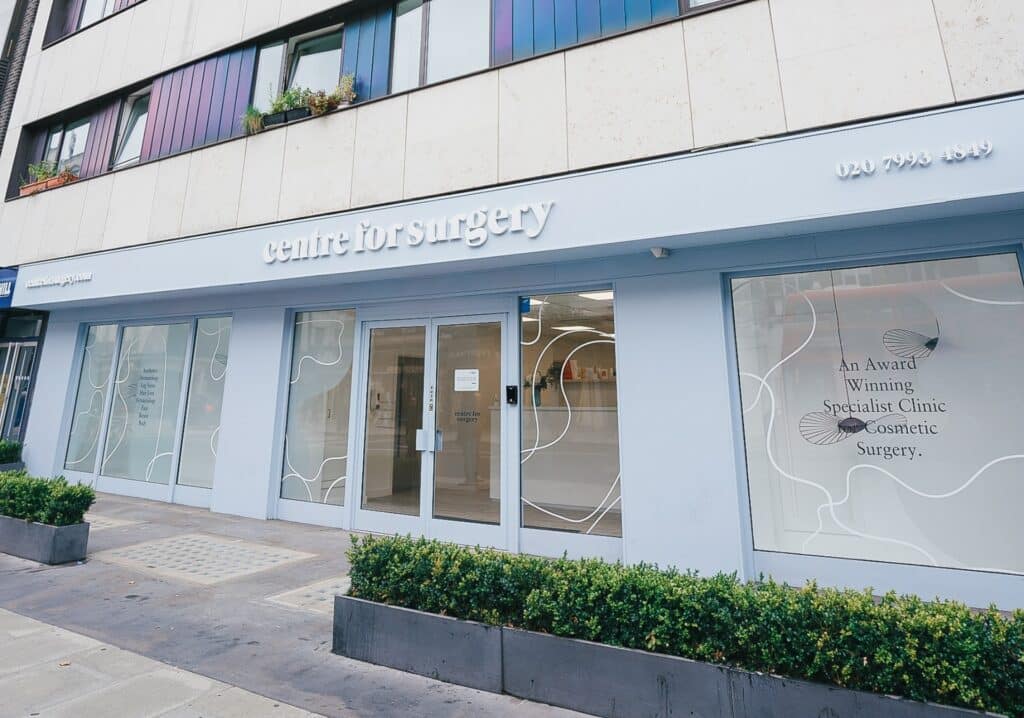 Amazing from start to finish, the communication was the main thing was fully informed and looked after, on the day of my breast augmentation, the staff were fab and made me feel at ease through out the whole process. Thank you so much.
Mohammed Farid
18/11/2021
I've had such a great experience with excellent advice, care and attention and surgical treatment (gynaecomastia) - I can fully endorse the treatment I have received from Centre for Surgery with absolutely no qualms at all. Brilliant in every way - thank you all so much.
Caroline Thorpe
14/11/2021
Very pleased with my whole experience of having a procedure. Was so nervous about getting treatment and i was reassured and felt so comfortable throughout thanks to the amazing nurses. I definitely made the right decision to have breast augmentation at centre for surgery with dr erel.
Melissa Briggs
08/11/2021
So glad I went with centre for surgery, the whole process went very smoothly from the consultations down to the actual day of the procedure. I was so nervous on the day but the whole team put me at ease and I'm happy with my results as I feel a lot more comfortable wearing certain clothes now. My surgeon was Alberto Di Giuseppe who performed a breast Augmentation on me, and I would definitely recommend as he was very clear on what the outcome of the surgery would be and which size would look the best for my frame.
Couldn't be happier with Dr Tillo work,i had my breast surgery one week ago and so happy with the results so far,all the staff are extremely nice and very supportive,i would definitely recommend their services,thank so much
From start to the finish everything was perfect for tummy tuck surgery. All staff is very friendly and the aftercare has been good. The Doctor and the nurse team was fantastic. I'm so happy...result is amazing. Thank you!!!
This was overall a great experience, all the staff at Centre for Surgery were friendly and put me at ease. It is a nerve wracking thing to go through an op but the staff were so nice. Mr Ertan has got a great team around him. On the day of the operation everything went smoothly to plan, there was no delay or holdups, I had another consultation with Mr Ertan who confirmed what was going to be done and that I was still happy to proceed. I was prepped for the procedure, I met with the anaesthetist who again was really nice and put me at ease explaining his role. After the procedure I woke up with the nurse by my side making sure I was OK and checking on me, I was able to stay in the clinic until I was ready to leave and was not rushed at all. I was well looked after from the start to the point when I was discharged. Post operation I was staying at a local hotel it was so close there was no point in even getting a taxi and I was able to walk back where my partner was waiting for me. I was expecting a lot of bruising to both my eyes but there was very little if any by the time the cast came off after 7 days, I am now at the two week post operation point and it is healing well with no outwardly visible bruising or scaring. The next milestone is a checkup at the 6 week point with my surgeon. If you're thinking of having something like this done I would highly recommend getting in touch with Centre for Surgery.
The staff at Centre for Surgery were very kind and accommodating. They answered any questions I had about the procedure and were constantly checking up on me. A special thank you to Christina for all her support throughout.
I would just like to state the quality of care received from the nurses at Centre for Surgery was beyond the highest level. Sophie takes her patient care to another level beyond words. She always puts me at ease. She is there for me even at awkward hours just when I mostly needed reassurance and she is one of the most compassionate nurses I have come across and demonstrates her passion naturally for caring for others. She totally deserves recognition at its finest and thank you for always being there for me. 😍