Body lift in London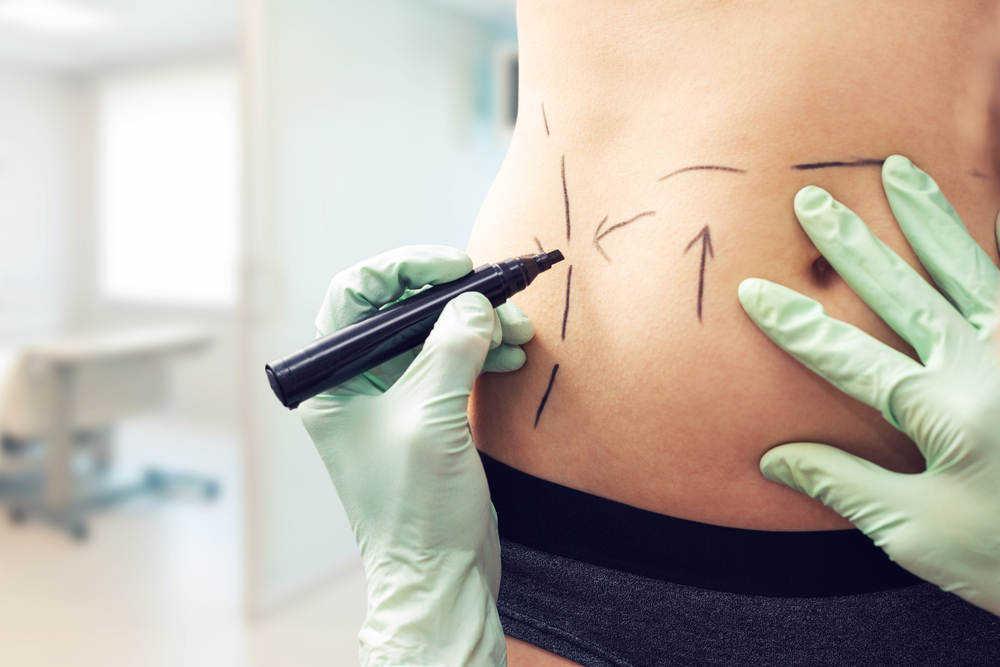 Loose and redundant skin in the abdomen, flanks and back is increasingly common, especially in those patients who have undergone significant weight either through diet and exercise or weight loss surgery. In addition with the aging process, the skin gradually loses its elasticity and natural firmess, causing skin laxity.
In slimmer individuals, the excess and baggy skin will not allow clothing to fit well which can result in psychological upset and loss of body confidence. The excess skin is not only of aesthetic concern but can also be a source of significant functional impairment. Examples include friction pain from rubbing against adjacent thighs, fungal infection occurring beneath skin folds and a reduction in mobility.
Centre for Surgery are experts in body lift and belt lipectomy surgery. A Body lift or belt lipectomy is designed to achieve dramatic changes to address the major contour abnormalities induced by weight loss. Body lift can address both the lower body and the upper body. A lower body lift will lift and contour the abdomen, hips, thighs and buttocks. This is also referred to as a belt lipectomy. For many individuals, particularly those who have suffered from weight issues for much of their life, a body lift may result in changes which they may never have experienced before. The results can be truly life changing with an immeasurable impact on self-confidence and happiness.
Expected results from a body lift & belt lipectomy
Removal of loose skin around the abdomen, hips, back and buttocks
Creation of a more contoured and trimmer physique
Increase in skin tightness and smoothness
Body lifts help to contour the body after you have had a massive weight loss. Body lifts are often a combination of numerous procedures which work to remove excess skin and give new definition to the body. This will leave you with tighter, more youthful looking skin and an increase to your self-esteem and confidence.
There are three different types of body lifts which you may choose to undertake. These are:
Ideal candidates for Body Lift
A body lift or belt lipectomy is a suitable procedure for those who have undergone massive weight loss and as a result, have excess skin in numerous places of the body.
This procedure is not suitable for those who have excess fat. If you have good skin elasticity and are wishing to remove excess fat, you may be interested in liposuction.
Centre for Surgery only offers procedures to those who are 18 years or older.
If you are interested in a body lift, you may wish to explore our finance options.
Surgical techniques in Body Lift Surgery
Prior to having any procedure, you will need to have a consultation with one of the surgeons. They will be able to assess your body and determine whether you should have an upper or lower body lift or a thigh lift.
No matter what procedure you undertake, it will be performed under TIVA anaesthesia. You will be asleep for the entire duration of the procedure, however, unlike other general anaesthetics, TIVA also allows you to wake up faster once the procedure is complete, and you will have a better sense of wellness, meaning you can return home quickly.
So what do the body lift procedures involve?
Lower body lift
Abdominoplasty: an abdominoplasty is otherwise known as a tummy tuck. This allows the surgeon to remove excess skin from the abdominal area, giving you a flatter, more contoured tummy. The abdominoplasty will involve an incision on the abdomen, which usually takes place below the bikini line. The incision will run horizontally from hip to hip. Surgeons will then be able to cut off any excess skin. If you have chosen to have it, liposuction will also be performed to remove any excess fat. The abdominal muscles and skin are then tightened, and the belly button is moved position. The remaining abdomen skin is then pulled down over the incision, which is then closed.
Buttock lift: a buttock lift allows you to remove the excess skin in the buttocks area. Incisions will be made above the buttocks area – this will vary depending on the amount of skin to be removed. The excess skin is removed and the remaining skin is pulled up and closed, leaving you with a tighter buttock.
Thigh lift: a thigh lift is ideal for those who have large thighs with an excess amount of skin. A thigh lift will remove the excess skin and contour the thighs to make them appear more shapely. The exact method used will vary depending on where your excess skin is located and your ideal outcome for the procedure.
Inner thigh lift: as guessed by the name, an inner thigh lift is a procedure which targets the excess fat in the inner thighs. The incision for this procedure will be made where the thigh meets the pubic area. This allows for the resulting scar to easily be hidden. The excess skin in the inner thigh will be removed and the remaining skin will be contoured.
Upper body lift
Breast reshaping: a breast lift helps to breasts to avoid appearing hollow and saggy. This is often appropriate for those who have been pregnant, have had massive weight loss, or have simply aged. 
Arm lift: an arm lift removes the loose and saggy skin from the underside of the arm. An arm lift involves the surgeon making an incision in the arm, running down the underside of the arm. The excess skin will then be removed, and if elected to do so, liposuction will take place to remove any excess fat.
Bra line back lift: this removes the excess fat from the back, particularly around the bra line area. An incision will be made across the back to remove the excess skin, and if needed liposuction will take place to remove any excess fat. Skin will then be pulled across the incision and tightened before being closed. 
Two-stage approach
A lower body lift is most commonly performed in two stages. This allows surgeons to remove as much skin as possible. If all procedures are done in one go, less skin is removed, less tightening is undertaken, and you do not get the satisfactory results you want. The two-stage approach also has benefits for the patient. Following a tummy tuck, you will have to bend or hunch while you are walking, as the skin removed from the abdomen prevents you from standing upright for at least one week. In contrast, after a buttock or thigh lift, you will be straight and upright most of the time, as it will be uncomfortable to sit down. Having the procedures done in two stages allows for the best results and the most comfortable recovery.
Centre for Surgery's three-step process
Centre for Surgery also offers a body lift in a unique three-step process.
As with all of our procedures, the three-step body lift is offered as a day case, so you will not have to stay overnight in a hospital. However, we can arrange for you to stay in nearby hotels with nursing supervision if necessary.
Our three-step body lift includes:
Stage 1 – extended abdominoplasty and breast lift
Stage 2 – buttock and outer thigh lift and arm lift
Stage 3 – Inner thigh lift
Each stage is completed with two surgeons who work simultaneously. This not only increases the speed of the procedure but also increases safety.
Recovery after Body Lift Surgery
Following a body lift, you will be able to return home the same day, once the effects of the anaesthesia have worn off and you are medically fit for discharge. After the body lift procedure, there will be sterile dressings applied to the incisions. You may also have drainage tubes temporarily placed under the skin in order to drain any fluids and these are removed after about 5 days. It is normal to experience a moderate level of pain and discomfort for the first three to five days following the procedure. You will also experience swelling for four to six weeks, however, it may take up to three months to completely subside. You will need to wear a compression garment on all areas which were operated. The compression garments will need to be worn at all times for the first six weeks and then worn during the day for a further six weeks.
You will have to ensure to get lots of rest and make sure to avoid all exercise for the first two weeks. You will be able to return to your normal physical activities after a total of six weeks.
Risks and potential complications after Body Lift Surgery
Our surgeons have extensive experience in performing body lift surgery of all types. Centre for Surgery utilise very strict clinical protocols which have made the body lift procedure even safer. As with any surgical procedure, body lift surgery has a number of well recognised potential risks which our surgeons take special precautions to reduce their risk of occurring as much as possible.
Body lift potential complications
Bleeding
Surgical site infection
Delayed wound healing
Skin hyperpigmentation
Seroma or haematoma
Temporary or permanent numbness
Fat necrosis
Recurrent skin laxity in those who regain weight
Asymmetry in the surgical correction
Hypertrophic or keloid scars
Possible requirement for an adjustment procedure
Body lift experts at Centre for Surgery
Centre for Surgery is a renowned centre for excellence for  body contouring surgery after massive weight loss. If you have developed lax skin and redundant skin folds around the abdomen, thighs, flanks or lower back then we would would recommend an expert consultation with a specialist plastic surgeon at Centre for Surgery in London. Our plastic surgeons have many years of experience performing reconstructive surgery for patients who have undergone massive weight loss and are skilled in both lower body lifts also known as belt lipectomy and upper body lifts. At your consultation, your surgeon will review your medical history in detail and any current medicines you may be taking followed by a physical examination to determine the correct type of body lift procedure to be performed. The surgeon will explain what the body lift procedure involves followed by discussion of potential risks and complications. You can ask to see before and after photos of patients who have undergone similar procedures to help you visualise how you could look after the procedure. Once you have decided to proceed with body lift surgery, you will be meet with one of our friendly and knowledgable patient coordinators who will be able to provide a cost for body lift surgery and help you to plan for your procedure.
What To Expect
The consultation
When considering body lift surgery after experiencing massive weight loss, we would advise to have a face to consultation with one of our experienced surgeons prior to having body lift surgery. At your consultation, the surgeon will explain the possible combinations of body lift procedures to address lax skin and excess fat, and which is most suitable and preferential for you given your needs and preferences. A number of measurements are taken of the body areas where skin is to be surgically removed and an assessment will be made of the soft tissue quality. Soft tissue quality is often very poor in body lift patients and liposuction alone will not address the overhanging skin. Your surgeon is skilled in all types of body lift surgery including belt lipectomy and the most appropriate choice will be made based on your physical examination. The surgeon will also give information on the location of the incisions for the lower body lift procedure which usually runs from hip to hip. At Centre for Surgery, our surgeons perform a lower body lift as a 2 stage procedure. First stage is the abdominoplasty procedure followed by a buttock and thigh lift as a second stage procedure. If you are having a consultation for revision surgery after body lift surgery performed elsewhere, you surgeon may want to see you again for a second consultation. He will want to see the medical records from your previous surgery to plan the revision procedure more effectively.

High-resolution photos will be taken and your surgeon may also use computer digital imaging to map your areas of concern in closer detail. Your surgeon will take time to discuss the important risks and potential complications of body lift surgery and what you can expect in the postoperative period. Body lift surgery after massive weight loss is a significant undertaking and it is important to be in optimal health prior to having the procedure.

The surgeon will also take a full medical history which includes previous operations, current list of medicines taken and any potential allergies. This information will be used to decide on your fitness for the body lift procedure. If you are deemed to be a suitable candidate for surgery then we would recommend to spend a period of time to reflect on all the information given. We always recommend a minimum of a '2 week cool off period' for to weigh up your options.

All our prospective patients are more than welcome to have as many follow-up consultations after their initial consultation to make sure you are fully empowered with all the information to make an informed decision for proceeding with body lift surgery at Centre for Surgery.
Before the procedure
Once you have decided that a body lift procedure is right for you, our preoperative assessment team will be in contact to prepare you for the procedure.

The following are recommended actions to take:

- You should make any necessary adjustments to your recovery area at home like comfortable seating and cushioning. It is also useful to have the bathroom close by while you recover in the first few days after surgery.

- For 6 weeks beforehand, it is highly recommended to stop smoking as active smoking is associated with a number of risks including delayed wound healing which could result in wound infection. There is also a risk of impaired blood supply to the skin flaps and this could result in wound breakdown.

- You should stop oestrogen containing oral contraceptives 4 weeks before your procedure to reduce the risk of DVT.

- You should also avoid aspirin and all medicines containing aspirin for at least one week prior to the procedure.

- For 6 hours before the body lift procedure, you should refrain from eating any food or any type of drink apart from sips of clear fluid (water and tea/coffee without added milk) which is allowed for up to 2 hours before the procedure.