What are varicose veins?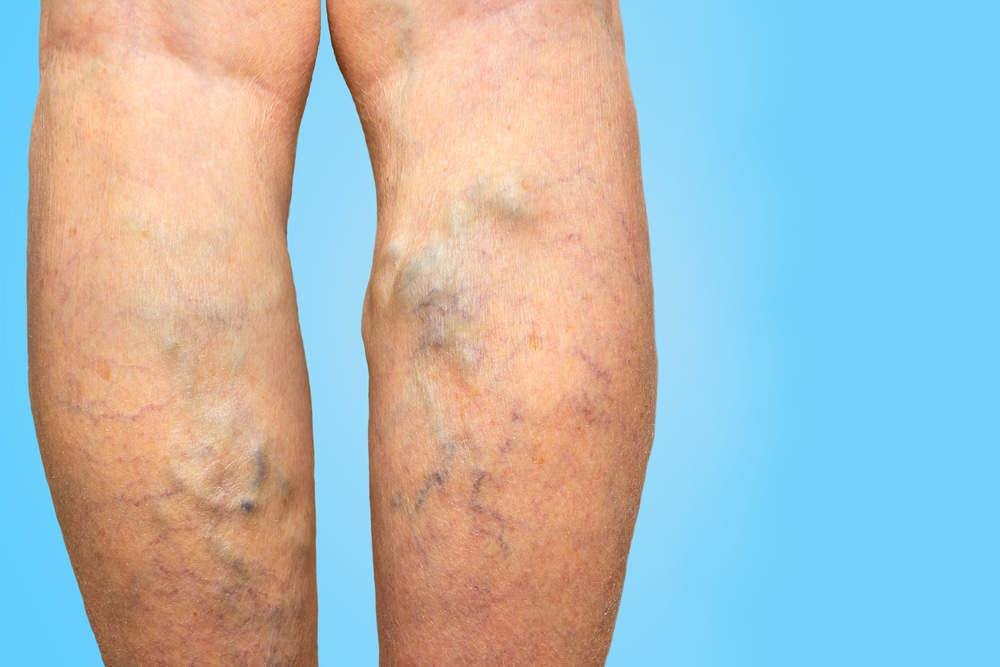 Varicose veins are prominent bulging veins most commonly found on the legs and progressively enlarge over time. The presence of varicose veins usually signifies an underlying defect in valve function in the deeper veins of the leg, which also supply blood to the prominent and visible varicose veins. Thread veins, also known as spider veins are different from varicose veins in that they are much smaller veins often visible below the skin and have a spidery and red-purple colouration.
RELATED: What are varicose veins?
Causes of varicose veins
Varicose veins develop when a valve function defect occurs in the leg's deep veins that ordinarily propel blood from the peripheries to the heart. These valves are found in all normal veins and function to ensure that blood flows in only one direction. In the case of the leg, the blood only flows upwards from the foot back to the heart. With a failure in the function of these valves, it is possible to develop retrograde blood flow in the opposite direction to the normal path of blood flow. This causes excess venous blood to pool in the veins of the leg and this clinically manifests as a swelling and visible enlargement of the superficial leg veins. The dysfunction of the valves is also known as venous insufficiency and can give rise to a number of clinical presentations.
One of the most common presentations of venous insufficiency is the development of thread veins or spider veins of the leg, which are generally accepted to be only a cosmetic nuisance and not associated with any functional disturbance. In a small number of cases, thread veins can be associated with mild discomfort or aching of the leg. It is also possible to develop a slightly flatter and wider type of leg vein which has a blue colouration and is known as reticular veins or flat feeding vessels.
The most severe form of valve dysfunction in the veins leads to the development of varicose veins. In those aged over 65, a small proportion of patients with varicose veins may go on to develop overlying skin changes and the development of venous ulceration.
All types of prominent leg veins are due to a fundamental build-up of pressure in thin-walled veins which, unlike arteries, are not designed to withstand these high venous pressures.
The causes of venous insufficiency include:
Obstruction to the deep veins (such as DVT)
Failure of the calf muscle pump
Valve dysfunction or failure (most common)
The most common cause of obstruction to the deeper veins is the development of DVT. DVT has several causes, including recent surgery, use of the oral contraceptive pill and certain medical conditions such as cancer. The development of calf muscle failure is related to the underlying weakness of the calf muscles, which can be either present from birth or develop in later life. Permanent calf muscle weakness can also cause valve dysfunction. The most common cause of Venus insufficiency and the development of varicose veins is valve dysfunction, which most commonly arises from genetic defects in the structure of the valve, hormonal changes, traumatic injury, previous DVT or weakness of the calf musculature.
After a valve has stopped working correctly, it does not return back to normal, and this allows the flow of blood to occur in a reverse direction, also known as reflux. This is the wrong direction of blood flow, which should be towards the heart and not away from it. This backflow of blood leads to stretching and enlargement of the vein, followed by a cascade of valve failure extending throughout the entire vein. The end result is invariably the development of varicose veins. Unfortunately, the main underlying reason for the development of varicose veins is related to hereditary factors, which, of course, nothing can be done to change one's genetic make-up.
The accurate diagnosis and treatment of vein reflux are fundamental to the successful management of venous insufficiency-related conditions, including thread veins, reticular veins, varicose veins and venous ulceration.
Varicose vein clinical features
Varicose veins are responsible for the development of a number of clinical symptoms and signs in the legs. The most common complaints reported by patients include aching, crampiness, itchiness, swelling, leg fatigue and the development of skin changes. In some cases, varicose veins can bleed when subjected to even a trivial injury, especially in older patients. The increase in vein pressure results in the development of skin discolouration, and in the most advanced cases, venous ulceration can develop. Venous ulcers can take a long time to improve without timely treatment. Many patients often endure symptoms of varicose veins not being keen on invasive surgery and not knowing that effective minimally invasive treatments exist. Only after EVLA treatment are patients amazed at the amazing improvement and how they lived for so long with the discomfort of varicose veins.
Our expert practitioners give 3 reasons why they would always recommend seeking treatment for varicose veins, as they can lead to medical complications if left untreated:
Varicose veins are unsightly. Varicose veins are often more than just a cosmetic nuisance and can significantly impact people's mental health and well-being. Many people will avoid wearing clothes which expose their legs in public. This has serious impacts on recreational activities and playing sports and even has a personal impact with many patients not displaying their legs to their partner. It can also have professional implications for those who work in the entertainment industry.
Varicose veins can cause discomfort. Symptoms caused by the presence of venous reflux give rise to the increase in venous pressure and not the actual varicose veins themselves. The most common symptoms include aching, itchiness, leg fatigue and restlessness of the legs. These clinical features can be effectively alleviated with vein treatment.
Varicose veins can result in damage to the skin and the development of venous ulceration. These medical complications only occur in a minority of untreated cases. Most patients with varicose veins do not go on to develop venous ulcers. However, most venous ulcers patients often have coexisting varicose veins, which both developed in response to increased pressure in the deep veins. Effective treatment of varicose veins leads to a reduction of vein pressure and a much lower likelihood of developing leg ulcers.
Is it possible to have symptoms from varicose veins but for them not to be visible?
In a small number of cases, patients may develop symptoms typically linked with the formation of varicose veins due to valve dysfunction but with no obvious features of varicose veins.
Diagnosis of varicose veins
Colour duplex ultrasound is the gold standard diagnostic technique for precise diagnosis of the underlying cause of prominent leg veins including both thread veins and varicose veins. There is no other effective way to assess the condition of the deep veins to then allow the selection of the correct treatment. Our practitioners have years of experience in carrying out comprehensive and detailed colour duplex scans in patients suffering from all types of leg veins.
Should I see my GP for the diagnosis of varicose veins?
Most varicose veins are obvious on examination and are easily diagnosed on the basis of how they look. This leads many patients to decide not to consult with their GP as they know what they are already. Wherever you have assessment and treatment for leg veins, it is still important to keep your GP informed for continuity of care.
If you do decide to see your GP, you will most likely be referred to see a vascular specialist if your veins are causing a significant functional disturbance. If you have purely cosmetic concerns about the appearance of leg veins, it is highly unlikely that you will qualify for NHS treatment. Increasingly, even varicose veins that are causing functional issues and are causing significant symptoms, are also not being seen in the NHS due to a lack of funding.
Varicose Veins Treatment
Treatment for varicose veins is not always required, which is why the reduction in the provision of varicose vein treatment in the NHS is reduced. For patients who are not suffering from functional symptoms and are not concerned about the cosmetic appearance of leg veins, then there may be no need to have immediate treatment especially if they have not worsened over time.
RELATED: Best Treatments for Varicose Leg Veins
Having said that, the presence of varicose veins is confirmation of underlying valve dysfunction in the deep veins and the most effective treatment to address this and lower pressure in the legs is to have the correct treatment. That's why we would always recommend in these cases to have treatment for varicose veins as the raised pressure in the veins can lead to changes in the overlying skin, such as venous eczema, and when this is allowed to progress, can sometimes result in a venous ulcer which is often painful and difficult to treat.
The traditional form of treatment for varicose veins is known as ligation and stripping, carried out by a vascular surgeon and most commonly requires a general anaesthetic and overnight stay. Surgical treatment for varicose veins has been almost completely superseded by more minimally invasive techniques such as EVLA. Adopting a minimally invasive approach to the treatment of varicose veins results in a lesser impact on the body compared with more invasive surgical approaches. The gold standard treatment for vein treatment, EVLA only requires tiny incisions and can be done under local anaesthetic and carries a very quick recovery with minimal risk of complications. At Centre for Surgery, we specialise in offering minimally invasive treatments for vein removal and are always aided by the use of colour duplex ultrasound medical imaging. The beginning of your patient journey starts with a comprehensive medical consultation to assess the condition of your leg veins and to pinpoint the precise underlying cause. With the identification of the underlying cause of prominent vein formation, an effective treatment plan can be formulated. The key to successful treatment is to locate and eradicate veins which are responsible for valve dysfunction before going on to address the prominent and unsightly leg veins under the skin surface. With effective treatment of the underlying causes of prominent leg veins, a significant reduction in symptoms can be expected, along with a marked improvement in the appearance of the leg with a much lesser chance of the problem recurring. Centre for Surgery takes great care to follow the latest national guidelines from the National Institute for Health and Care Excellence (NICE). NICE has issued clear guidelines that emphasise the importance of carrying out minimally invasive treatments, including EVLA and avoiding surgery where possible. Unfortunately, in many centres across the UK, the default approach for the treatment of varicose veins is a surgical ligation and stripping procedure, which is not in line with national guidance. In our experience, in the vast majority of cases, there is no need for a surgical approach to treat varicose veins.
After your doctor assesses you with a full medical history, physical examination and a duplex ultrasound assessment, the most appropriate treatment will be recommended based on the clinical imaging findings. For patients with a confirmed diagnosis of varicose veins, the best treatment is endovenous laser ablation (EVLA) as a first-line procedure followed by either foam sclerotherapy and/or vein avulsions, also known as phlebectomy as a second stage treatment. Patients who have thread veins or spider veins may benefit from microsclerotherapy injections or long-pulse Nd:YAG laser.
With traditional surgical treatment for varicose veins, the long saphenous vein, which is the most prominent superficial vein of the leg, is surgically tied off (ligation) before being removed (stripping). The stripping procedure is very traumatic, with a high risk of complications, including nerve injury and significant post-operative pain and discomfort. Our treatment approach is different, with an emphasis on treating the vein from within, also known as an endovascular treatment, with no requirement to physically remove the vein from the body. Better treatment outcomes are possible with treatment using only local anaesthetic and with a far lower risk of complications such as bleeding and infection. This means patients can return to their normal activities much quicker.
Published studies consistently demonstrate lower recurrence rates after EVLA and other minimally invasive techniques compared to surgery. Revision rates after having had surgery can be as high as 60 to 70%. Experts say recurrence rates after EVLA can be as low as 1.5%.
Minimally invasive techniques such as EVLA, foam sclerotherapy, vein avulsions and/or phlebectomy are definitive treatments for varicose veins. However, there are several simple measures patients can take to improve symptoms of having varicose veins, including:
Avoid prolonged periods of standing up
Exercise regularly
When seated, keep your legs elevated
Wearing appropriate medical-grade compression stockings
Should I undergo screening for prominent veins?
We would advise against screening any type of leg veins if you have no symptoms and you have not noticed any prominent veins. It is not uncommon for many clinics to offer screening services for leg veins. As an ethical medical practice, we believe this offers no significant benefit for the patient and often comes at a significant expense. Even in cases when a duplex ultrasound scan discovers a problem with the valves in the veins, it is still best to wait until one develops symptoms or begins to notice the development of either varicose veins or thread veins, which are causing a cosmetic nuisance.
Further reading on varicose veins removal