Blepharoplasty London
We provide Blepharoplasty, also known as eyelid surgery or eyebag removal, in London, which is a surgical procedure of the upper or lower eyelids to rejuvenate the periocular region. Ageing of the periorbital region often creates that undesirable tired look which often makes us look much older. An eyelid lift or blepharoplasty is a cosmetic surgery procedure to address tired, sagging to puffy looking eyes. By removing excess skin, fat or muscle, the procedure provides restoration of the periorbital region. An eyelid lift can be performed on the upper eyelids, the lower eyelids or both upper and lower eyelids. Blepharoplasty can also be combined with facial fat grafting and / or laser resurfacing for even more enhanced results.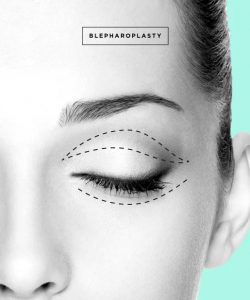 Blepharoplasty Expected Results
Upper and lower eyelid rejuvenation
Reversal of the "tired" eyes look with removal of lower eyelid bags and saggy and droopy upper eyelids
Some patients may develop impaired vision as a result of excess loose skin and a blepharoplasty is able to medically correct this
Our surgeons can help revitalise the periorbital region including the eyelids and support tissues, improving the appearance of the upper eyelids, lower eyelids or both. This provides patients with a more youthful, rested and more alert look. Centre for Surgery even offers male blepharoplasty and Asian blepharoplasty. Eyelid surgery is often performed alongside a brow lift. If you would prefer a non-surgical option for periorbital tightening – read about SmoothEye with the Fotona laser which we offer.
All our surgeons are on the GMC specialist register. Our London clinic at 106 Crawford Street was recently inspected and rated as good across all 5 domains.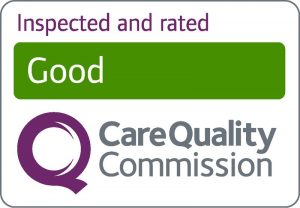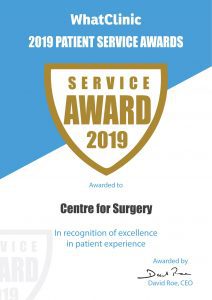 What is included in my treatment package?
As many preoperative consultations with your surgeon as you like to make sure the procedure is right for you
Treatment at a specialist day surgery facility recently rated 'Good' by the CQC
Enhanced same day discharge with the added benefits of recovering in your own home
24/7 clinical support from your surgeon for first 48 hours and our expert postoperative support team
Your very own dedicated patient coordinator
In-depth preoperative medical assessment to make sure you are fully fit for the rhinoplasty procedure
Exceptionally high standards of postoperative care described as 'outstanding' by the CQC with regular telephone and face to face checks by our expert postoperative support team
RealSelf Top Doctors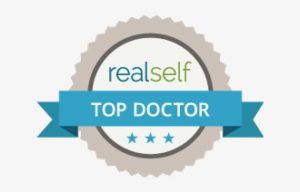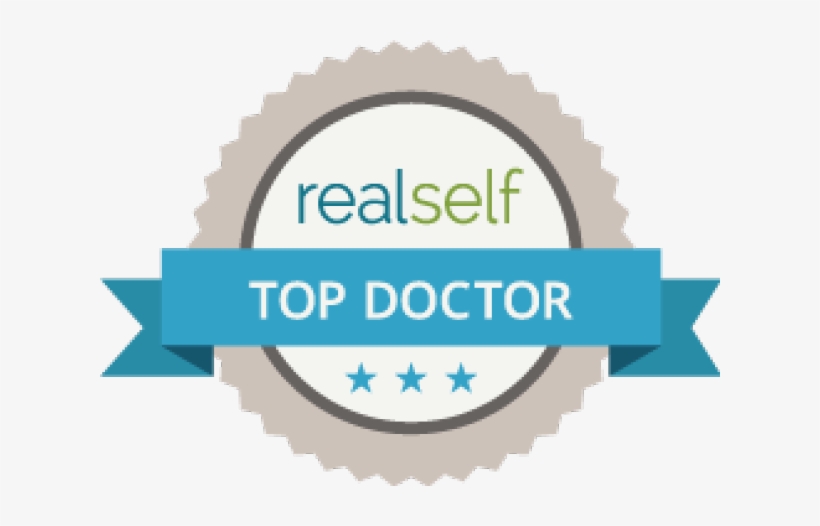 RealSelf top doctor status is awarded to less than 10% of the RealSelf doctor community.  This status is earned by achieving consistently high patient satisfaction (from RealSelf reviews), getting excellent feedback on expert answers to patient questions, and after investing significant time in Q&A and other doctor activity. RealSelf top doctors are rated among the very best surgeons in the United Kingdom and USA.
Why choose Centre for Surgery for your eye bag removal procedure ?
Over 15 years experience with all types of blepharoplasty surgery – upper eyelid, lower eyelid and combined procedures
We regularly receive patients from overseas at our facial plastic surgery specialist centre
Our surgeons are UK trained NHS consultant plastic surgeons who live and work in London. We don't work with 'fly-in, fly-out' surgeons from Italy. This is very important because whilst your surgeon takes all precautions to minimise complications, complications can and do occur and our surgeons are readily available to manage any issues if and when they arise.
We own and manage our own surgical facilities. Properly performed eyelid surgery takes time and should not be rushed. Our surgeons perform a maximum of two blepharoplasty procedures in a day. We do not cram 5-6 procedures into one day like other providers. You want your surgeon to be well-rested and mentally and physically sharp to perform eyelid surgery which is a very intensive procedure to get the very best results.
Trust a facial plastic surgeon
A facial plastic surgeon is trained to undertake aesthetic surgical procedures in the facial region. They are dedicated sub-specialists. Compared with general plastic surgeons, facial plastic surgeons are inherently better trained to perform delicate facial procedures. The extra years of surgical training by facial specialists focused on the facial region results in an exceptionally high degree of skill. Blepharoplasty surgery is highly intricate and our surgeons are highly experienced to undertake surgery on the delicate eyelid region.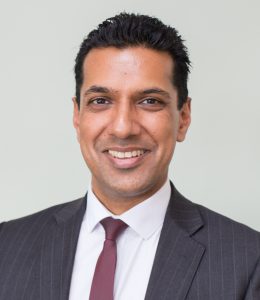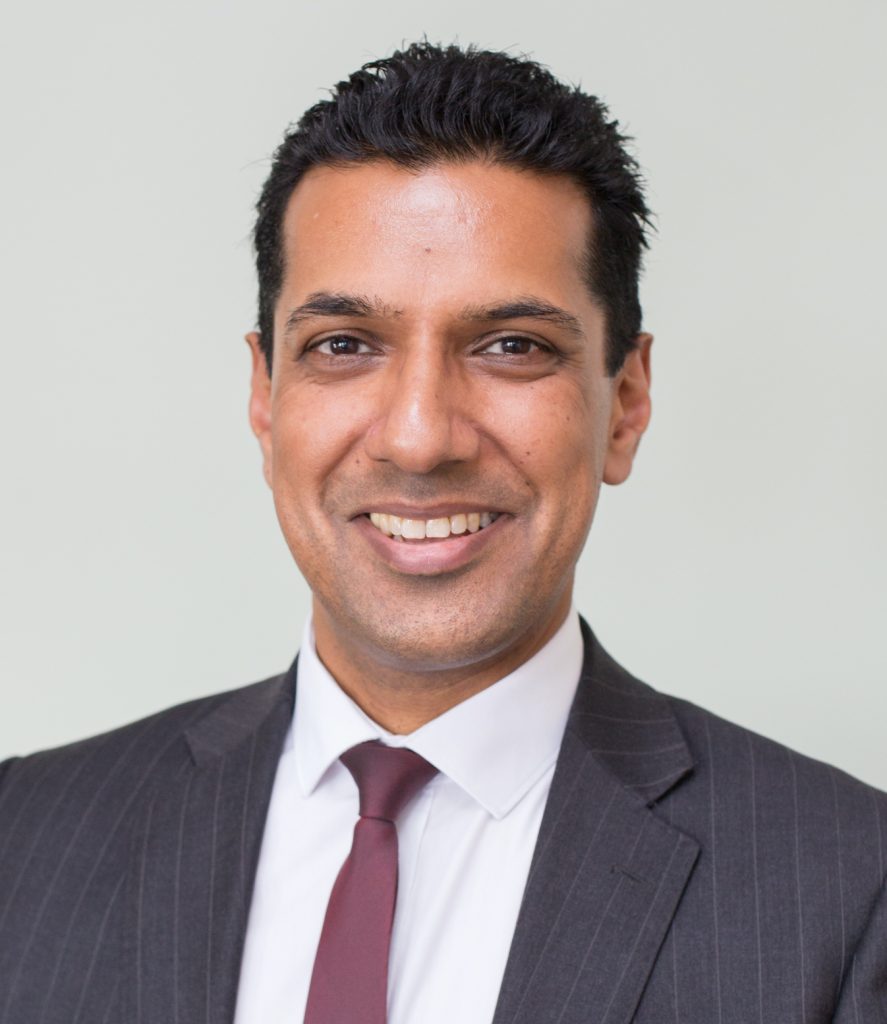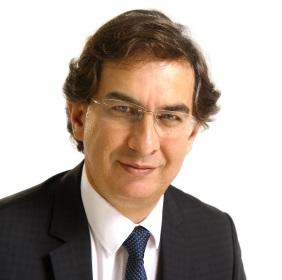 Our surgeons are full members of: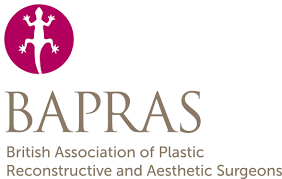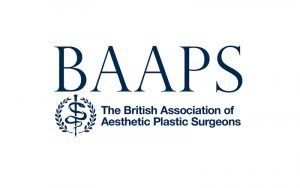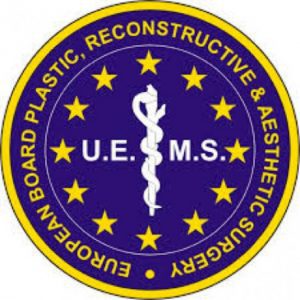 Adebimpe Adewoyin
04/02/2021
I had 360 Liposuction and BBL with centre for surgery 11/01/2021. I found centre for surgery by searching online. My consultation was booked with Dr. Tillo, the procedure was explained to me thoroughly including the risks, the clinic is beautiful and very clean. I received the best care I could think of on the day of my surgery, the staff were very friendly and caring, the surgery went well and the result was amazing! My recovery was very quick too with no complications. I am very happy with the follow up and after care. I would highly recommend centre for surgery.
I was able to be booked for my consultation and procedure on the timeline that suited me. Very happy overall; especially with my results and the care I've received since. Would return
Highly Recommend Mr Tilo and this clinic. My partner had Facial Scar Revision 5 weeks ago and can honestly say the speed, care and attention Mr Tilo and the team gave him was amazing. Right from the outset when I contacted Michael for a quote the speed and professionalism he gave was 5 star. My partner was also very nervous about the whole procedure and the attention the nursing team gave helped ease any nerves
I recently had surgery performed for a small unwanted tattoo by Mr Amir Sadri. The whole team at Centre for Surgery were brilliant and Mr Amir Sadri perfomed a brilliant job and cannot thank him enough for his services. I would thoroughly recommend anyone considering any form of procedure to go with these guys as from start to finish were brilliant.
Bracesbybella Annabelle Ariza
24/08/2020
I had a wonderful experience . I cannot thank you all enough. The location is convenient, the actual place is lovely , non clinical looking. I had liposuction carried out and I was amazed at how caring and wonderful the entire team were towards me. I would definitely recommend to friends and family. Big shout out to Dr Tillo , nursing team and wonderful reception team. Please don't be disheartened by bad reviews , often people ask for prices to try and avoid a proper consultation. If you are seriously considering surgery, you should always have time for a proper consultation with a surgeon who can then provide you with an accurate estimate/quote for propsed (suitable)treatment.
Dr Gilleard at Centre for Surgery is master of rhinoplasty surgery! Absolutely fab work with piezotome technique. Hardly any bruising at all.
Eyelid Surgery London
The eye is a key important component of facial aesthetics, and an eyelid lift can play a beneficial role in facial harmony and reducing the effects of aging of the periorbital region. Eyelid surgery is one of the most commonly performed facial aesthetic procedures at Centre for Surgery in London. If you suffer from features such as permanently tired-looking eyes, eyelid laxity, eyelid drooping, or dark circles around the eyes then a blepharoplasty may be ideal for you. Eyelid surgery is often combined with other facial aesthetic procedures including brow lift, facelift or laser resurfacing.
The most common indications for blepharoplasty are:
Loose skin: Laxity of the skin and tissue under the eyes gives an aged appearance, and blepharoplasty is used to smoothen out the fine lines.
Droopy eyelids:  Having excess upper eyelid skin can lead to droopy lids, which give the appearance of tiredness and fatigue. Severely droopy eyelids can even impair vision.
Eye bags:  During the ageing process, people can develop bags underneath the eyes. Excessive stretching of the lower eyelid layers is often the most common reason for the formation of eye bags and is a problem that is efficiently corrected with a blepharoplasty procedure.
Heavy, droopy eyes: Eyelids that have excessive amounts of fat can make you look tired all the time. This fat can be extracted during the surgery, leaving you with a more alert appearance. The key, however, is to extract the right amount of fat to avoid the sunken appearance. Choosing a plastic surgeon at Centre for Surgery means you get specialised expertise delivered within excellent day surgery facilities.
Upper Blepharoplasty
An upper blepharoplasty is also known as upper eyelid surgery. An upper blepharoplasty allows upper eyelid rejuvenation without undergoing significant facial changes as with a facelift. It is normal to have eyelid skin but with the aging process, the reduction of collagen and elastin leads to eyelid laxity and this can make a person look more tired and patients will often remark their work colleagues think they look tired all the time. With women, the application of make-up can become more difficult due to the extra loose skin and applying cosmetics like eyeshadow becomes more difficult to apply. With younger women in their thirties, one of the most common reasons for seeking upper blepharoplasty is the difficulty with applying make-up. Patients often notice their upper eyelid to feel more heavy and patients may actively elevate their brows without thinking to open up their eyes more. Constant activation of the frontalis muscle which is the main elevator of the brow may increase the incidence of horizontal forehead wrinkles. Treating these forehead wrinkles with neurotoxin is not effective until the extra skin of the upper eyelid is removed. Many practitioners will incorrectly treat the frontalis muscle with neurotoxin when the patient actually needs an upper blepharoplasty. This is because the neurotoxin will prevent the brows from being able to be raised and this will amplify the impression of the upper eyelids looking even more saggy and droopy. In these cases, the priority is always to treat the upper eyelids before the horizontal forehead lines.
Lower Blepharoplasty
Patients often seek a lower blepharoplasty to address the presence of under eye bags. Patients both feel as if they look constantly tired as well as being remarked upon by work colleagues. The skin of the lower eyelid is the thinnest skin on the entire face. It is therefore very prone to undergoing premature aging changes with the appearance of wrinkly skin. Patients will often have targeting injections of HA filler to this area and these are referred to as 'tear trough' injections. Injection of the tear trough is one of the most challenging areas to treat and sometimes the area is inappropriately treated with HA filler when the more suitable treatment is a lower blepharoplasty. The treatment of dark circles, hollowness of the lower eyelids and loose skin is optimally addressed with a combination of lower blepharoplasty, fat grafting and laser resurfacing. It is important to consult with a specialist facial plastic surgeon to ensure you get optimal outcomes.
Types of Blepharoplasty
Aesthetic Blepharoplasty
An aesthetic blepharoplasty is performed on the upper and lower eyelids. Aesthetic eyelid surgery is indicated for rejuvenation of the upper and lower eyelid region.
Reconstructive Blepharoplasty
A reconstructive blepharoplasty is used when the extra upper eyelid interferes with the patients vision or due to some other medical issue such as excessive tearing, thyroid eye disease, removal of eyelid lumps and bumps or revision blepharoplasty.
Prior to any surgical procedure, you will need to have a consultation with one of our blepharoplasty surgeons.
During the blepharoplasty consultation, you will be able to state your ideas, concerns and expectations about a proposed blepharoplasty procedure and what it can achieve.
The blepharoplasty surgeon will:
Take a full history and perform a thorough examination

Explain the procedure of blepharoplasty

Provide an opinion on your suitability based on your needs and preferences
The specific technique of which blepharoplasty procedure to employ will depend on your underlying condition and the degree of skin laxity.
A blepharoplasty surgeon can be either from a plastic surgery, ENT surgery, maxillofacial surgery or ophthalmology background. All four surgical specialities are fully trained to perform blepharoplasty of the upper and lower eyelids. 
Why does the eyelid begin to sag?
During the aging process, the skin will gradually lose collagen which results in a reduction in skin elasticity. A combination of a loss of skin elasticity combined the effects of gravity will cause the skin to descend and lead to sagging.
With the eyelids, the edges of the upper eyelids will descend first. The small tendon of the eyelid muscle which normally functions to lift the upper eyelid will also undergo stretching. The upper eyelid muscle will therefore struggle to properly lift the upper eyelid.
With continued aging, the loss of elasticity and muscle atrophy act in concert to create the appearance of a droopy upper eyelid. Those who habitually rub their their eyes or have a degree of eyelid retraction will also lead to laxity of the upper eyelids. Ophthalmic surgery such as surgery for cataracts is also a common cause for droopy eyelids. The reason for this lies in the stretching of the eyelid to keep the eye open during surgery leading to muscle atrophy or weakening. Droopy eyelids or eyelid ptosis can also be present from birth where it is then referred to as congenital ptosis.
On top of the development of eyelid laxity, the aging process also affects the entire face. The most noticeable feature of facial aging is often a loss of facial volume. This may make bony structures on the face appear more prominent. When the cheeks begin to descend, the aged appearance of the lower eyelids can be more evident due to the development of hollowness.
Read our latest testimonials from our amazing patients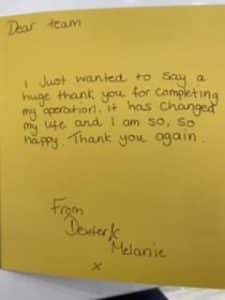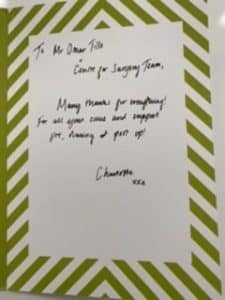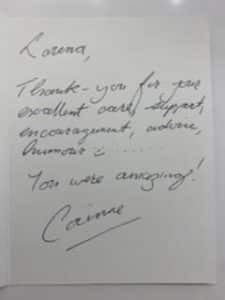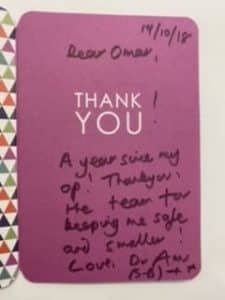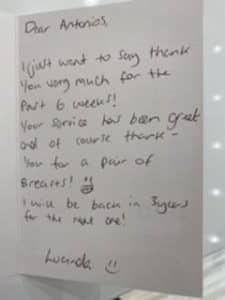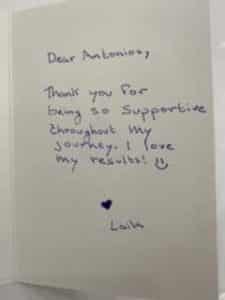 Ideal candidates for eyelid rejuvenation
Blepharoplasty or eyelid surgery will enhance the periorbital region. It is commonly performed for older people as well as those of Asian origin. During the ageing process, skin elasticity diminishes which often causes drooping eyelids because of the added effect of gravity over the decades. Lower blepharoplasty is used for skin laxity and loose muscle which often needs to be tightened up.
Ideal Candidate for Blepharoplasty
Good Candidates for Upper Blepharoplasty
Good health
No history of immunosupression
Non-smokers
Excess upper eyelid laxity
Loss of the normal upper eyelid skin
Impairment of vision due to excess upper eyelid skin
Realistic expectations
Good Candidates for Lower Blepharoplasty
Good health
No history of immunosupression
Non-smokers
Lower eyelid bags
Eyelid puffiness
Wrinkly skin of the lower eyelid
Presence of dark circles
Realistic expectations
Assessment of the eyebrow

Drooping of the brow or brow ptosis is most accurately determined by close assessment of the position of the eyebrow in relation to the upper bony margin of the orbit or superior orbital rim. The surgeon will assess for possible asymmetry in the upper and lower eyelids and brow position. A pitfall in upper blepharoplasty is when the upper blepharoplasty is performed in someone with ptosis of the eyebrow. Performing an upper eye lift in this situation will fix the brow in a low position. Brow lift should be done either prior or at the same time.
Eyelid lift preparation
Patients who smoke will be advised to stop for at least 2 weeks before the date of their blepharoplasty procedure. Smoking has detrimental effects on the microcirculation and is well known to significantly delay the healing process . All medications, prescribed and over the counter will be reviewed by your doctor. Aspirin and any medicines containing aspirin should be stopped both before and after the eyelid lift procedure Aspirin and NSAIDS impair the body's natural clotting process and may increase the risk of bleeding after surgery. If you require pain relief after surgery, paracetamol is advised.
What tests may I need before surgery?
At Centre for Surgery, we believe the success of any cosmetic procedure including blepharoplasty can be improved with optimal patient preparation.  Our surgeons strive to go above and beyond to ensure all patients are fully prepared – mentally, physically and emotionally.
Crisalix 3D imaging for eyelid surgery
Expertly performed eyelid surgery demands millimetre accuracy and precision. Centre for Surgery now offer Crisalix 3D imaging to help you visualise how you could look after your blepharoplasty procedure. We offer Crisalix 3D imaging as standard for all facial surgical procedures.
Blepharoplasty techniques
Centre for Surgery perform both upper and lower blepharoplasty in London :
Upper and lower blepharoplasty can be performed together or separately. An upper blepharoplasty can be performed under a local anaesthetic with or without oral sedation. Combined upper and lower eyelid blepharoplasty need to be performed under TIVA general anaesthesia for optimal patient comfort. The option is always yours on the type of anaesthetic you would prefer for your procedure – LA or GA.
Types of eyelid surgery:
Upper Blepharoplasty overview
Upper blepharoplasty involves the removal of loose skin that can cause multiple wrinkles or hooding on to the eyelash line. A repair of the eyelid muscle must also occur if there is droopiness in this structure. An upper blepharoplasty can be performed under a local anaesthetic but you have a choice on your preferred method of anaesthetic – local or general anaesthetic. Under correction or over correction is the most common pitfall in upper blepharoplasty surgery. It is better to under correct rather than over correct in upper blepharoplasty.
Lower Blepharoplasty overview
Surgery on the lower eyelid is known as a lower blepharoplasty. Lower blepharoplasty surgery is more complex to perform than upper eyelid surgery. A lower blepharoplasty often requires a general anaesthetic. The procedure involves making a small incision either below the lashes (trancutaneous approach) or inside the eyelid (transconjunctival approach). Prolapsed fat in the lower eyelid/cheek area will either be removed or repositioned, in order to improve the eyebag appearance. In some instances, excess skin may also be removed. Sutures and paper strips will then be applied to the eyelid for extra support. 
Eyebag removal can be performed as part of a lower blepharoplasty / combined blepharoplasty. This will help to reduce puffiness without causing an unsightly 'hollowed-out' look.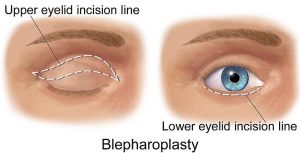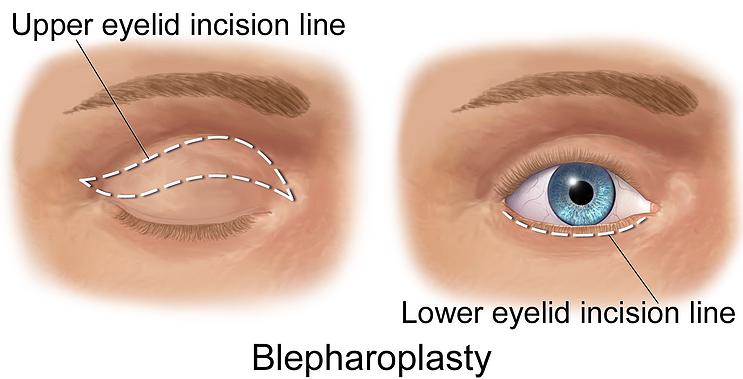 Combined upper and lower blepharoplasty
For patients who present with significant degrees of skin laxity, a combined procedure may be required for a comprehensive periocular rejuvenation.
Male eyelid surgery or male blepharoplasty
Male eyelid surgery is available for men who wish to tighten their eyelids, remove excess fat or to appear more youthful. This is also an appropriate procedure for men whose eyesight is impacted by sagging eyelid skin.
Asian Blepharoplasty
An Asian blepharoplasty differs from traditional blepharoplasty surgery because the eyelid is changed to a double eyelid. Eyelids that do not have a crease can then have a crease. The Asian blepharoplasty is not meant to alter a patients appearance but the changed achieved will often be subtle in nature. Asian blepharoplasty is performed in a very similar manner to an upper eyelid blepharoplasty. The difference lies in the fact that a small strip of eyelid muscle is precisely reconstructed to form a new eyelid crease. The incisions are closed with very fine sutures and the appearance is one without a 'heavy' appearance to the eyelid – a more natural looking appearance.
Blepharoplasty types compared
Upper eyelid surgery
Procedure duration: 1 – 1.5 hours
Type of incision: Eyelid crease incision
Anaesthetic: Local anaesthetic or general anaesthetic
Recovery period: Day case and minimal downtime
Lower eyelid surgery
Procedure duration: 1.5 – 2 hours
Type of incision: Transcutaneous (below the eyelashes) or transconjunctival (inside the lower eyelid)
Anaesthetic: General anaesthetic recommended
Recovery period: Longer than an upper blepharoplasty. Depends on the individual.
Combined eyelid surgery (upper and lower eyelids)
Procedure duration: Approximately 3 hours
Type of incision: As above
Anaesthetic: General anaesthetic compulsory
Recovery period: As for a lower blepharoplasty with 2-3 days extra.
Recovery after blepharoplasty surgery
As blepharoplasty is a minimally invasive surgical procedure, there is a very short recovery period.
The surgeon uses very fine sutures which are removed about 4-5 days after your procedure.
You may notice some bruising or swelling, which will subside after five days.
We recommend avoiding putting any pressure on the nose for at least five days. You will also have to avoid wearing any glasses for two weeks, as this may impact the filter and change the appearance of the nose.
You will have to avoid sleeping on your side or front; make sure you sleep on your back for at least five days.
Risks and potential complications of blepharoplasty
Complications can potentially occur with any surgical procedure, blepharoplasty is no different. At consultation, your surgeon will always take time to fully discuss the risks and complications associated with blepharoplasty surgery. All risks need to be outlined regardless of how rare they are. By choosing Centre for Surgery for your blepharoplasty procedure, you can be confident in having highly experienced and expert surgeons to perform your procedure.
Potential complications associated with blepharoplasty
Anaesthetic risks
Visual impairment
Double vision
Visible surgical scarring
Eyelid malposition
Over resection of eyelid skin
Eyelid sensory changes
Blepharoplasty cost
There are a number of factors which will determine the overall cost of your blepharoplasty procedure and the final quotation will be given after your face to face consultation with your specialist plastic surgeon.
Upper eyelid, lower eyelid or combined upper and lower blepharoplasty
Local anaesthetic or general anaesthetic
Primary or revision blepharoplasty
Blepharoplasty as a standalone procedure or combined with other procedures such as facelift surgery
Why not call 0207 993 4849 and speak to one of our expert patient coordinators who may be able to give you a rough costing prior to your blepharoplasty procedure.
Always remember that price should never be the determining factor when it comes to choosing your provider. We feel that safety and quality of service should be your number one priority and instilling in you the confidence that our team will look after you before, during and after your procedure to the best of their ability.
Spread the cost of your treatment

Centre for Surgery are fully approved to offer finance via our specialist finance partner, Chrysalis Finance.
You no longer need to use your savings to pay for your treatment – you can apply to spread the cost of your procedure with Chrysalis Finance using their simple 1,2,3 application to pay for your procedure.
Don't wait until you have enough money for your treatment, apply today and (subject to status) pay for your procedure easily in monthly instalments, using one of their payment options.
Chrysalis Finance is the only ethical provider who focus solely in the provision of specialist financing for medical procedures.
Further reading
The Centre for Surgery approach to aftercare
Our aftercare programme was recently described as 'outstanding' by our regulator, the Care Quality Commission. 
Our postoperative support team phone all our patients the day after their procedure and then every other day thereafter for the first two weeks. The proactive nature of our postoperative support gives every patient the best opportunity for a smooth postoperative recovery free of complications. In many cases if complications were to occur, their impact is markedly lessened by early detection, prompt clinical assessment and correct treatment. Where a patient expresses concern to our team over the phone, then we often call patients in the same day for assessment with one of our expert nursing team. Even if there is no significant issue, the careful explanation and calm reassurance provided by our team can help to alleviate any worries you may have experienced.
What To Expect
Find the right time
Our friendly and knowledgeable patient coordinators will speak with you to learn about your requirements, it's all confidential and your information will be used to assess whether blepharoplasty surgery is right for you. We offer the full range of finance options to help you budget for your procedure. We'll organise a convenient date and time for you to visit to come and visit our patient relationship manager at our bespoke central London clinic at 106 Crawford Street.
Crisalix 3D imaging
We'll will take time to listen to your needs and requirements and you you will receive a complementary 3D Crisalix scan to enhance your experience. You'll be given a rough idea of guide prices at this stage. A range of before and after images will be shown to you to give an idea of what can be achieved with an eyelid surgery procedure. You will then be booked in to to see the specialist blepharoplasty surgeon where your 3D scans will be discussed in detail.
Personalised quote
At the surgical consultation, you will meet directly with the surgeon. The surgeon will thoroughly assess you to determine your suitability and advise of the best options for you. Your surgeon will then explain how the procedure will work including the TIVA anaesthesia technique which has been found to optimise outcomes following eyelid surgery. You will receive your personalised quote the next working day from your patient coordinator. The surgeon may wish to see you for a second consult if your case is particularly complex or if you simply have further questions which you would like answering.